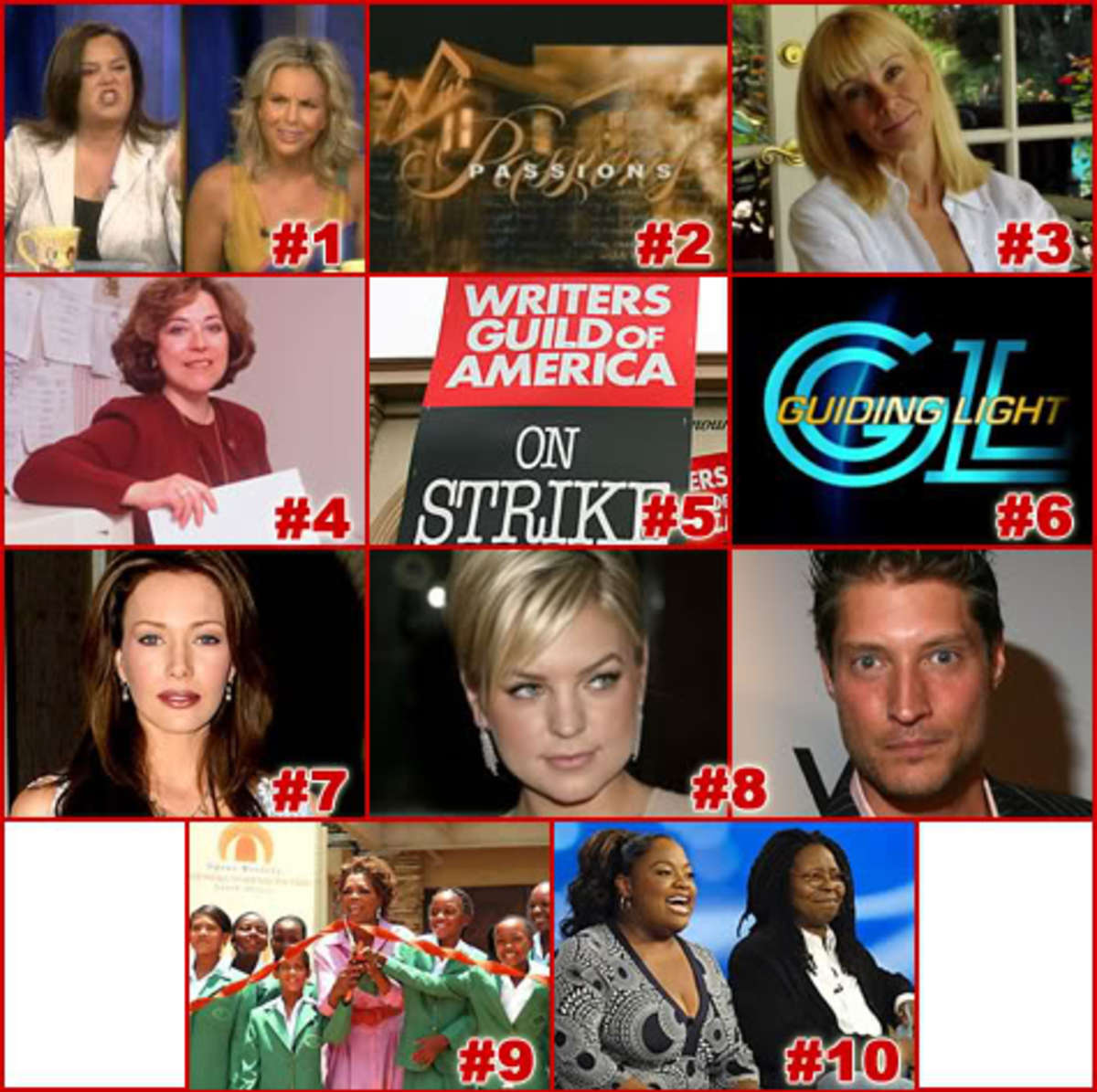 It's that time of year again. The time to take a look back at all the events of the year about to fade into history and figure out what has defined, changed, shook up, or made an impact on the world of daytime as we know it. Each day for the next 9 days we're going to publish a new Top 10 List for 2007.  First up the Top 10 Newsmakers  & Headlines of 2007.



Top 10 Newsmakers & Headlines of 2007
When we narrowed down this list to the final ten we looked for a combination of headlines of major impact to daytime shows and headlines that surpassed the "normal" daytime media and made national news. From Rosie vs. Elisabeth's monumental clash on The View to the loss of Hunter Tylo's son and DUI's of Kirsten Storms (General Hospital) and Sean Kanan (f. Bold & Beautiful) each of these stories grabbed national attention and put daytime "on the map".  On the other hand, the firing of Dena Higley and Megan McTavish from One Life to Live and All My Children  respectively had an immediate impact on the daytime industry.
1. Rosie vs. Elisabeth on The View

2. Passions' Cancellation

3. Dena Higley's Firing

4. Megan McTavish's Firing

5. The Writers Strike

6. Guiding Light's 70th Anniversary

7. The Death of Hunter Tylo's Son

8. DUI's - Kirsten Storms & Sean Kanan

9. Oprah's Girls School Scandal

10. Whoopi & Sherri Shepherd join The View
Honorable Mentions: Ellen's doggy adoption controversy. Ellen hosts her show from bed. Cameron Matheson on Dancing With the Stars.
Be sure to tune in to the Daytime Confidential Podcast on December 19th for the 2nd Annual edition of Lisa & Luke's Best & Worst of 2007. The show that takes a more "unique" look at the year in review.
(We did not include rumored firings that have not been officially confirmed by a network, otherwise Lynn Marie Latham would make this list)