On the Stands: Do The Writers Even Know Who the Text Message Killer Is?
By Luke Kerr on January 21, 2008
Oh boy I'm not sure where to start with the cover of Soap Opera Weekly this week. Obviously Scott Bryce fans are upset about his firing. Melissa Gallo leaving the role of Adrianna on One Life to Live is old news. So that pretty much leaves us with the Young and Restless Victor and Nikki's divorce. I don't read the Young and Restless spoilers so if there is a twist that Victor doesn't see coming then I am all for it. Other than that, this week's cover is a bit blah for me this week.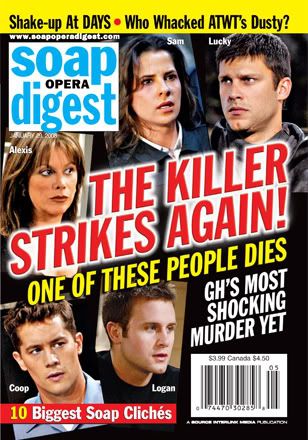 Soap Opera Digest on the other hand does have my immediate attention. With each passing week my belief that General Hospital's Coop was supposed to be the Text Message Killer before the Writers Strike but that a major storyline change was made by scab writers that makes him the hunted instead of the hunter. To be honest I'm not sure the writers know who the Text Message Killer is. Who do you think the Text Message Killer is?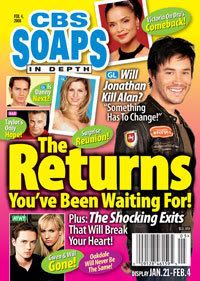 Then we have the CBS and ABC Soaps In Depth Covers. Obviously Tom Pelphrey fans are ecstatic at his return to
Guiding Light
and I must admit It will be great to have him back.
What really bothers me is that Jesse Soffer and Jennifer Landon are leaving As the World Turns. Sure they're character's couple is the most boring thing on the show under 30 but why couldn't the writers break the couple up and then give them something juicy to sink their teeth into?
And what about the ABC cover. As someone who has only been watching All My Children for ten years I didn't have the "pleasure" of watching them the first time around and I am more than a little intrigued to see what their return does for the show. Granted, a successful return is dependant in no small part on the ability of the people who are writing for them (and lets face it we have a huge question mark when it comes to that) but I'm definitely looking forward to what is in store for this couple.