So I'm watching another kick ass episode of
One Life to Live
when all of a sudden I spotted Bree Williamson (who I prefer as Tess but enjoy as Jessica) in a dress that looks awfully familiar. So I dug around in my computer and found an old picture of
General Hospital's
Megan Ward (who single handedly made Sonny watchable) in what is a dead ringer for the exact same dress.
In fact, based on the photographic evidence, I would say they are the same dress. Not only that but it appears to be the same belt as well. Now from these photos it's impossible to determine if they are wearing the same jewelry but at least they have them carrying different handbags.
As a fashion icon and editor of an up and coming fashion bible like Crimson Kate Howard must be mortified.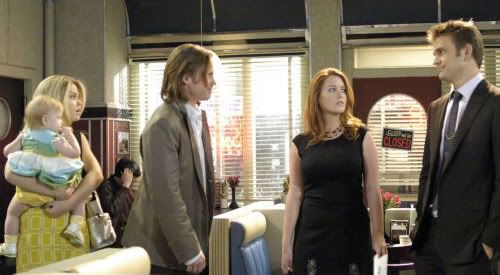 Who Wears It Best?