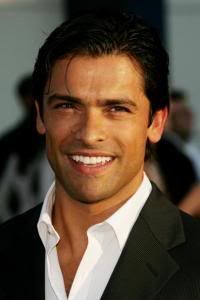 Could former
All My Children
star Mark Consuelos be marrying
Sirius
shock jock Howard Stern and finance Beth Ostrosky? According to
MarksFriggin.com
and their blow by blow transcript of the
Howard Stern
show and this
clip
found on Sirius, that may very well be what will happen. Here is a quote from the transcript.
Lisa said that she ran into Mark Consuelos and he is an ordained minister so he will be able to perform the ceremony. Howard said that they sat down and thought about who they wanted to marry them and they're not into the whole religious thing. He said that Beth told him that she wanted Mark to marry them. Artie thought that was kind of strange. He said that broads melt when they hear that guy's name brought up. He thinks that it's going to be competition for Howard.

Artie said he doesn't want any competition when he gets married so he wouldn't allow something like that. He told him he should have the fat guy from the Borat movie marrying them instead.

Robin said that she doesn't approve of this either and she knows that Howard would make fun of other people if they did something like that.

Howard said that Mark happens to be Beth's spiritual counselor so that's why she's having him do this.

Thanks to Daytime Confidential reader and listener DSRBroadway for the tip!