A Kiss is Still a Kiss
By J Bernard Jones on October 01, 2008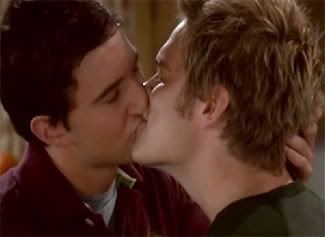 In today's episode:
Luke & Noah: They're back on screen and together. Yay! They get to kiss and smooch and make ugly happy faces! Yay! They still have less screen time than 4 year old day player Ethan. Boo! (Not much to say since they didn't have much to do.).
Carly/Jack/Janet: Jack asks Carly if they can try again. For the 8,271st time. Yay! Carly kicks him to the curb! Yay! Carly tells Janet to come take care of him because Janet is good for Jack! Yay?
Lily/Holden/Carly: Just when I thought this triangle was being abandoned, it looks as if it's going to be reconfigured to include Dusty now that Mike has decided to kick rocks. Lily bared her claws at Carly, who in the old days would have wiped the floor with the Walsh heiress. But since Lily has already attempted to run down Carly, Ms. Tenney-Snyder better watch her ass. Meanwhile, Holden keeping Dusty's resurrection a secret from Lily is going to bite him big time.
Dusty & Meg: Methinks the show is re-testing Dusty with Meg, in addition to testing him with Noelle Beck's Lily. Personally I am all for Dusty being in the middle of two triangles, unlike the last time when it seemed as if he were in the middle of eleven.
Lucinda & Brian: One of the two most interesting developments of the day. Aside from Big Lucy's delicious showdown with Carly, there was the curious conversation that Brian had with her. Big Lucy expressed support for Lily & Holden reconciling. Brian observed none too cryptically that people can't control with whom they fall in love. Now I know there is speculation that Brian is gay and he'll come between Luke & Noah, but my theory is that Brian may have some involvement with Kevin (Luke's straight boy crush) who is returning soon.
Dusty/James: In the day's other interesting development, we found out from the funeral director that James's estate left Dusty's name to contact in case something happened to James. Funny, wasn't James holding Dusty in a cage? Where is this going?
NON-SPOILER SPECULATION: For the past few posts I've been hinting around what I think may be going on with the Stenbeck story and how Dusty is involved. This is pure speculation on my part: what if Barbara had an affair with Gunnar St. Claire (the original Stenbeck heir) at the same time she was sleeping with James Stenbeck all those years ago and got preggers with Gunnar's child, thinking it was James'. James got wind of it and somehow switched Dusty and Paul at birth, echoing James himself being switched at birth with Gunnar decades before? This would make Paul the real heir to the Stenbeck fortune. James would spend years to try to shape Paul in his own image and would eventually fail. So James decided to get rid of Paul by having Paul kill Dusty (Gunnar's son, previously thought to be the heir). Paul would get put away for the crime and James would take Meg's baby, who would be Paul's heir to the Stenbeck fortune that Stenbeck would control. Finally, anticipating things might go awry James leaves Dusty (not Paul) as his primary contact contact since Dusty would still be the legally recognized heir to the Stenbeck fortune.
In short, should we be in for a switched at birth story line involving Dusty and Paul? Just how badly would such a scenario screw up history? Do we really think Stenbeck is really, most sincerely dead? Did Liberty color her hair? What the hell happened to Luke's? Goodbye, Jon Prescott. We hardly knew ye!