Belief vs. Disbelief
By J Bernard Jones on November 12, 2008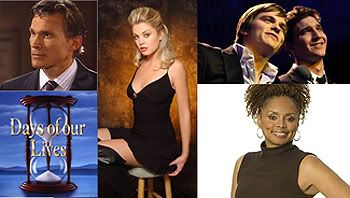 At the risk of indulging an age-old cliché or perhaps inventing a new one, real life is the soap opera that interrupts our daytime dramas.
I've been away for the last couple of weeks caring for my partner who was seriously ill for a little while (all is better now); dealing with the challenges of running a business and maintaining my livelihood in a faltering economy; consoling friends over unexpected loss in their lives and reveling in the result of a Presidential election which has left me elated and joyous in an event that I, as a Black man, never thought I would see in my lifetime. This time has been filled with hospital vigils and prayers (all answered in the affirmative), nail biting suspense, and a dash of personal intrigue. In short, the last two weeks have been a period of belief and disbelief.
As a result of the tumult caused by these events, I had to tape all of the soaps I watch and I am just now catching up. I've been reading the daytime press and caught up with all the goings on here on Daytime Confidential, the reporting of our good friend Nelson Branco, and perusing other websites. No less than the soap opera of real life, the world of daytime drama continues to be as fascinating ever. Therefore as a way for me to catch up with you, gentle readers, here are a few of my thoughts on what is causing within me a state of belief and disbelief on daytime.

ALL MY CHILDREN
Belief: Debbi Morgan is delivering some of the best work of her career. Erica's takeover of Fusion is awesome. Reese & Bianca make a cute couple. Taylor is finally emerging as a truly interesting character and fans of Beth Ehlers' Harley and Ricky Paull Goldin's Gus from Guiding Light are starting to see a hint of that ole "Gush" magic even if the characters aren't nearly there yet. I am far more intrigued by the development of the Annie/Aiden alliance than the actual crazy plot mechanics of Emma's faux-kidnapping. I'm really liking JR Martinez's turn as Brot.
Disbelief: "Brot" is quite possibly the worst character nickname in soap history. Jesse's two families is a story with far reaching ramifications that could have played out for months, if not years and yet is being cut short with Natalia's impending death. Vincent Irizarry has been almost seamlessly reintegrated as David Hayward, but it is way too soon for a grieving and devastated father to be bedding anyone (in this case, Amanda) or moustache twirling so fast, no matter what his plans for revenge are for Pine Valley. Why does Wildwind look like a big ole walk-in closet now?
AS THE WORLD TURNS
Belief: The show is chock full of good stories; even the ones that don't make sense like ultra-rational Dusty's out-of-character & out of the blue two-episode obsession with the Jennifer look alike and the twist involving Spencer's missing body are interesting, although I think it may be pretty obvious who is behind that latter development. The emergence of Sage as a preteen troublemaking villainess in her scheming to break up Janet & Jack has been particularly satisfying; the daughter becomes the mother. Lucinda's developing relationship with Brian and the return of her cancer is meaty stuff. Elizabeth Hubbard and Ellen Dolan have been fabulous the last couple of weeks. I'm loving the Janet/Carly rivalry.
Disbelief: The stories continue to move at such breakneck speed I'm suffering whiplash. The Luke/Kevin election story should have played out for two months leading up to the real life election to allow fleshing out Luke's motives and build genuine tension instead of the herky jerky pace over two weeks. The inclusion of both Alison & Casey in the election arc was clumsy considering how neither are connected to Oakdale University. Can a suspended student actively participate in a school election? Dani Andropolous continues to serve little purpose on the canvas. The murder mystery involving Spencer has Brad caught up with the law once again and it feels like one time too many in too short a period of time.
ONE LIFE TO LIVE
Belief/Disbelief: The entire show, from top to bottom.
Ron Carlivati's OLTL has emerged as a fine-tuned swiss clock of plot schematics, weaving various stories in and out of each other with a dexterity not seen since the glory days of Henry Slesar's Edge of Night. That's the good news. The bad news is in order for the intersection of many of these stories to work, logic often must be upended and belief totally suspended. (continued)