The Soap Executive Who Cried Wolf?
By J Bernard Jones on November 17, 2008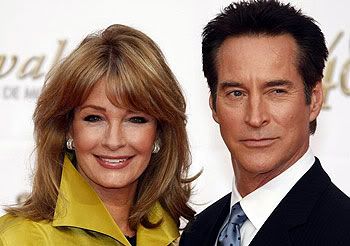 The news that Deidre Hall and Drake Hogestyn have been fired from Days of Our Lives pulled me out of my self-imposed moratorium on posting for the next few days, drowning as I am in work. However as I watched this news filter out over the internets and the intertubes, the completely understandable and justifiable reactions by fans of shock, anger, disbelief and inevitable doomsaying about the future of Days were leavened by my sense that something was amiss in my own reaction. At first I couldn't put my finger on it until it hit me out of the blue.
My reaction was, "Whatever."
Call me a rat bastard for saying so, but I honestly hope executive producer Ken Corday and the fabled powers that be have finally and at long last cut the cord. I hope they let Ms. Hall and Mr. Hogestyn go so they can make lots of money and go on to greater success and brighter chapters in the days of their own lives. Ms. Hall could easily host a talk show or have a hit drama series on Lifetime; am I the only one who remembers the sappy but well-intentioned Our House with her and Wilford Brimley on NBC? Mr. Hogestyn would be fantastic as a suitor for Lily on Gossip Girl. Either one could be cast or recast in accordance with any of the great suggestions offered by Daytime Confidential's own brilliant Jamey Gidddens. So I say let them go forth to better and greater things because in all honesty, how long must these hire-&-fire farces go on?
You see, I'm not a Days fan. I'm the once-in-a-while viewer who mainly tunes in for one of Days' many stunts or sweeps stories but I rarely stick around until the next one rolls up just in the nick of time for a ratings booster shot. Therefore I am not speaking as someone who grew up on Days or have any particular connection to the show. I do respect the show and its stars. We have only 8 soaps left and it pains me to see turmoil on any of them including the ones I don't watch.
I can only imagine as a fan of daytime drama, though, what it must be like for those Days' fans who have been tuning in longer than 90 days to see this news — this nearly exact news — once again. How many times must they as fans of this show or we as fans of the genre go through what is turning into soaps' biggest bait & switch scam ever perpetrated in the medium? Days of Our Lives seems to go through this exercise in casting masochism every time they negotiate a new contract extension.
Insert the name of a big name Days star "fired" in a headline and watch how this publicity grabbing gambit gets the magazines a gurgling, the fans hopping mad, sets the internets ablaze and usually causes eyeballs to tune in to see who, how and when Hall, Hogestyn, Reynolds, McKay, Rogers, Hayes, Taylor, Ms. Frances Reid or whoever else will exit the canvas, only to turn up alive somewhere and somehow in the future — after the show has stabilized and less expensive talent have been written off. To quote Sunshine Anderson, I've heard it all before. You have, too, be it the Salem Stalker or a devastating car accident or a bad case of mononucleosis. (continued)...