Christina Comes Home for Christmas
By J Bernard Jones on December 10, 2008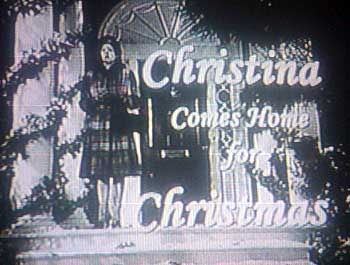 If you thought "love in the afternoon" was dead and gone, you've never seen the perennial holiday classic film 'Christina Comes Home for Christmas.'
What's that you say? You've never heard of it? Neither did I until Wednesday's episode of One Life to Live.
Before I explain, let me explain. I was planning to write about something completely different. In fact, the piece is nearly completed and I was in the middle of fine tuning it when I found myself swept away by what must be one of the most purely romantic episodes I've seen on daytime in at least ten years or more.
As far as plot-heavy OLTL is concerned, the episode was light on anything really happening besides Viki happily reuniting with Charlie and Lola planting a huge kiss on Christian while a suspicious Sarah fumed. Antonio & Talia made out. Rex & Shane bonded; Roxie embraced her inner grandma. Natalie & Jared celebrated normalcy while babysitting not-Jessica's-but-Starr's-child. Blair & John had sex, as usual. Jessica & Brody (who have red hot chemistry!) grew closer. Even Leyla went on a mystery date, offscreen. There were no new earth-shattering secrets. There were no psychological meltdowns. There were no vows of vengeance. It was the kind of episode that soaps used to do back in the day when they weren't trying to hold one's attention with outrageous stunts every episode or racing through storylines at breakneck speed.
What elevated this episode to sheer soap nirvana was the 1930s/40's era-styled 'Christina Comes Home for Christmas,' a fictional analogue to It's a Wonderful Life, Miracle on 34th Street, and A Christmas Story mixed with just a touch of Douglas Sirk in the Llanview universe. Many characters lovingly referenced their love for the film, which is apparently shown on television every year. The movie is so popular that people gather around their sets to watch it alone or with friends and family; it is so well-regarded it is even screened at the local movie house. The film brings up good memories for some, melancholy feelings for others. How realistic is that, huh? And before you ask, I've never seen or heard of this fictional movie referenced on OLTL before Wednesday; but you know what? The whole enterprise was so well written and lovingly crafted, it doesn't matter. Had OLTL stopped there, the episode would have still been a treat, but they didn't. (continued)