Daytime Confidential's Top 10 Most Improved of 2008
By Daytime Confidential on December 19, 2008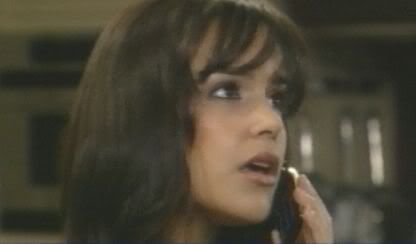 No. 2: Melissa Fumero -
One Life to Live
Melissa "Bitchy Bangs" Fumero was one of 2008's most noted transformations. For years One Life to Live fans had bemoaned that the character of Adrianna Cramer was coma-inducing and boring. Some blamed it on the writers and others blamed it on the actress. Then something fantastic happened. Early in 2008, Fumero got a haircut around the same time the character of Adriana received a Dorian-eque personality change. Introducing Bitchy Bangs!
Post haircut, Adrianna quickly became one of the best soap bitches of 2008. Fumero finally found her niche, managing to play up the character's newfound snark, while keeping Adriana believable and sympathetic–a hard task in the current daytime climate where villains tend to become caricatures as opposed to characters. As the transformation of Fumero and Adrianna had fans gladly re-evaluating their opinions, Adrianna's wedding day face off with Gigi (Farah Fath) landed One Life to Live a rare Soap Opera Weekly cover.
Unfortunately, like many good things (and many good bangs), the rejuvenated Adriana's time on One Life to Live was cut short. Fumero decided to leave the soap, taking with her the best young vixen daytime had seen in years. Adriana's absence is felt across the canvas, but especially within the confines of the Rex (John-Paul Lavoisier) and Gigi romance. Without Adrianna's machinations , Gigi and Rex 's storyline has become mired in the mundane. This once-viable couple desperately needs a proper foil to prevent them from becoming an ooey gooey snorefest. Hopefully One Life to Live will figure out way to get Bitchy Bangs back and soon!