Daytime Confidential's Top 10 Most Improved of 2008
By Daytime Confidential on December 19, 2008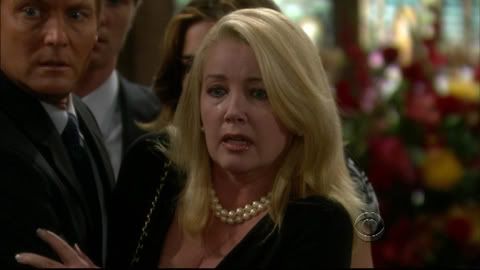 No. 1: Melody Thomas Scott - The Young and the Restless
We admit it. We were pretty hard on daytime television hair models in 2008. Sorry, we couldn't help it. While we realize the soaps have always been a training ground, seeing so many Breck girls and Walking Tag Body Spray Display Ads in front burner storylines — and earning Emmy nods no less— was a bit much for us to swallow with the industry in such a precarious state and needing now more than ever to recognize true talent. Though to be fair, many a hair model has transformed into a damn good actor during his or her time on soaps –
Josh Duhamel
,
Shemar Moore
, hell even
Genie Francis
and
Susan Lucci
were all once known more for giving good face or flashing a sexy six pack, than they were for turning in an impressive performance. There has been no better example of the Evolution of a Hair Model than what has taken place on
The Young and the Restless
with
Melody Thomas Scott
(Nikki Newman) in recent years.
The one thing LML did right during her reign of terror was pen Victor (Eric Braeden) and Nikki's War of the Roses-style breakup storyline. It was during this tumultuous period that Scott became more concerned with bringing raw, earthy emotion to her portrayal of the stripper-turned-socialite, than with looking pretty for the camera.
In 2008 Scott took her performance as Nikki to amazing new heights, allowing the character to be stripped raw (no pun intended), emotionally and aesthetically, as Nikki dealt with her alcohol-soaked guilt over the deaths of Victor's most recent wife Sabrina (Raya Meddine) and his unborn child. For the first time on over 25 years, Scott has matched Braeden toe-to-toe in scene-after-scene as the star-crossed lovers they portray bitterly tear open each other's psychic wounds and pour in fresh sea salt from that Mexican beach where they found each other. At a time when many once-stellar veteran soap stars are phoning in their performances out of frustration or boredom, Scott is doing the work of her career. We couldn't be more impressed or proud.