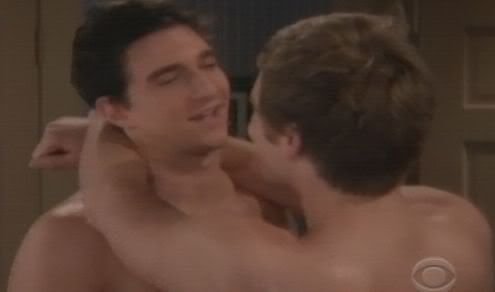 What is it going to take for As the World Turns to use golden opportunities to promote what could be a nuclear explosion? Take for example today's "OMFG Nuke finally had sex" moment. Why didn't the PR department at As the Recasts Turns build up to it with a campaign that included the gay media, the soap media and/or heaven forbid the rough and tumble world of the blogosphere?
With its ratings sagging, As the World Turns does not have the luxury of putting on its scaredy pants to sit on its "morals". The Procter & Gamble soap should be going all out to promote the one couple that could get it mainstream press, Nuke (Van Hansis and Jake Silbermann).
Nuke's sex scenes have been anticipated by fans for nearly two years (if not longer) and then to have a "blink and you'll miss it" episode was beyond infuriating.
Why is it in a genre where people are murdered almost daily, women sleep with their husband's brothers, or their granddaughter's boyfriends, sperm is switched and stolen at a lightning fast pace and mobsters are promoted as heroes, gay couples such as As the World Turns' Nuke and All My Children's Bianca and Reese are marginalized? Heaven forbid there be a lesbian couple on Guiding Light. Instead we watch Olivia and Natalia stare longingly at one another as if they want to jump each other's bones faster than they can whisper "L Word" in a hot-and-bothered gasp.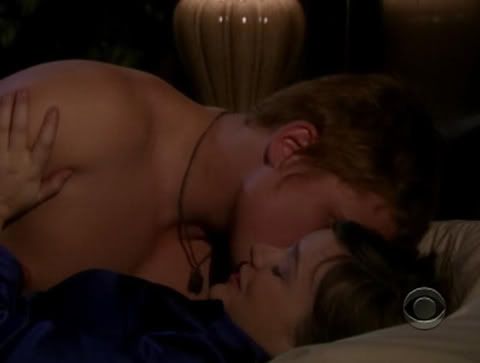 Maybe As the World Turns' unwillingness to promote itself wouldn't be such a big issue if 2008 wasn't the year that might have been.

As the World Turns didn't promote Nuke's kiss in early 2008, choosing instead to let it slip by like a thief in the night. As the World Turns recast countless characters and got rid of countless more. The struggling soap didn't capitalize on fan response to the May/December romance between Emily and Casey and instead decided to retell the stories of 2005 and 2006. As the World Turns also didn't stick with what could have been its most explosive quadrangle of Lily, Holden, Carly and Jack.
Like today's Nuke scenes, the rivalry between Carly and Lily had a minimal impact as they eventually made up over Cosmos. Meanwhile, Casey is now falling for the sister/bio daughter of his one-time love Emily. This show just doesn't have any rhyme or reason. Of course, I probably shouldn't be surprised. How can a show promote itself when it is afraid to go after new audiences and doesn't have a clear identity of what it is or what it wants to be?