Fasten Your Seatbelts
By J Bernard Jones on January 06, 2009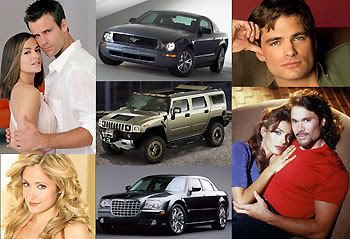 I would like nothing better than to start the new year by talking about one of the five soaps I watch on a regular basis: As the World Turns, Guiding Light, General Hospital, All My Children and One Life to Live. As a regular consumer of Daytime Confidential, you would like to talk about Spixie, Skate, CarJack, Craig, Shayne & Dinah, Bizzie, Rylee, David Vickers or Todd, Tea, and Marty. We are primed for more analysis and debate about the state of soaps, the ratings race, backstage gossip and industry machinations that directly affect our soaps.
However, yesterday came a series of alarming reports that every serious soap fan should take particular notice. This news is not sexy, glamorous, or particularly juicy. It seems far removed from the battle over Little Johnny, Claudia's frantic (if increasingly laughably staged) search for the incriminating DVD's , or the impending return of one Phillip Granville Spaulding. In fact, this is the type of news that most soap fans will gloss over and turn up their noses without a second thought, but we would be wise to resist that temptation. Yesterday, the automobile industry reported its worst sales in decades. While not surprising given the current state of the economy, this is one of the most problematic developments for daytime dramas that we've seen in a long time.
Let's get straight to it. According to Monday's New York Times:
Vehicle sales in the United States tumbled more than 35 percent in December, dragging the Detroit automakers' full-year totals down to their lowest levels in nearly half a century.
"So what does this have to do with my soaps?," you rightly ask. The answer is at once complicated, yet very easy to grasp. Chrysler was down 53% in sales. Toyota lost 37%. Honda bled out 35%. Ford reported 32% sales losses, while Nissan and GM fell 31% in sales. The other car makers lost between 8%-36% in sales. The cumulative effect is that as the auto industry sales continue to plummet, so do network and independent television affiliates lose advertising. According to Automotive News and other industry sources like Media Buyer Planner, the automakers are not the only the advertisers cutting back:
Carmakers aren't the only ones trimming ad spending. Their regional-dealer ad groups, which generate a chunk of their budgets from every new-vehicle sale, are also cutting back due in part to smaller volumes, noted veteran auto marketer and agency exec Ian Beavis, now executive vice president and executive client director of Aegis Group's Carat. Beavis said the biggest drop in industry ad spending will be from individual auto dealers because "their margins are getting squeezed" and they are cutting expenses any way they can just to survive.
Those individual auto dealers account for a hefty portion of the revenues generated by your local TV station. When revenues fall, your local station starts cutting back on everything from news operations to various forms of programming for which it must pay all or at least some part of its various shows' licensing fees. Now I am sure there are people with far more knowledge about these things than I who will surely correct me (and they are welcome to do so if I am in error), but the following is not a forensic analysis of how soap operas are funded or generate revenues. It is, however, a close enough overview for our general purposes in order to see how these issues affect daytime dramas:
A soap opera's production costs are generally funded by either the network that owns them (ABC) or the production company that produces them (Proctor & Gamble, Bell Dramatic Serial Company, or Corday Productions, Inc). In the latter case, NBC pays Corday Productions a licensing fee for broadcast rights and sells advertising time during the broadcast from which it recoups its licensing costs; CBS has a similar arrangement with Bell Dramatic Serial. It should be noted here that Sony Pictures Television is the distributor for The Young and the Restless and Days of Our Lives, including domestic and international handling, while The Bold & The Beautiful is distributed by Bell-Phillip Television. The distribution arms essentially negotiate international and other broadcast rights and split the profits with the production companies. On the other hand, CBS pays P&G a licensing fee in exchange for favorable or "preferred" advertising rates for the bulk of a given shows' episodes.
In good economic times, more or less everybody comes out a winner and only struggling soaps feel the pain of budget cuts. In bad economic times, every show takes hits of varying degrees. This is why the Bell soaps seemingly are generally in the strongest financial position in terms of production since revenues are generated from a variety sources, especially international markets; the ABC soaps get hit hard across the board since the network bears the full cost of production; and the P&G soaps generally get slammed because P&G is a massive conglomerate whose fortunes are tied to directly to the economy itself. In other words, when people don't buy Pampers, Oakdale's sets shrink about a foot and a half in all directions. (continued)