Guiding Light: Beth Happens Here
By Jamey Giddens on February 14, 2009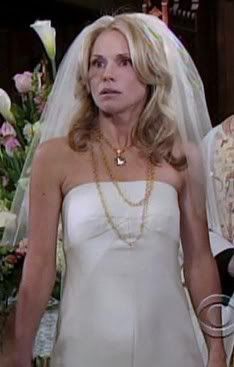 I owe
Beth Chamberlin
an apology. A few weeks back in my
Top 10 Last Ditch Stunts to Save Guiding Light post,
I recommended the show toss the actress in favor of bringing back Beth Raines' originator
Judi Evans
. While I never saw Evans in the role, I heard from my aunts and mother who watched the show during the heyday of The Four Musketeers, that Evans was even more fantastic as Beth than she was as
Days of Our Lives'
Adrienne or
Another World
's Paulina, two of my favorite soap heroines, so for me it seemed like a no brainer to bring back Evans with the show in such a precarious state. Then this past week happened.
Grant Aleksander may have been marketed as The Second Coming to Peapack, but it was truly Chamberlin who walked on water. In each and every scene, Chamberlin managed to convey how dangerously close to coming undone Beth was, with every heightened emotion. It takes a good actress to make scenes work with four, count 'em four leading men (Alan, Coop, Rick and Phillip) in one week, while some how figuring out a way to show the audience what the character's respective and sometimes intertwined relationships with each man means to the character and to the story, and Chamberlin proved to be that kind of actress last week. Anyone who can recite with a straight face how Beth went from Alan-to-Rick-to-Coop deserves her props.
Now of course, you know I have more to say about this past week on Guiding Light, some good (the amazing Aleksander's return seems to have given the show its storyline heart back and the breakout Mandy Bruno finally made me forget all about Aubrey Dollar when she learned it was Coop (John Driscoll) in the car accident); some bad (Whoever shot Buzz and Jenna's scenes need to be beaten with a Cat-of-Nine Tails and why is Phillip running around in that red hoodie like somebody's broke Tom Welling? This is Peapack, not Smallville) and some ugly (Bonnie Dennison and Caitlin Van Zandt are almost undoing all the good this show is trying to accomplish every time they disgrace a scene opposite the likes of poor Justin Deas) but I will save that for the Special Phillip Returns: Guiding Light podcast we're taping tomorrow night.