What Is One Life To Live Really Up To?
By J Bernard Jones on February 18, 2009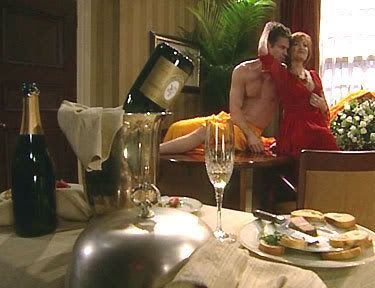 To say that One Life to Live is on fire these days is making a declaration verging on cliche. Each and every episode is a marvel of writing, acting and storyline integration. It is a shame that its ratings don't reflect the awesomeness of its writing and ensemble.
If OLTL has two weak links story-wise, one is the Vanessa/Ray/Cristian black widow/revenge story and the teen drug plot. I agree that the former is very undeveloped at this point, with characters that few seem to find interesting on an already crowded canvas. The latter, the drug storyline, has suffered from a different sort of problem: despite some solid acting, the interactions and dialogue among most of the teen set (not to mention the unrealistic shock of the school principal) is rather unbelievable. At times it sounds as if the teens are in a very bad ABC Afterschool Special and we're waiting for the inevitable overdose, a crisis of conscience and a moral to the story that "drugs are bad."
However, I'm beginning to think the story is not about completely about the teens. I think there are two drug stories going on at the same time and the second one is about the adults. The drug isn't marijuana or cocaine. The drug is alcohol.
The first clue came when Bo (Robert S. Woods) and Nora (Hillary B. Smith) first confronted son Matthew (the fantastic Eddie Alderson) over a joint Nora had found. The scene, a realistic confrontation between parents and a potentially rebellious child, was brilliantly written and acted by all involved. The one element of that conversation that stuck out most was one that could easily be interpreted as a kid "talking back" or "giving lip" to his parents: Matthew called Bo & Nora out about their own "legal" habits — their drinking and even questioned them about whether or not they had ever smoked marijuana, instantly putting Nora uncomfortably on the spot. It also put Nora at odds with Bo over how to handle their son. Check the scene out here, thanks to amazinghbs:
There was another scene a couple of weeks later when Matthew made another comment about his parents' drinking, followed shortly thereafter by a scene between John (Michael Easton) and Cole (Brandon Buddy) at Rodi's. John confronted Cole and during the conversation Cole pointed out that John runs an establishment where people can get drunk.
Finally during Monday's first Go Red Ball episode, Bo muses aloud about sending Matthew to military/boot camp (something he's talked about doing since discovering the joint) to "straighten him out" and turn him into an upstanding young man. As he says this, Matthew's immediate family is getting pissy drunk. In addition, as the Buchanans are getting sauced, all hell breaks loose at the Go Red Ball itself where several of the participants — especially Marty (Susan Haskell) — have had way too much to drink.