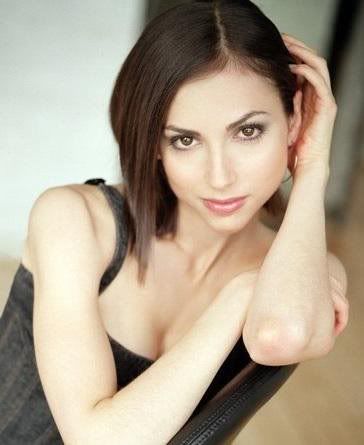 It's no secret
Days of Our Lives
is my heart. Like Tara to Scarlett, Llanfair to Viki and the Promises Treatment Center in Malibu to
Lindsay Lohan
, DAYS is home to me, which is why it pains me to find the land of my childhood, fanboy dreams war-ravaged, and overrun with some strange cow wandering about chewing cud.
I wrote last week how the show was actually watchable again, well, watchable won't keep DAYS on the air past 2010. In years past I never worried about whether NBC-U-Later-Soaps would kill
Days of Our Lives
, because I knew CBS or ABC would readily fight to the death grab up the most buzzed about soap in the last 20 years of daytime television. Thanks to the woeful state of the
U.S. economy, coupled with DAYS being written by someone who would make the top brass at AIG shake their heads and go "tsk, tsk, tsk", I no longer have the quiet comfort that
Frons
or
Bloom
will pick up DAYS once it's cut by NBC. Hell, Mickey Mouse and Tiffany are having a hard enough times keeping the soaps already on their network lineups afloat, why would they consider bringing DAYS to the table in the shape its in?
Horton Hears a Higley
It's time for DAYS to re-establish its core, and sorry folks, that ain't the Kiriakis family vs. The DiMeras— it's the Hortons. The DiMera and the Kiriakis families respectively were two of DAYS great, villainous dynasties of the 80′s and 90′s, but they are basically interchangeable. There is no long term drama or inherent conflict to be derived from focusing a soap opera around two mustache-twirling Euro trash crime dynasties.
The saving grace of this disastrous set up has been the Nicole/EJ/Sami dynamic, however, this aspect of the show isn't interesting or far-reaching enough to anchor a soap opera. The best soap triangles, i.e. Rachel/Steve/Alice on Another World, Erica/Phil/Tara on All My Children, etc. worked because they had two unique female archetypes— one principled and noble, the other methodical, scheming and on the make— vying for the man of every housewife and future Broadway season ticket holder's dreams. How exactly does DAYS plan to build long term story out of two bitches fighting for a rapist?
When Days of Our Lives premiered, it was considered highly-unique for its time, because it combined the tried and true tenets of serial dramas like Guiding Light and As The World Turns— which focused on family— with that of General Hospital, which focused on the workplace. Fans were able to see good Doctor Tom Horton (the late MacDonald Carey) head home after a hard day at the hospital to face a myriad of familial dramas, brought on by one or more of his five children and grandchildren, meanwhile his doting wife Alice (Frances Reid) offered sage counsel and one bitchin' donut recipe!
Now before we go any further, I am not suggesting DAYS pull a Guiding Light circa 2007 and try to recreate some faux-wholesome yesteryear feel for the show. I don't want EJ to suddenly become a doctor—or worse, a preacher— and move himself, Sami, Nicole and their Springer Show kids fest into Horton House, however I am suggesting DAYS take drastic and calculated steps to recreate the Horton family for a new generation.
As it stands now, the members of Salem's first family have no cohesive unit. Because of the advanced age and rumored failing health of Frances Reid, Alice is understandably no longer a presence; one bad Mickey recast too many has left that character irrelevant; meanwhile the soap's first supercouple, Doug and Julie (Bill and Susan Seaforth Hayes) are only trumpeted out for under five work.
The few Hortons with viable presences in Salem are Hope (Kristian Alfonso), who let's face it, is more identifiable with the Bradys after almost 30 years of loving and leaving Bo (Peter Reckell); Lucas (Bryan Datillo), the illegitimate offspring of a long-absent Horton son, who is more associated with the Robert-Kiriakis family; and Maggie (Suzanne Rogers), Lucas and Hope's aunt-by-marriage.
DC's Mike pointed out recently that Emmy-winner Rogers is managing to provide some semblance of familiarity and comfort as DAYS brutally slashes through its veteran cast, as well as much of its storied history. Rogers somehow figures out how to sell even the most forced and contrived of connections. Her chemistry with Blake Berris (ex-Nick) and Datillo have been notable highlights over the past few trying years for the Horton clan and DAYS as a whole, but having this character be used to invoke sympathy for Melanie (Molly Burnett) is beyond disrespectful to Rogers' legacy and fans' patience.