General Hospital Spoilers!
By Regan Cellura on March 16, 2009
Here's the Scoop! 03.16.09
Check out the clip below... Robin locks lips. Will Jason wear a wire? Maxie takes a spin?
Wasn't Spinelli supposed to find out about the almost sex in the garage? Sometimes RUMORS take a bit to unfold and it looks like Spin will learn that Maxie almost bed her roomies man. Is this when she threatens to sleep with the mob prince? Most likely as this will be Maxie's reasoning for why Spinelli cannot leave the country.
Jerry sends Jax that DVD?! How can he play his game with Claudia if he unleashes the secret? What will Jax do? RUMORS have him confiding in Olivia and keeping the secret from Carly. Is Olivia how Jax learns Kate knows the truth?
What does Ric want from Claudia? He wants back in with his brother.
Scrubs, Scrubs, Scrubs…
They're not my favorite GH couple but they were really the only couple to root for. Now, they're screwing with them. Robin's Post Partum storyline started with promise and somewhere along the way, Guza got lost. Maybe that's how Robin winds up Rochester. She meets Brad, he's a carpenter and cute to boot! He asks Robin out on a date, she declines and then re-thinks her answer. Mac is SPOILED to tell Patrick where his wayward niece is sending him straight to Rochester where he witnesses his wife kissing Brad outside of a hotel room. Of course Patrick assumes Robin just slept with the stranger. She doesn't and returns home to admit to her problems to Patrick but she leaves out the part about the hot stranger. I mentioned a possible Lainey sighting and RUMOR has it she comes to see Robin. Remember there are also RUMORS that Robin will attend a support group for PPD moms with real PPD sufferers in the mix. I wonder what they think of Guza's PPD storyline.
Patrick and Elizabeth RUMORS… Will they be the next couple? I'm not believing these ones just yet. But there are RUMORS that this MAY be coming so, the SPOILER guru that I am, I must dish. We've been talking for a few weeks now that Elizabeth will be Patrick's confidant and Robin will see Liz as this perfect mom who has it all together. So when more problems arise for Scrubs courtesy of Robin's PPD, Patrick MAY be spending more time with Elizabeth. One RUMORED scene has Elizabeth holding Emma while Patrick plays with Cameron and Jake. Happy little family?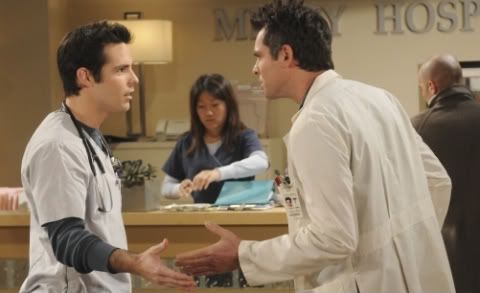 What's even crazier than a Patrick and Elizabeth pair up?
Matt and Robin! If my memory serves, Luke liked them together when they appeared as a couple in Patrick's dream episode. In fact, Patrick and Elizabeth were paired up then as well. Are TPTB really stealing something from a fantasy episode or did the fans respond to these "dream" couplings? Strap yourselves in because this addition of FANFIC or SPOILER is going to be a bumpy ride! Here we go… So there are RUMORS out there that Robin MAY hook-up with Matt! WTF? These RUMORS say that Robin thinks Patrick is having an affair with Elizabeth and she goes off and beds his brother, unprotected. In most soap scenarios that means here comes the baby but with Robin it's here comes the HIV scare. RUMORS/SPOILERS/FANFIC… it says Matt contracts HIV. My two cents…NO NO NO. Let Patrick and Robin work through her PPD. These writers slept through her HIV pregnancy, I have no faith that they can pull off Matt becoming HIV+.
WOW that was a lot of Scrubs drama… let's dish on someone else.
Spinelli… Is he vacating the regrettably pink room? RUMORS have Spinelli moving out of Jason's penthouse.
Michael… We SHOULD be seeing his new face soon but he's not coming out of that coma until April. Late April actually with his story kicking off May Sweeps. Kristina is still slated to be SORAS'd. Kristina will be hell on wheels and desperate for Daddy's attention.
Ethan… I'm no fan of Ethan and if the LATEST is correct, I will not be a fan of Ethan's. I said IF they made him a Scorpio, I'd be on board. The LATEST GOSSIP is that he will be Luke's son and that Anthony Geary was pushing for Ethan to be a Spencer. RUMORS had a possible Tristan Rogers return IF Ethan was to become a Scorpio and now someone else's return MAY be in question. Basically, this whole Ethan is a Spencer sucks on so many levels. We desperately need another Scorpio. The way the currently write the Spencer kids tells me these writers have no business writing for another one. Also, there would be potential for the character, especially if he and Robin could explore a sibling relationship. It also takes away any possibility of pairing Lulu with Ethan. Furthermore, IF they're banking Ethan's success on his scenes with Tony Geary, TPTB better make sure Geary has no vacation plans in the near future.
The economy… and no I'm not going to talk firings or change in status today. The state of our nation's economy is said to be making its way into our ABCDaytime storylines.
RANDOM and CRAZY RUMORS…Robin needs time away from her family. Rebecca isn't happy that Nikolas wants Lucky to back off. Will a close moment between friends have Lucky thinking his brother is trying to get a little payback? The Q's are fan favorites but they never get a good story. Will we see Edward with Michael? Has Wally Kurth been asked to return?