LIVEBLOGGING: Guiding Light's Four Musketeers Reunion!
By Jamey Giddens on March 06, 2009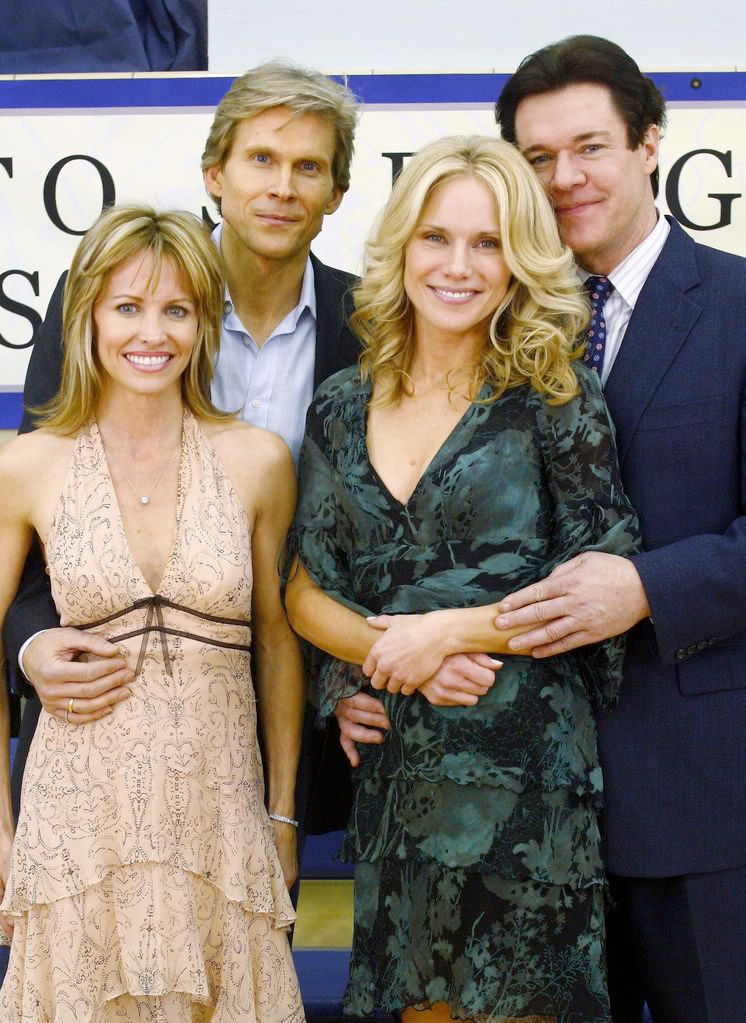 Almost time for the show!
Damn the Y&R previews for next week look hot! Greg Rikaart is so gonna win another Emmy!
The B&B previews look like more of the same. Hot-Meet-Mess.
Doh! Show's on! You gotta be ready with this liveblogging business!
Oh great, Grady.
Thank God for Lizzie!
Grant Aleksander hasn't freaking aged at all. He's like a gigantic Ken Doll!
I have always loved Phillip and Lizzie's connection. Love him looking at pics in the attic!
Mindy Sue!
She's looking at pics with Beth!
I would have liked a big intro scene, but oh well.
Keep smiling, keep shining, knowing you can always count on me!
One more hug like that and Beth and Mindy are gonna give Otalia a run for their After Ellen feature!
Justin Deas is the God-o-Acting!
I miss Coop, but damn was his death needed!
Buzz and Alan are daytime's answer to Jock Ewing and Digger Barnes!
Ron Raines is keeping it subtle. Good, very good. No mustache-twirling.
Ugh, the greasy grifter!
Just shoot him Lizzie!
Or let your dog bite him in the nads!
Hey Lizzie, I doubt the guy who ran Tammy over like she was a toddler on Days of Our Lives will sympathize with your living in fear!
Oh yippee skippy it's my favorite soap theme song EVER! :O
I read somewhere that pets are the first thing to go during a recession. Maybe IAMS isn't the best advertiser. Try soap, people have to wash their behinds!
Queen Latifah just did a voiceover for some product. It wasn't herpes cream though.
Dear God in heaven, colored balloons for bladder pill advertisements?
I'd hate to see this ad agency's spot for condoms!
One bladder commercial, now some Vagisil.
Criminal Minds spot. Or was it Numb3rs. CSI: Peapack?
Billy and Melinda Sue!
Krista Tesreau is like a jolt of fun!
Loving Beth's purple, silk blouse.
Mindy's met a LOT of right guys Billy!
Beth too!
Oh no, Daisy AND Cyrus!
That little girl was forgetting her lines AGAIN! Grr!
I want Ellen Wheeler to take a switch to Bonnie Dennison's legs!
More crazy Lizzie, but at least she's opposite the Foley I actually like.
Cyrus could be this show's biggest stud if written right.
Cyrus is an idiot. She was gonna give his brother $50 million!
The Spauldings got it like that?
They are SLUMMING in that house then!
God that snow is pretty!
Peapack is much prettier in the winter.
Anybody wanna move to Jersey?
Grady, sigh. Nice looking actor. He could eat a sandwich or three, but his story has always sucked.
YEAH Phillip, thank the Soap Gods. Irna, Bill, Doug and James are smiling down!
I have a confession. I've never liked Alan. I started watching in the early 90's when Roger Thorpe was the town villain. Subtle, psychological. Oh well, keep it toned down Ron and I might try to view you with new eyes. No more "I'll get you my pretty!"
I hate the Manwich commercial with that child with food all over its face.
So, if I am to believe advertising really matches the viewers' demos. The people who watch soaps are asthmatics who clean a lot and have bladder problems. Oh, and they eat Manwiches.
A nasty Aussie tells her he wants to screw her all night and Daisy says, "Ummm." Help me out here Bonnie! "Umm" is not acting!
Billy, you shot Roger Thorpe for banging your daughter, don't preach at Buzz about not stooping to levels!
Beth Chamberlin is gorgeous!
Michael O'Leary is blowing out his curls?
Haaaa, Rick's an a-hole talking about the pizza face girl! I love it!
Oh, could they just not have had Daisy on for this?!
I want Cyrus to FUDGE Blake! :p
Do they have canons in Peapack? If so can they shoot Bonnie Dennison out of one?
Sigh. She's pretty. Get her an ACTING COACH!
Crazy-yet-fashionably-chic Lizzie is on.
She just saw Grady's bird chest and realizes he's the socialite-napper!
Odor Eater commercial. So the people who watch soaps are asthmatic's with bladder problems who eat Manwiches and have stinky feet.
A Dulcolax commerical followed by a soup commercial...type amongst yourselves!
I need to go into media buying!
Local commercials blow.
I'm craving El Pollo Loco.
I am tempted to buy Joan Rivers' novel.
Show's back!
Lizzie is dressed like a Bratz ice skating doll.
Buzz is da shit.
Wishful Casting: Robin Mattson returns as Hope Bauer, Alan's ex-wife and falls for Buzz! Santa Barbara bitches!
Glad to see the old gang could put bygones behind them. So what if Phillip went ape shit, let's make fun of pizza face!
Super Phillip to the rescue! Save Lizzie, daddy!
Cyrus is thisclose to being irredeemable because of his sucky brother. The accent and the swagger can't keep saving him.
Awww, Cyrus loves grease head!
THANK YOU JILL LORIE HURST FOR GETTING GRANT BACK!!!!!!!!!!
This show SO needed a good, old-fashioned hero after years of sleazeballs on the front burner!
Let's hope GL's fascination with dark-haired dirty boys is OVER! Pelphrey was special. The clones, not-so-much.
Wow, there are a LOT more local, crappy commercials as the hour goes on! Why is that? I know some of y'all know and are just itching to tell me. Why are there more national ads near the top of the hour?
Liveblogging is hard!
Whatever happened to that couple who fell in love while drinking Taster's Choice? I loved them. Now that was a commercial!
Show's back! Marcy Rylan is a revolution.
2010's Outstanding Supporting Actress is on GL right now!
RIVETED BY RYLAN!
Krista Tesreau is such a doll!
Okay, Buzz is getting on my nerves.
Okay...are Buzz and Alan comic rivals who give each other heart attacks or bitter vicious rivals? Decide please.
Sigh, Daisy.
Okay, I get it. Cyrus leaving Dimbulb Daisy is the crux of his dilemma. It would be better if they had an ounce of chemistry or romance. Or if she could act. The snow is pretty though.
Such a pretty girl. ACTING COACH PEOPLE!
YEAH! Marcy and Grant!!!!
Lizzie is breaking me DOWN!
Marcy is going there! This girl is IT! I She is the next Reese Witherspoon!
Go 'head Grant! See, pretty people CAN act!
Phillip and Lizzie are amazing.
Maybe love can save the world?
Oh wow, this is absolutely amazing! Phillip and Lizzie are making up for Daisy!
Anyone with Daddy Issues is in tears right now.
Mindy: "Who Said We Liked Phillip More?" SNORT, everyone!
Daisy has too been to Towers!
Whatever happened to Uncle Stavros?
Bonnie Dennison is better opposite Justin Deas.
Why can't she relax in scenes with the dude who plays Grady like that? Okay so he's pretty, calm down and be natural!
Lizzie just had a melt down. Now she's totally rational.
Kill him Phillip!
Kill that scum sucking son of a gun!
This was fun! I think I'll do it again Monday!
Wait...did I just hear Rapist Jeffrey was SUING REVA next week? Where is BUD????