Performers of the Day: Mick Hazen, Maura West and Michael Park
By Luke Kerr on March 17, 2009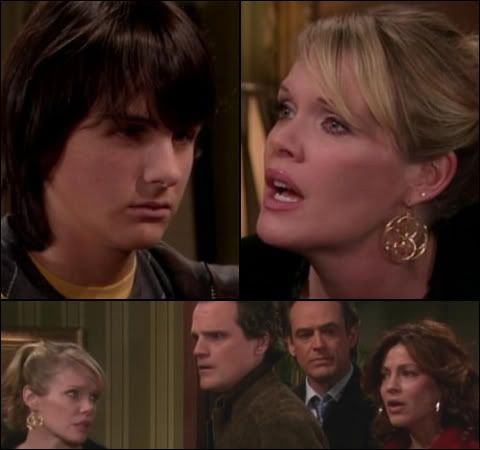 On this week's
Performer of the Week
episode I talked about how the expressions on
Melody Thomas Scott's
face, last week when Nikki realized that Katherine is who she claims to be, gave me chills. Well move aside Melody Thomas Scott,
Greg Rikaart
and
Emily O'Brien,
As the World Turns'
Mick Hazen
,
Maura West
and
Michael Park
are in the house.
The intensity with which Mick Hazen went toe-to-toe with Maura West was riveting. West was at her best as Carly lashed out, trying to stop the marriage from happening. It was the perfect blend of a mother lion and desperate inevitability.
Meanwhile, for every roadblock that Carly threw up Parker was right there to tear them down with a sense of sanity and calm that only made Carly look even more unstable. It was brilliant. When Jack finally arrived on the scene it was too late. Then back at Carly's house where Jack packed up Parker's things, telling Parker "not to come near him or else," and threw the newlyweds out, was the perfect blend of heartbreaking and fury.
For a show that has relegated Luke and Noah to Starsky and Hutch investigations, pimped the vortex of suck Paul and Meg at every turn, recycles almost every single 2006 script, chews through storylines faster than Enron shredders and practically ruined the characters of Katie, Brad, Henry and Vienna while sidelining the Hughes, the performances of Maura West, Michael Park, Jon Lindstrom, Julie Pinson, Mick Hazen and Meredith Hagner have been the saving grace of Oakdale.