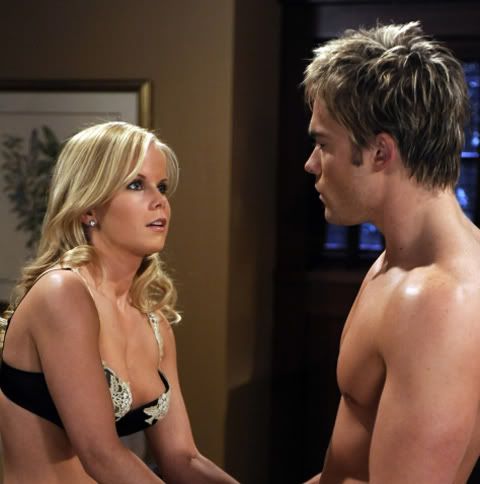 April 6-10, 2009 wasn't a good week for our favorite ABC sudsers ratings-wise. Both The Mouse House's flagship soap
General Hospital
and time slot lead-in
One Life to Live
hit
new household lows
.
GH also hit an all-time low in total viewers. OLTL lost a whopping 287,000 total viewers for the week. Apparently fans aren't as crazy about rehashed couplings (
General Hospital
) and
Crystal Hunt'
s near-naked bottom (
One Life to Live
) as the network brass seems to be.
The good news for soap fans is that CBS Daytime's
The Young and the Restless
added 81,000 total viewers and 105,000 new watchers in the coveted Women 18-49 Demographic. Y&R was the only soap to show gains (18,000) year-to-date in this coveted demo. Y&R is also up year-to-date in total viewers (128,000), as is
Days of Our Lives
, which ironically had 116,000 more gluttons for punishment than it did this time last year. NBC's lone sudser is still Number 2 among Women 18-49, proving what I have always known, DAYS fans are the most loyal out there. Thanks to the good folks over at
Soap Opera Network
for the Nielsen digits.
Ratings for the week April 6-10, 2009

(Compared to Last Week/Compared to Last Year)
Total Viewers
1. Y&R 5,215,000 (+81,000/+128,000)
2. B&B 3,350,000 (+25,000/-318,000)
3. DAYS 2,768,000 (-99,000/+116,000)
4. GH 2,511,000 (-133,000/-507,000) <——- new low
5. AMC 2,510,000 (-203,000/-45,000)
6. ATWT 2,462,000 (-143,000/-353,000)
7. OLTL 2,401,000 (-287,000/-85,000)
8. GL 2,193,000 (-24,000/-252,000)
HH
1. Y&R 3.7/12 (same/-.1)
2. B&B 2.4/8 (-.1/-.3) <——– ties low rating
3. DAYS 2.0/7 (-.2/same)
4. AMC 1.9/6 (-.1/-.1)
4. GH 1.9/6 (-.1/-.4) <——— new low rating
6. OLTL 1.8/6 (-.2/-.2) <——- new low rating
6. ATWT 1.8/6 (-.1/-.3)
8. GL 1.6/5 (same/-.2)
Women 18-49 Viewers
1. Y&R 1,191,000 (+105,000/+18,000)
2. DAYS 857,000 (+13,000/-59,000)
3. GH 834,000 (-30,000/-279,000)
4. AMC 741,000 (-95,000/-112,000)
5. OLTL 736,000 (-117,000/-126,000)
6. B&B 710,000 (-5,000/-184,000)
7. ATWT 587,000 (-61,000/-228,000)
8. GL 564,000 (-22,000/-212,000)
Women 18-49 Rating
1. Y&R 1.8/12 (+.2/same)
2. DAYS 1.3/8 (same/-.1)
2. GH 1.3/8 (same/-.4)
4. AMC 1.1/7 (-.2/-.2)
4. B&B 1.1/7 (same/-.3)
4. OLTL 1.1/7 (-.2/-.2) <——— ties low rating
7. ATWT 0.9/6 (-.1/-.3)
7. GL 0.9/5 (same/-.3)
Girls 12-17 Viewers
1. OLTL 50,000 (+25,000/+33,000)
2. GH 49,000 (+9,000/+17,000)
3. Y&R 41,000 (+11,000/+18,000)
4. DAYS 37,000 (+15,000/same)
5. ATWT 28,000 (+1,000/+5,000)
6. B&B 27,000 (+13,000/same)
7. GL 24,000 (+7,000/-6,000)
8. AMC 20,000 (+4,000/+6,000)
Women 18-34 Rating
1. Y&R 1.1/7 (+.1/+.2)
2. DAYS 1.0/6 (-.1/same)
3. AMC 0.9/6 (-.1/+.2)
3. GH 0.9/6 (-.2/-.2)
5. OLTL 0.8/5 (-.2/same)
6. B&B 0.7/4 (+.1/same)
7. ATWT 0.6/4 (-.1/same)
8. GL 0.5/3 (-.1/same)
Men 18+ Viewers
1. Y&R 1,244,000 (-27,000/-56,000)
2. B&B 766,000 (-1,000/-95,000)
3. DAYS 548,000 (-77,000/-6,000)
4. ATWT 515,000 (-20,000/-112,000)
5. AMC 469,000 (-64,000/-42,000)
6. GL 466,000 (+5,000/-39,000)
7. GH 420,000 (-40,000/-126,000)
8. OLTL 415,000 (-64,000/-28,000)