As the World Turns Daily Recap: Enough With The Z's
By Nicki on April 13, 2009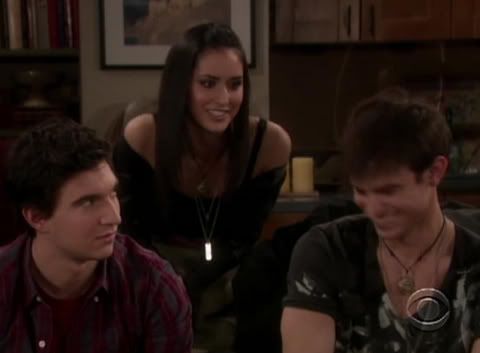 Bits of annoying banter started off this week for
As the World Turns....
let's just hope it doesn't dominate the week.
First off lets start with the couple who are definitely not going to make it long term, Parker Munson and Liberty Ciccone. Liberty is far beyond Parker in maturity and you can already tell she wants out. However for now she seems to be letting him get his way as she agreed to turn down the internship of a lifetime. Meanwhile Parker is acting more like a 5 year old then a teen with his pouting and temper tantrums. And I don't care who you are you never speak to your mother the way he spoke to his mom Carly Tenney today, even if he did have a point on the drinking issue.
Earlier that evening Carly returned to her room with Craig Montgomery obviously inebriated and started drinking even more. They were about to have sex when Parker showed up looking for Liberty. Then when Parker misconstrued, as kids his age do and he is a kid, the relationship between Liberty and her new boss he lost it and went off on his mom calling her a gross disgusting drunk. Personally I would have slapped the kid but Carly's feeling a bit insecure at the moment so instead she believed him and decided to stop drinking. We'll see if it works or not although I doubt it will seeing as the build up they've made for this story.
Back in Oakdale Luke Snyder and Noah Mayer were getting settled in for a romantic night of making out and watching movies. But just as they started to enjoy each other Z & Z the "wonder twins" from hell showed up with a ouija board and a bottle of absynth. Noah and Luke both turned down the drinks and weren't buying it when they started using the ouija board and once again ruined a Nuke moment for annoying blah blah blah. Zac the male twin feigned being sick and ran off to the bathroom while Zoe the female twin feigned needing to make her brother a hangover cure in the kitchen. Shortly after they both left the room the power went out and Zoe screamed. She came out and said she plugged in the blender, saw a spark, and everything went dark. She screamed for Zac saying he was scared of the dark so while she and Luke lit candles Noah went looking for him. Zac was then seen in Luke's room looking through stuff with a flashlight. When Noah found him though he had taken off his shirt and started hitting on him. In Noah's hurry to get away from Zac he let go of his questioning of why Zac was in Luke's room in the first place. Shortly after that the twins left just before Luke's parents Lily Snyder and Damian Grimaldi showed up.
Earlier Damian showed up at Lily's office to try to convince her again that he wasn't the one going after the foundation but she kept her suspicions. After Damian left Lily looked again in the drawer where the stolen discs used to be and found a Grimaldi ring. Back at the hotel Damian and Lisa Grimaldi discussed their lives and some items of his cousins' that she thought he might want. He offered to buy her dinner but she left saying she had other plans. After he got back to his room Lily showed up and started again with the accusations. When Damian showed her that the ring obviously wasn't his size her suspicions shifted and she started to believe him. She allowed him to escort her home where they had a confrontation with Luke. Noah left and later went to see Damian alone. He told Damian what he remembered of the mysterious screenname of the hacker and they considered that it might be the horoscope sign Pisces in Italian. Noah then ran into Z&Z at the diner and saw Zoe with a necklace which he asked about and she confirmed, she and her brother were Pisces.
Personally if these two twits are responsible for such an elaborate scheme they deserve Academy Awards for their acting because I wouldn't ever believe they had enough brain cells between them to pull it off.