General Hospital Spoilers!
By Regan Cellura on April 29, 2009

Here's the Scoop! 04.29.09
You all know I'm dreading the LL2 reunion right? I do love Rebecca Herbst and my roomie is a huge Greg Vaughan fan so I guess there is some silver lining to the dark cloud, more airtime for Becky and Greg. It however, does not dampen my Liason love who has a scene coming up! I'm such a sucker… At least it seems the writers remember that Elizabeth works in the hospital that Jason is in and that the former loves could possibly run into one another.
Since there's Liason coming… and LL2 what should JaSam fans be looking for? RUMORS of Jason confiding in Sam although those RUMORS had that happening weeks ago and so far, nothing. Possibly next week… In other Kelly news not only was Lindsay Lohan supposedly looked at as her PeepShow replacement but now there are reports that Elizabeth Berkley (Jesse Spano, Saved By the Bell) was spotted at the PeepShow and the "showgirl" MAY be in talks to join the show.
Martha Byrne…
So a girl takes a break and all hell breaks loose. I'm not clear on how long she'll be in Port Chuckles. It looks like she's coming in late May and COULD be around for a better part of the summer. Her facebook update implied that the timing fell into place. She is playing Mayor Floyd's wife and there is plenty of SPECULATION as to why the first lady of Port Charles matters. One is that the mayor is the murder victim in the summer murder mystery. Another has her tying into the Ethan story. A lot of fans get excited that a newbie could mean less mob. The murder mystery is SUPPOSED to involve Jason so that would mean mob.
DNA test for Luke and Ethan. Epiphany is there to administer the test.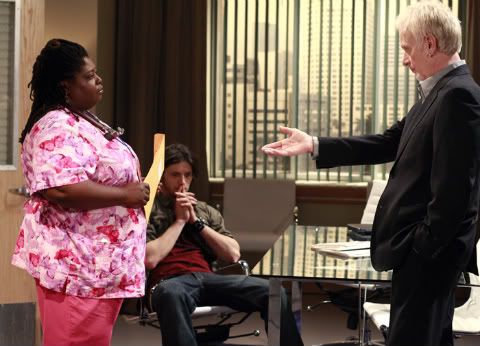 Problems when Michael wakes up.
Who will he turn to? Who will he turn against? Personality change? That's coming. We SHOULD see a very different Michael. I would hope so! Different actor, different story, different Michael. Surgery for Mikey is next week.
Maxie tries to create danger to get Spinelli's attention. It blows up in her face. Well, her plan doesn't' go as planned when it's Johnny to the rescue. Will Maxie and Lulu get their friendship back? I hope not. I like them as frienemies with more emphasis on the enemy. Here's a tip! All this casting and firing RUMORS, get a girl back on the canvas. Too much of a sausage fest on GH right now.
Miscarriage scare for Claudia? Again, another pregnancy storyline that has to have issues. Hey Guza! I realize infertility and risky pregnancies are a reality but they don't happen every time a woman gets pregnant.
NotEmily and Nikolas… Still not a fan. Leave her with Lucky please! RUMOS have NotEm and Nikolas still trying to make a go of things. Does psycho granny and her birth certificate have anything to do with that? Alexis wants NotEmily to leave town and offers up some cash.
Programming Note… So I had some stuff pop up last week and had planned on taking a mini vacation from DC. It seems that hiatus is over as I can't seem to stay away. If I am missing here or there, no need to worry, it's just me handling some business.
Also... I have a twitter for when I post here at DC. Check it out and follow along. Sometimes I have the laptop in front of me when I'm watching the soaps and sometimes I leave a comment. Sometimes I'm even funny...