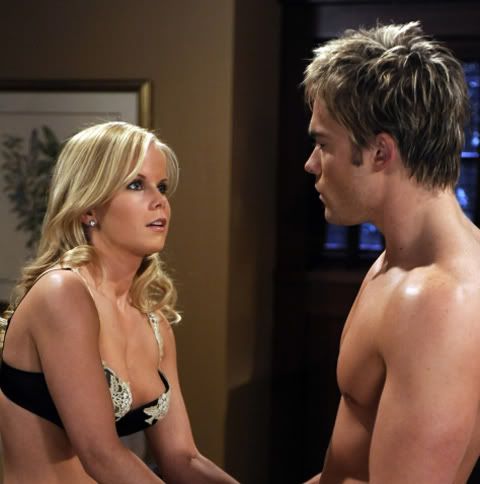 While sitting on the toilet reading
Tan Lines
by
jj Salem
(Really raunchy, soapy storyteller that Salem. Think if
Jackie Collins
and
Sidney Sheldon
had an illegitimate son who was adopted by
Candace Bushnell!
), I had quite the epiphany.
It finally donned on me that since it's blatantly obvious TPTB at most of of the eight soaps still on the dial don't give a squirrel's nut what we fans want. You know, like good, properly-paced, character-driven, organic, drama, romance, love, lust and betrayal, featuring the veteran characters/stars we know and love, along with next generation characters tied firmly to the previous ones, soap fans should start practicing
The Theory of Opposite Thinking
.
What is The Theory of Opposite Thinking, you ask? Here's how it works. Basically, since Frons, Bloom and Corday are so cancellation-bent on not giving us what we scream out for on blogs, message boards, in our therapist's offices, etc. then we should start demanding the exact opposite of what we want from the soaps. For example, since I am pissed off that General Hospital unceremoniously aborted Liason before the couple actually received a proper storyline, in practing The Theory of Opposite Thinking, I would say: "I totally agree with Brian Frons and his data. Most of the fans want Jason to be with Sam. GH needs to make this happen," instead of "Frons can take his focus group drivel and stick it where not even the crew of The Enterprise will go to rescue it!) See how it works? Here are some more examples:
1.) I really love it when people of color on daytime are written as boring, stock characters to provide sounding boards and/or Greek Choruses. Not many people of color watch soaps, so why should we be featured in well-written storylines?
2.) I don't know why ABC thinks we want to see all these old people on our screens. Seriously, do I have to see Jackie Zeman or Leslie Charleson on my screen once or twice every three months? That is entirely too much airtime! Do they not realize every time Bobbie brings Carly a donut, that is precious screentime that should be afforded Ethan or Rebecca? By the way, it is so rude to call Natalia Livingston's wonderful, carefully-crafted, thoroughly-original, well-acted new character "NotEmily". You all ought to just be ashamed of yourselves.
3.) Speaking of the Golden Oldies. When are these soaps going to realize what a complete waste of time and money it is to keep them around? No one tunes in for Susan Lucci, Robin Strasser, or Erika Slezak. Give me a break! Look at The Young and the Restless, they generally tend to tell good stories for old timers and they have been dead last in the Nielsens for over 20 years. The smart bet would be refocusing the shows around much more fascinating soap stars like Crystal Hunt and Jamie Luner, the latter of whom was the biggest star to come out of Melrose Place. Before Luner joined, Heather Locklear, Marcia Cross and Laura Leighton were barely drawing a crowd around TVs on Monday nights. MP was the House that Luner built and don't you forget it! Chuck Pratt certainly hasn't.
4.) I really don't understand why people get so caught up in trying to develop believable characters. This really is not how this industry works! All you need is an amazing plot, and the characters will come together. Look at One Life to Live's Stacy. This character premiered with zero character development, sans plausible motivation or drive and she is a breakout hit. Crystal Hunt should really thank Brian Frons for handing her the keys to Llanview. Guiding Light did Hunt such a disservice by showing the audience why her character Lizzie behaved so badly on that show. In developing Lizzie into a popular teen vixen, GL, over the course of weeks, months and years, carefully explored the character's complex mommy/daddy/granddaddy issues. Yeah, I know. BOR-ING. OLTL is proving with with Stacy that it is much more effective to quickly explain character motivation in a single, solitary scene before having the character dismantle arguably the soap's most popular young adult coupling in years. Hunt went from being a wildly popular GL star, to playing out the most loathed current storyline in soaps, helping tank OLTL's ratings in the process. She and fellow GL alum Beth Ehlers really oughta go in together to buy Frons a really nice gift from Barney's for all he's done for their careers.
5.) Chris Goutman was absolutely dead on when he said no one wanted to watch soaps more than three-days-a-week anymore. Although As The World Turns hasn't officially gone this route, the fact that they now only show three decent days of soap opera a week, makes it so much easier for me not to get hooked on their storylines, or feel the need to "tune in tomorrow for the continuing adventures of As The World Turns". Whoever thought up the concept of cliffhangers and making the shows so addictive each day that obsessed fans simply had to tune in five-days-a-week was a complete tool. If more soaps go to Goutman's model, then soap fans will actually have our lives back. After seven plus decades of craving these programs we can finally put down the bon bons and step away from the Curtis Mathes. We will be so grateful that we we won't even notice when the last soap is cancelled. We'll all be much too busy kayaking, hunting wild game, attending Discos with Princess Stephanie of Monaco or volunteering at homeless shelters, to so much as shed a menthol tear over some silly old daytime drama's passing.