The Problem with Liza Colby
By J Bernard Jones on June 02, 2009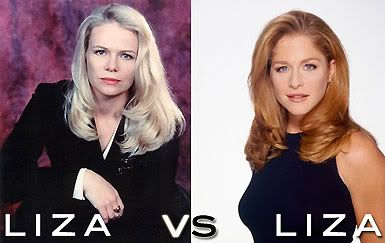 By now, it should be a shock to no one that the near unanimous consensus among most of us who watch All My Children here at Daytime Confidential, the casting of Jamie Luner as Liza Colby Chandler has been a huge bust as of this writing. We know that opinion could change in the future with a knockout performance by Luner, an engaging storyline for the character, or a relationship of any kind that could revitalize Liza and make us see her with new eyes. Unfortunately, none of those three things have happened yet.
The collective criticism of this "new" Liza has centered mostly around the (mis)casting of Ms. Luner, an actress who has her fair share of fans from her days on Melrose Place, Savannah and other shows. On AMC, however, Ms. Luner is delivering the kind of performance that might described as, if I may be permitted to coin a phrase, pseudo-catatonic. Sure, some of the dialogue sounds a little like what Liza might say, but not after three tablespoons of Nyquil.
As a result, at first I was convinced that the problem with Liza was mostly the fault of the actress. That opinion changed with a couple of scenes that aired on Monday's episode that revealed the fundamental reason this character isn't working is because of head writer Chuck Pratt's fundamental misunderstanding about the nature of Liza.
Let's get back to the actresses for a second. To be perfectly fair, original portrayer Marcy Walker has an acting style that is very similar to Ms. Luner's: carefully modulated line delivery in a slightly husky voice. Both Ms. Walker and Ms. Luner have a Lauren Bacall-esque doe-eyed look that go a long way toward conveying a certain kind of permanent emotional wounded state that Liza has always been in regardless of her villainous machinations as a young teenager or her emotional vacillation as a grown woman.
This is where the similarities between the two actresses end. If there was a single undercurrent that Walker consistently brought to Liza during her many off and on years playing the role, it was that underneath all of Liza's "stuff" was a little girl of intense pride and defensiveness borne out of the fear of becoming just like her mother, Marian (Jennifer Bassey). This imbued Liza with a kind of recognizable vulnerability that allowed viewers to love to hate her one minute, detest her without writing her off the next minute and then turn around root for her when it was all said and done.
Luner is still relatively new to the role, but none of these traits have been evident. The "new" Liza is a manipulating shark, almost cold-blooded in her interactions with every one with whom she has the slightest connection. This approach serves her well in Liza's fractious interactions with Erica (Susan Lucci), but is unwise when it comes to Liza's daughter Colby (Brianne Moncrief) or best pal Jake (Ricky Paull Goldin), the only person in the cast with whom Luner shows any semblance of emotional connection.
However, as tempting as it is solely to blame Luner, the fundamental problem with this new version of Liza revealed itself in the aforementioned Monday episode where Liza, Colby and Adam (David Canary) had a little family chat. The divorcees were trying to explain to Colby (as if the nearly grown Colby was five years old, mind you) why their marriage failed. During this chemistry-free conversation, Liza said that the reason her marriage to Adam failed was that they both wanted control.
At that point, I spit out my Minute Maid Pomegranate Lemonade and did a triple take in an effort to digest what I had just heard. Suddenly, it clicked that other characters in Liza's orbit have recently been talking with great regularity about how tough Liza is, how devious Liza can be and how Liza doesn't like to "lose." As Liza's words sank in, it finally dawned on me that the root of this misfire is that Pratt thinks that Liza's motivation has been and is about "control" for the sake of being a controlling person, not unlike Adam to whom she was never equal in terms of background, money or power. All of those things are true on a superficial level, but control in and of itself was never Liza's deepest motivation nor her defining characteristic. From the moment Liza Colby burst onto the screen in Pine Valley in 1981, she has always wanted to be free.