ATWT's Father Figure
By Jamey Giddens on June 09, 2009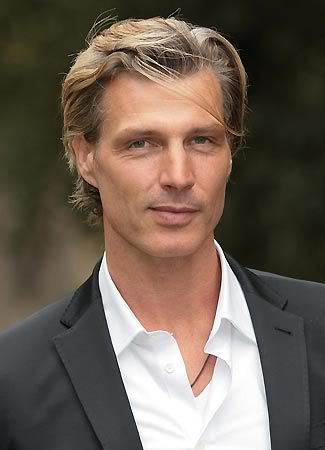 He may have tried to ship his boy Luciano (
Van Hansis
) off to a de-homosexualization camp, but make no mistake, Damian Grimaldi (
Paolo Seganti
) loves his son—and his son's mother.
Michael Fairman
caught up with Hansis and Seganti for
Advocate.com
, just in time for Father's Day. Check out what Seganti has to say about Damian's place in the Snyder's orbit.
Holden has always been Luke's "father." How does Damian feel now about his rival?

Seganti: It's always been a tough road there, because Damian has always been deeply rooted with Lily [Luke's mother]. He is not going there now, because it would jeopardize all the work he has done to get closer to Luke again. And he does not want to lose Luke's trust, and that's the main thing Damian wants ... to rebuild the relationship with his son and take his time. But Damian is still very much in love with Lily. Holden has always been his archrival. He took Damian's place. Damian was kicked out in the old days and it was not his choice. He fought to have custody of Luke and he lost it. He had no choice in the matter. He does not hate Holden; he is just the guy between him and his rightful wife and son. Damian is letting dogs sleep for now, but he is so connected with Lily, and inside he would love to form a family again. But he is not there yet ... so, one step at a time.