Guiding Twilight
By J Bernard Jones on July 15, 2009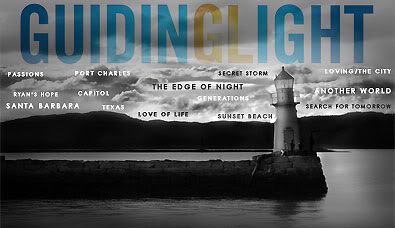 One of the hardest tasks in all of television must be bringing a daytime drama to a close. In other realms of entertainment, plays and musicals can be resurrected through countless revivals. Primetime TV shows can come and go, yet have the potential to be re-imagined or rebooted for the small or big screen. The biggest box office disasters can live on via countless direct-to-DVD sequels. Radio hosts and their dubiously talented sidekicks can be fired for the most hateful commentary, yet live on with the same formats other stations to be spiteful for another day.
With the exception of Dark Shadows, once a soap opera is canceled it is gone forever. During my time I've watched some of my favorites disappear: The City, Port Charles, Generations, Texas, and — in my opinion — two of the genre's titans, Santa Barbara and The Edge of Night. Many of you are still missing your own beloved shows over the last three decades as well. Fans of Capitol, Love of Life, Sunset Beach, Passions, Search for Tomorrow, and the still mourned Another World among others express their loss as if there yet remains a certain kind of grief that has not yet abated after all these years. Soon we will lose another giant among soaps: in less than ten short weeks, Guiding Light will shine for the last time on CBS.
Before I go further, I highly recommend my soap opera heroine Mimi Torchin's weekly look at the final days of GL at Nelson Branco's Soapgeist column at TVGuide.ca for a more forensic and articulate review of the show than of which I am capable. With that said, I haven't commented much about the goings on in Springfield the last few weeks because the show has been in obvious transition as it lurches towards its finale. I usually take a wait-and-see position during regular head writing or producer transitions, but I sit back at a remove even more when a soap winds down its run.
Some fans often think that a soap (or any favorite series these days) ending is a personal affront; it is always all about their favorite memories and where things went wrong and how they are being slapped in the face by "the idiots in charge." They rarely speak of how difficult it must be for the cast members, staff and crews of these shows who have spent years and sometimes decades invested in these enterprises. Not enough consideration seems to be given to the logistical difficulty involved in simultaneously keeping a show running, storylines moving and maintaining the regular business of running a show while dismantling sets, resolving long running stories and complicated character relationships, in addition to the mix of emotions that comes with saying goodbye not just to us, but to each other.
In some ways, GL's slow fade to black is not unlike that of many soaps past. After several months of rock 'em, sock 'em storytelling, the show has switched gears to noticeable effect. The "Who Killed Edmund Winslow?" murder mystery clumsily transmorgified to "Mad Eddie is Really Alive!" The marriage of Bill (Daniel Cosgrove) and Lizzie (Marcy Rylan), while lovely for what it was, seemed rushed. James' (Zack Conroy) Ponzi scheme with its ripple effect on the Boudreaux family was hastily tied up; BethAnn Bonner's Natasha came and went in the blink of an eye. The rushed maybe-he-is-maybe-he-ain't death of Jeffrey (Bradley Cole) has had the effect of driving Kim Zimmer (Reva) into scenery chewing overkill. Meanwhile, Mandy Bruno (Marina) is almost single-handedly carrying the story involving the repercussions of baby Henry's paternity while Shayne (Jeff Branson) skulks and Robert Bogue (Mallet) pursues Edmund's "killer" with an unsettling single-mindedness as they stumble toward resolution. An increasing number of scenes obviously are filler material. There are times when several actors (who will go unnamed under the understandable circumstances) have started phoning in the last of their performances. It's all a little too sadly familiar.
Meanwhile GL's demise has produced a number of news reports that I don't quite remember seeing the likes of which in combination for cancelled soaps in similar circumstances before their final airdate. It's already been announced GL is donating its wardrobe to charity. There is rumored high stakes wrangling from rivals over several of GL's popular stars,along with the highly publicized signing of a few performers like Crystal Chappell (Olivia) before GL has run its course. The filming style looks more cramped than ever in some scenes, including a noticeable increase in the use of location shooting as the few remaining studio sets are undoubtedly being dismantled. Topping everything off is what seems to be the abrupt departure of Gina Tognoni (Dinah) mid-story (in reality, she didn't further extend her contract) that has contributed to a general sense of serial discombobulation. (continued)