Why One Life to Live Deserves to be The Last ABC Soap Standing
By Luke Kerr on August 04, 2009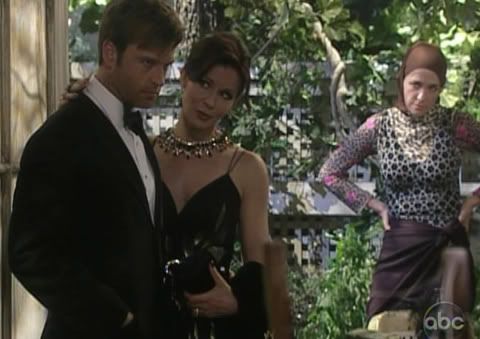 The best argument the soap opera genre can make in favor of its own survival airs at 2pm EST on ABC/ 9pm EST on SOAPnet. Its name is One Life to Live.
OLTL's fictional town of Llanview, PA. is a town rich in history, overflowing with talent, boisterous in personality and uninhibited by an addiction to one or two characters.
Monday's nod to Grey Gardens–acted out by the fantastic foursome of Robin Strasser, Kassie DePaiva, Trevor St. John and Florencia Lozano–and the seamlessness with which it was woven into the double wedding ceremony of Viki to Charlie and Nora to Clint is one of many examples of why OLTL has surpassed The Young and the Restless as the genre's most well-written soap opera.
Unlike the majority of their competitors, Ron Carlivati and his team of writers are not bankrupt of fresh ideas. Guided by the steady hand of Executive Producer Frank Valentini, the team at OLTL is willing to think outside the box, put new twists on classic soap opera clichés and pull from their show's storied past, even if it means confronting controversial topics, or the possibility that a storyline could bomb.
Critics have accused Valentini and Carlivati's version of OLTL of recycling old storylines, but in the words Eddie Cibrian's alleged temptress LeAnn Rimes "there is nothing new under the moon." The difference is Ron & Co. turn what they recycle into fertilizer. Some of it may stink–i.e. the Morasco Fiasco– at times, but almost always something significantly better or beautiful grows up out of it.
The against-all-odds determination to make the best out of bad story ideas handed down from above, has given OLTL viewers innumerable episodic gems. This would not be possible without the genre's most malleable stable of actors. No soap opera boasts a more well-rounded, diversified cast of veteran actors or legacy characters, twentysomethings, integrated new actors and characters, racial and sexual minorities, or as strong a stable of teen actors and characters.
OLTL is a true ensemble drama. Unlike network siblings General Hospital or All My Children, OLTL rotates its cast in A, B and C storylines. OLTL's storylines don't revolve around the same five characters over and over again.
No other soap currently on the air— save for Y&R— drives storyline by showcasing its veteran and/or legacy characters the way OLTL does. Erika Slezak as Viki, Robin Strasser as Dorian, Hillary B. Smith as Nora, Robert S. Woods as Bo, Kassie DePaiva as Blair, Florencia Lozano as Tea and Susan Haskell as Marty, Trevor St. John as Todd and Jerry Ver Dorn as Clint, are utilized day in and day out.

While Y&R may also embrace their vets, you could fly the Starship Enterprise through the gaping hole left by its under 20-cast. OLTL doesn't have that problem. OLTL features the best stable of teen/young adult actors and characters in daytime. Austin Williams (Jack), Brittany Underwood (Langston), Eddie Alderson (Matthew), Jason Tam (Markko), Kristen Alderson (Starr), Shenell Edmonds (Destiny) and Brandon Buddy (Cole) outshine most of their industry peers five-days-a-week.
By comparison, All My Children, a soap opera obsessed with youth and beauty, unfortunately doesn't take the necessary steps to ensure their pretty, young faces actually know how to act. Perhaps Julie Hanan Caruthers can approach the Janice Dickinson Modeling Agency about the possibility of merging the two shows? They could rename it All My Modeling Agencies and air it on NoSOAPsnet.
With the exception of Billy Miller (who is now on Y&R), Adam Mayfield (Scott), Daniel Kennedy (Petey), Ambyr Childers (ex-Colby) and Lucy Merriam (Emma), AMC hasn't cast anyone who can act under 30— let alone 20— in at least three or four years.