An Open Letter to Barbara Bloom
By J Bernard Jones on September 06, 2009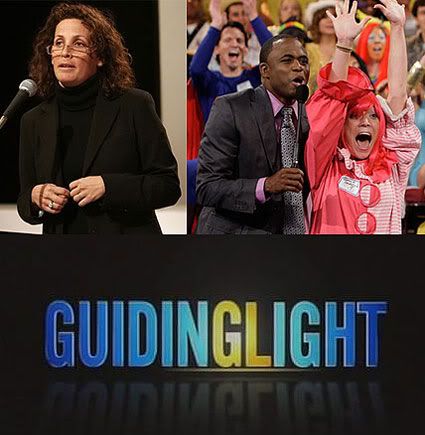 Dear Ms. Bloom,
On October 5, 2009, your network — CBS — will premiere a new version of the classic game show Let's Make a Deal as a replacement for the now canceled Guiding Light. To put it bluntly, I will not be watching.
You might be surprised by my reasons. Though in the grand scheme of things, you might not care. As a 44 year old Black man, I don't fit any demos that CBS or its advertisers care one whit about — though you ought to care about every viewer in these trying times for the networks. Nonetheless, you should know that I do not share the pitchfork & torches anger of the more vociferous Guiding Light's fans, who have vowed to never watch CBS daytime, or any show on the entire network, ever again.
Boycotting CBS is obviously their choice, but it strikes me as overkill. I don't feel the need to "punish" the cast & crews of The New Adventures of Old Christine or NCIS: Los Angeles, nor deprive myself of the pleasures of The Big Bang Theory or late night's funniest man, Craig Ferguson, all because CBS canceled a daytime serial that had been rumored to be headed to the chopping block due to low ratings for quite some time.
I am also not interested in shaking a finger and yelling at Les Moonves, Brian T. Cahill or the much maligned Ellen Wheeler for "ruining" Guiding Light any more than all that you have seen & heard already. That horse has most assuredly died and it makes no sense to beat it any further.
What I do think you should know is that I have been an off and on viewer Guiding Light since the 1970's. I officially became a fan in mid-1980's and have stuck with the show faithfully since the early 90's. That latter arc of time accounts for close to twenty years of weekday loyalty to the lives & loves of the citizens of Springfield — and San Cristobel for a good stretch — in an increasingly cluttered television landscape of court and talk shows and cable channels.
Despite the availability of vast entertainment choices, nothing made me less interested in the trials and tribulations of the Lewises, Spauldings, Chamberlains, Boudreaux, Grants, Reardons, Santoses or Bauers. I kept watching GL through misguided producers, bad writers, inconsistent location shooting and shaky cams to glean those moments of humanity, heart, soul and the celebration of family. Through times mundane and extraordinary, that was the hallmark of GL at its best. Indeed, I championed GL right here on Daytime Confidential when much of the justified criticism against it was at its harshest. In that light ,Ms. Bloom, I am hardly what you might think of one of those "disgruntled" fans with an ax to grind.
As the show comes to its now inevitable conclusion, I am sad but not angry, disappointed but not upset. The fact of the matter is that with its dreadful ratings and demographic performance, it is a miracle Guiding Light wasn't axed half a decade ago. Though I, and the legions of fans the show still has left, wish it could continue in some form or other venue, the fact remains that 72 years of broadcast on radio and television is an astounding feat in which we can take some solace, whatever cold comfort that might be. Sadly, all of this brings me to explain why I will not be watching Let's Make A Deal.
You see Ms. Bloom, I know what CBS is doing with this misguided game show revival. You're pulling what I euphemistically call "a Jay Leno." For years, NBC hasn't been able to produce a credible hit show at 10 p.m. and, instead of doubling and tripling their efforts to do better, Jeff Zucker & the dreadfully inept Ben Silverman threw up their hands and gave up. So The Jay Leno Show gets 5 hours a week in prime time and — even if the ratings fall into the toilet compared to the programming that previously aired at 10 o'clock — NBC gets to declare "victory" because they have saved tens of millions in production costs and licensing fees.
So, too, is the decision to bring back a cheesy game show with the affable but hardly barn burning Wayne Brady as host. After all, CBS is keeping that afternoon spot for itself as opposed to ceding that hour to its afilliates. Like with Leno, even if LMAD brings in as few or possibly fewer viewers than the more expensive to produce Guiding Light, CBS still stands to profit off the cheap production costs. There is just one little hitch to what probably looks good on paper and tested well enough for you to give it the green light. Frankly, my dear, I don't give a damn.