Farewell Guiding Light, Old Friend
By Melodie on September 19, 2009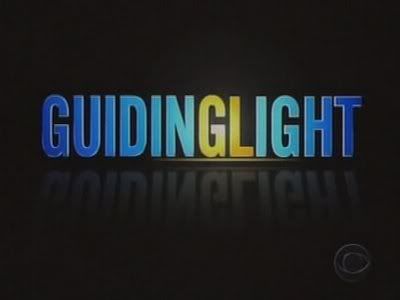 September 18, 2009 is a day that will live forever in broadcast history. As we all know, it is the day the longest running television drama ever said "Goodbye" to the world. I watched the finale of
Guiding Light
with the heaviest of hearts. I couldn't believe this was the last time I would see Josh (
Robert Newman
) and Reva (
Kim Zimmer
) give each other those looks that could fry an egg on the street. I couldn't believe it was the last time I would see Alexandra Spaulding be absolutely fabulous on my screen. Don't forget to add some extra fabulous Fletcher Reade (
Jay Hammer
) on the side.
I can't tell you the pain in my heart when those infamous words "The End" flashed across the screen. It felt like I was losing apart of my soul. You see, Guiding Light was my grandmother's show. She watched all the soap operas and I do mean all of them, but The Guiding Light, as she called it, was her absolute favorite. Memories of watching this show with her when I was little came flooding back to me while watching the finale. Those are some of my best memories of her, watching her "story", The Guiding Light. She passed away about a year ago and watching Guiding Light helped me feel connected to her in a way. That connection is gone now that her show is gone. Losing Guiding Light is so much more than just losing another American soap opera, it's like losing a family member. I don't think it will truly hit me that my grandmother's show is gone until I turn on the television at 2 p.m. on Monday and nothing's guiding my light.
Now, I must speak about the finale itself. I absolutely adored some parts, but others I could have done without. I'll get the not so great parts out of the way, first. For starters, where was Vanessa? Vanessa Chamberlain (Maeve Kinkead) is a character that has been featured on Guiding Light for a period spanning nearly 30 years. How is it possible that a character with this much rich history did not appear on the show's final episode? She was mentioned, but I didn't see her. Maybe it was the actress's schedule, but I still feel like their could have been some way for her to make it for the finale even if it was for five seconds.
What happened to Jeffrey (Bradley Cole) and Edmund (David Andrew MacDonald)? To be honest, I don't particularly care about what happened to both characters, but it doesn't make sense for two characters with so much history and who aired the previous day to disappear into thin air. Also, Jeffrey was in a semi-popular pairing with arguably the show's most recognizable character, Reva Shayne. It was downright shameful for that couple not to get any closure, but on the flip side it was worth it for the outcome which I will get to in a bit.
Another gripe I have about the finale is about Olivia and Natalia. Why couldn't they share a kiss? It could have a been at little peck on the lips and I would have been satisfied. However, we were forced to seeing more hand holding and longing looks. That's fine for a while, but it's absolutely absurd that a couple so deep in love couldn't share not even one real kiss. At least we know they are together.
On the other hand, there were some pretty stellar moments from the Guiding Light finale. My heart melted into a big bucket of mush when Fletcher (with frumpy hat) took his Alex, his "blondie", away from Springfield with him. Fletcher and Alex were always there for each other, so for them to leave together was a great nod to Guiding Light history. Another fantastic moment was Ed taking Holly with him on a worldwide trip. I can't tell you the smile that flashed across my face when she agreed to go with him. Granted it was a bit random, but I didn't care because it was Ed and Holly!
I also really enjoyed seeing Dinah and Mallet get back together. Some people want to say they are just friends running around Europe together, but I beg to differ. Mallet throwing Dinah over his shoulder like used to, cemented them being together forever. All those moments were amazing, but there is one moment, from one couple, that makes all the others pale in comparison. Of course, I'm talking about the reunion of Josh and Reva. I believe my fellow DC Blogger, J Bernard Jones, said it best about the Josh and Reva scenes. He said they were "sheer perfection" and I couldn't agree more. I cried buckets and buckets of tears watching those get back together. I like how they did it in the flash forward instead of having them get back together in the present year. It made more sense for Reva to have the time to get over Jeffrey and be with her true love Joshua. I couldn't have imagined the show ending without Josh and Reva together. After all, Always means Always.