As the World Turns: Countdown to the Finale
By J Bernard Jones on July 01, 2010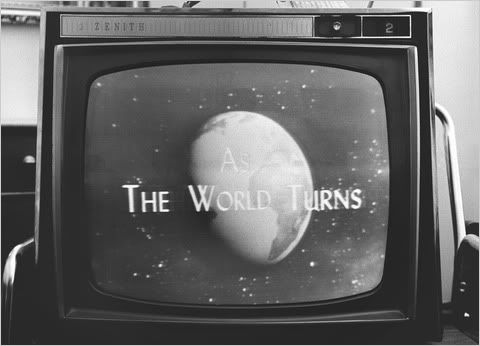 Wednesday, June 23, 2010 was the last production day for As the World Turns.
There seems to be no more appropriate time to begin the 54-year-old series' final reviews before the globe stops spinning on September 17.
This first entry in that effort actually is an overview of where I, as a reviewer & fan, see ATWT's standing first and foremost as a soap opera. The politics, recriminations, ratings analysis, and the business decisions leading to its demise are not my primary concern. Instead, I want to focus on the trials and shenanigans of Oakdale because, in my opinion, this venerable daytime serial — which once held the slot as the number one daytime drama for 20 years! — deserves no less.
To that end, let me answer an unasked question right off the bat about where I stand. If you happen to follow my (almost) daily live postings about ATWT on Twitter, you know that I am quite merciless with my absurdist commentary. This may leave the impression that I do not like the show or think it is silly. Nothing could be further from the truth. I happen to love ATWT right now. Almost everyday there are several elements that make me smile with delight, not derision. This is not wishful thinking or the blinders of nostalgia talking. Like any soap opera, there are some things about ATWT that leave a lot to be desired and, in spots, are even downright awful. However, in my opinion, As the World Turns is in overall good shape with its stories, characters and narrative in its twilight.
Let's start with ATWT's final "big" story, The Saga of Gabriel Caras. From comments I've read hither and yonder, the tale of Craig's long lost son has taken up too much airtime and somehow violates "history."
I disagree. ATWT has a deep tradition of secret, unknown "history violating" children and the Gabriel Caras saga is the final major, old fashioned umbrella story to mix up a large number of characters in a propulsive (final) arc. To that end, it also appears to be an homage to one of the legendary Douglas Marland's own final ATWT stories:
Almost twenty years ago, Lisa (Elieen Fulton) met her then-grown son, Scott Eldridge (Joseph Breen), who was conceived, born and denied at birth. Marland reached into part of Lisa's offscreen past during the period between the cancellation of Eileen Fulton's failed prime time 1965 ATWT spinoff, Our Private World, and Fulton's return to ATWT. In the pre-internet era, viewers at first clamored in letters to soap magazines that the math didn't add up and it made a mockery of "establised" history. At the end of the day, however, Scott Eldridge was one of Marland's final achievements, which galvanized a large chunk of the cast by "bending" history to tell a story rooted less in plot than in character. Though told with less finesse, in the Gabriel story we see a final classic Marland-style tale play out.
Like Scott, Gabriel (newcomer Ben Levin) is appropriately surly and ultimately vulnerable navigating his place in the world. Lucinda (Elizabeth Hubbard, who has been dazzling) has been completely reignited, back to the fearless, snarky, manipulative, hyper-meddling, checkbook gangster roots that made her one of the most unique, powerful female characters in all of daytime. Lily (Noelle Beck) is also back to her roots, misplacing her energies while pining for an unavailable Holden (Jon Hensley). Craig (Jon Lindstrom) is a synthesis of all the character's incarnations through the years: schemer, penitent father, paranoid, irascible brother, borderline sociopath, blackmailer, and desperate for love. In some ways, Gabriel is a younger version of Paul (Roger Howarth), torn between the promise of romance with Liberty (Sarah Wilson) and following in the footsteps of his father's dastardly DNA. Even eternal schemer Carly (Maura West) & stand-up cop Jack (Michael Park) have been provided one last blast of conflict that has been less about the plot mechanics of Parker's (Mick Hazen) near incarceration as opposed to their finally coming to grips with the meaning of "true north" in terms of their family.
Whatever the deficiencies that may legitimately exist in plot in the Gabriel story, or some of the others, the emphasis by ATWT's final writing team seems to be about who and what Oakdale's denizens love and value most. As September 17th draws near, I'm perfectly fine with that.
Daytime Confidential's Nakeeta Borden has already posted a must-read entry about Why ATWT's Ruke Rocks, a perfect example of what I'm talking about. Couple this with the well-deserved Emmy wins this past Sunday for West (Oustanding Actress), Park (Outstanding Actor) and Julie Pinson (Outstanding Supporting Actress as Janet) and the fact that ATWT is the last of Proctor & Gamble's daytime dramas, it will be bittersweet as a 25-plus year viewer to reflect on the World's final turn.
A Correction: In an earlier version of this piece, I mistakenly referred to Joseph Breen as deceased. Mr. Breen is, in fact, very much alive. I was thinking of the late, great Terry Lester, who played Royce Keller on ATWT from 1993-1994 and passed away in 2003. Lester and Breen's respective characters were heavily involved one of ATWT's stories at the time. My apologies to Mr. Breen and his family.