Is ABC Daytime Copying Old Proctor & Gamble Soaps?
By J Bernard Jones on August 25, 2010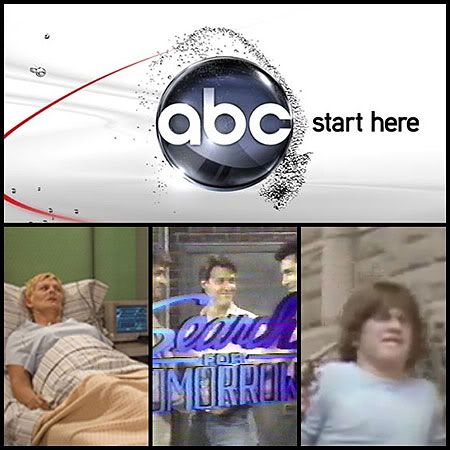 Watching the ABC daytime lineup lately has been a little déjà vu for this old time soap viewer. Perhaps "copying" is too strong a term. Maybe "homage" would be a better word or, perhaps, "sticky fingers." On the other hand, the stories in question here are different from either classic soap opera tropes (boy/girl-meets-hates-falls-in-love-with-girl/boy stuff) or classic soap cliches (supervillain-returns-from-the-dead-with-an-evil-twin shenanigans) because of their very specificity.
All three of the ABC's daytime dramas currently are airing stories or arcs that have been a little too close to the mark of several cancelled Proctor & Gamble shows, begging the question "Does Brian Frons really admire those old, now defunct serials as much as he loves pilfering CBS soap stars?" Let us count the ways:
BABY, I NEED YOUR LOVING


The Soaps: All My Children vs. Guiding Light
The Story: Uber-popular middle aged firebrand character Reva Shayne/Angie Hubbard (played by uber-popular Emmy-winning actresses Kim Zimmer & Debbi Morgan, respectively) contracts a major, life-altering disease that threatens to take away part of her identity as an uber-popular middle aged firebrand character. She first elects to keep the news to herself, mainly fearing the effect it will have on the love of her life (Josh Lewis/Jesee Hubbard). A close confidant and ally (Billy Lewis/Jake Martin) learns the truth & vows to support her. Then she learns she is pregnant, along with a big "uh oh" that the treatments for her ailment could cost her the well-being or life of her unborn child. She initially chooses her baby's health over her own, until she is given multiple reasons to live by various contract and recurring characters.
How Do the Stories Compare Overall?: While widely cited around the internet for its current copycat status, All My Children co-headwriter David Kreizman — who has apparently gone green — recycled this story from himself, having written the Reva-Cancer-Pregnancy story on Guiding Light just a little over two years ago. Fortunately, he seems to have learned a little bit from his original's mistakes. Angie revealed the truth very early on to Jesse (in brilliantly moving scenes between Morgan and Darnell Williams), whereas Reva kept her cancer a secret longer than an Al Gore speech. The writing is more subtle and the fallout from the news as it spreads in Pine Valley seems more intimate than in Peapack.
Strengths: Zimmer was awesome (although she did make a few ham sandwiches from time to time) during her cancer/pregnancy story, which to its credit focused far more realistically on the treatment side of cancer than we have yet to see on AMC. She was also admirably backed up by Jordan Clarke. Morgan, however, has been nothing less than spectacular, with outstanding support by Williams, Ricky Paull Goldin, and Vincent Irizarry as adversary David Hayward. Even Rebecca Budig showed nice depth and range as a sympathetic Greenlee once she learned of Angie's condition. There is a stronger focus on the emotional fallout on AMC as opposed to the histrionics that sometimes marred the GL version. Major plus: better production values.
Weaknesses: AMC's version is an almost connect-the-dots remake of the GL story.
AMC Grade: A-, most of which is due to the stellar acting of all the performers involved.