As the World Turns: The Death of Dr. Reid Oliver and Endgames
By J Bernard Jones on September 07, 2010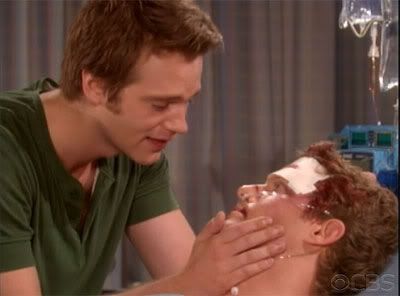 Before I get to today's stunning episode of As the World Turns, in which Dr. Reid Oliver dies and donates his heart to his professional nemesis/colleague Dr. Chris Hughes, I have a few thoughts about not only the serial's final days on the air, but also —in a broader sense—fan perceptions about what a soap's last days should be like, themes that will be carried forward as we look toward ATWT's final hours.
First, with less than two weeks to go before its final fade to black, ATWT is ending its 54 year history in perhaps better dramatic shape than almost any serial since the cancellation of NBC's Texas in 1982, a specific observation I will expand upon in a few days. Of course, there is lots to gripe and nitpick about the woulda-coulda-shoulda's of how the show might have wrapped things up. Many of those ideas are quite good and some are downright ludicrous, but in the final turn of events, all of that stuff is moot. The last scenes were shot, the sets have been struck, and the actors all went along different paths weeks ago.
Is it legitimate to criticize elements of the show as these final episodes air? Certainly. However, in my opinion, some of the gripes I have heard and read reverberating around the internet about how ATWT is ending its run strike me as not only a bit of overkill, but also as a case of not being able to see the long-term forest for the daily, episodic trees.
Take, for example, Barbara's (the brilliant Colleen Zenk) captivity in the storage room by Iris (fantastic Terri Garber) and interaction with Chuckles the Inanimate Clown. Did that whole arc go on too long? Yes, it did. However, that wasn't the story. Iris' shenanigans were only a multi-leveled plot device. The real story was that Barbara needed to be alone and isolated, confronted with the potential loss of a second chance at love with Henry (Trent Dawson, just terrific) and a fresh start at life. She required that time by herself (maybe not so much of it, from our perspective) to confront and lay to rest her biggest inner demons, including the spectre of the greatest emotional thorn in her side, ex-husband James Stenbeck (Anthony Herrera). [A side note: I thought Barbara's hallucination of Stenbeck as a malevolent clown was sheer genius, for reasons that should be apparent to those who are familiar with coulrophobia and the criticisms of Stenbeck many fans have had in recent years.] Babs' disappearance also was the catalyst to bring multiple interfamilial resolutions among her children Paul (Roger Howarth) and Will (an effortless Jesse Lee Soffer) and their respective spouses, Emily (Kelley Menighan Hensley) and Gwen (Jennifer Landon).
Likewise, I think that the many fans who thought the whole arc with Anthony Blackthorn (Billy Warlock) and Ralph Manzo (Stuart Damon, in a really nice turn) was a waste of time missed a similar point. Were parts of it cheesy? Of course. Nonetheless, that whole, somewhat convoluted, saga was built to accomplish several goals: to bring Jack (Michael Park) and Carly (Maura West) together, at last, as a team working with, instead of against, each other and to release Jack from his guilt over Brad's death; to resolve the Dusty (Grayson McCouch) and Lucy question, (Sarah Glendening, who was was just great) and finally pair him with Janet (Julie Pinson); and—in a turn that made me holler with delight—to address a few nagging questions about Lucinda's (a stupendous Elizabeth Hubbard) past as Mary Ellen Walters, which was like catnip to viewers who remember when the truth about her real identity came out years ago, but how bits & pieces of that transformation were left out.
We are not supposed to care about Blackthorn or Manzo or even Iris, for that matter. These plot devices are merely framing devices used to provide resolution and (mostly) happy endings, whose purpose was to move our main characters to a place that otherwise could have taken many more weeks, months or years to accomplish had the show stayed on the air. This line of thought brings us directly to the fates of Chris Hughes and Reid Oliver.
In the case of Chris Hughes (Daniel Cosgrove), I read an editorial in a major soap magazine, which I've seen echoed by a number of fans, that mainly rests on one preposterous premise: that we shouldn't care about Chris or his (yes) rushed romance with Katie (Teri Colombino) because he is the 11th recast. To that I ask, what kind of frack-a-nackle-bull-ish is that? It is not Cosgrove's fault he was hired to take over one of the most problematic roles in daytime and, if memory serves, he was hired before the show was canceled. By that reasoning, we shouldn't care what happens to Tom because Holmes was the 13th recast of that problematic role. No matter how many recasts there have been of Chris, the character is a member of the show's cornerstone family, the Hugheses. Many fans, as well as soap journalists, are always clamoring that the offspring of core families should be respected and given meaty stories. So now, when it happens (even if it is a ripoff of the "Phillip Spaulding's Dying" story from Guiding Light), with the effect of thrusting the show's entire main family into the spotlight, we shouldn't care? Someone needs an enema.