Bernard's "World" View: In Defense of Christopher Goutman
By J Bernard Jones on September 16, 2010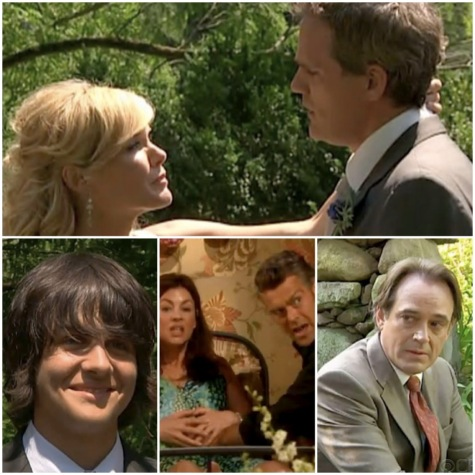 Several days ago, I posted an entry about the fallout from the death of Dr. Reid Oliver (Eric Sheffer Stevens) on As The World Turns. There were three central ideas in that piece. First, despite the very legitimate complaints that any given fan might have, ATWT is providing great human drama here at the end of its run. Second, Reid's tragic passing and donation of his heart to Chris (Daniel Cosgrove) encapsulated that goal mainly by thrusting the Hughes'— the show's core family since its very debut— front and center toward its conclusion. Third, given the soap opera wrapped production months ago, the idea of kicking a dead horse with unrelenting criticism isn't going to make it win the Kentucky Derby.
I have not budged one iota from any of those positions and I am about to incur the wrath of a whole lot more of you by making what I know will be a very controversial statement to many: I believe that in these final days, executive producer Christopher Goutman has made mostly the right decisions.
Before I go on, let's wrestle with my aforementioned post briefly. A number of readers agreed with my take on matters; just as many, if not more, took great issue against it. Some of those latter responses were the same old, predictable hoo-hash of rote complaints and used the occasion to voice an almost now-cliche litany of grievances against Goutman, CBS and the rest of the usual suspects. On the other hand, some of the dissents were very eloquent, one of the most notable from DC reader chip88.
As I read through them, I was struck by two emotional threads that connected the pros and the cons— passion and sadness. By the time Guiding Light went off the air in 2009, the dominant emotion that carried the day among fans was raw, visceral anger. Many fans railed against what then-executive producer Ellen Wheeler had "done" to GL; the shabby state of that show's "new production model"; some of the ridiculous aspects of the final weeks and so on. Nonetheless, at the end of the day one came away with the sense that even diehard GL fans knew the show had reached the end of its viability. Many even felt that the "Light" had burned out long ago.
By contrast, even the angriest of ATWT's detractors, at their core, seem more upset by the fact that there are/were so many vibrant stories still left to be told about the citizens of Oakdale, Illinois. With or without Goutman, the majority sentiment appears to be that the World doesn't have to stop spinning at all.
A prime example of the vibrancy evident on screen came in the form of last week's brilliantly acted, incendiary scenes in which John Dixon (Larry Bryggman) confronted ex-wife Lucinda Walsh (Elizabeth Hubbard) over her self-destructive behavior and got a little insight into his own. Their confrontations were infused with a kind of instantly-recognizable emotional shorthand, as it related to the characters' present circumstances. The scenesproved so electric and rich that viewers of any generation or length of time as fans could grasp their history.
What was most important was not a nod or flashback to something like the fabled John and Lucinda hot tub scene from way back when, but rather Lucinda calling John out for not having been there for her during her battle with cancer; or when John asked Lucinda why she fights everyone and everything in her life. Lucinda's answer revealed the true nature of her character: "[I fight] because it is the only thing I do well." That exchange provided definitive insight into all 26 years of Lucinda's battlles, neuroses, self-destructive tendencies, machinations and checkbook gangsterism, not the least of which was her most recent desire to destroy Craig (Jon Lindstrom) at any cost including the potential loss of her adopted daughter Lily (Noelle Beck).
So how did we get to such a brilliantly revealing question from John concerning Lucinda's inner motivations and demons? By having Lucinda act in perfect, historical character during her final ATWT story arc, launching an all-consuming vendetta against an enemy, forming highly-questionable alliances (Anthony Blackthorn, Ralph Manzo) and having it all blow up in her face at great personal cost.In the end, Lucinda once again fell backon the only perceived constant in life, Worldwide