Eric Forrester
By Jillian Bowe on November 16, 2008

For years every single Forrester kid had to compete
with the shining glory of their big brother Ridge. No matter what the rest of Eric's children did, they could never hold a candle to their elder brother.
When it was discovered that Ridge was the biological son of Massimo Marone, Eric continued to fawn over him as if he were The Second Coming, as did Stephanie, Brooke and Taylor. Sure, Eric and Stephanie have always tried to deny their favoritism, but Ridge has never denied his status as The Chosen One. Hell, he's even bragged about it and reveled in his standing as the favorite Forrester spawn. The Dressmaker has always seemed to get a kick out of knowing that he can never do any wrong in the eyes of his parents and the women who obsess over him.
Over the years, it's been Thorne who has had the hardest time dealing with living in Ridge's shadow, but this time it's Rick who has finally had enough of the scraps his parents have thrown his way, while Ridge gets a feast fit for a couture king. Unlike Thorne, who failed in futile efforts, like whining to Eric and Stephanie or going to work for the competition, over his Ridge-based frustrations, Rick has decided go after the one thing Ridge loves more than himself, Forrester Creations. More after the jump! READ MORE
By Jillian Bowe on October 26, 2008


Makes you wonder if she's going to be another Jana Fisher...
By Jillian Bowe on September 17, 2008
Brooke just started a new war between herself and Stephanie.

By Luke Kerr on July 21, 2008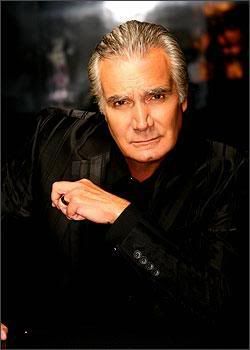 Carolyn Hinsey has a new article on the New York Daily News talking about The Bold and the Beautiful's Eric Forrester upcoming hospitalization. Fortunately John McCook has been assured his character Eric will survive his hospital stint though he has been subjected to some Viagra jokes behind the scenes.
Be sure to check it out and while you are at it, take a look at the first sentence and then swap out Eric's name with Victor and The Bold and the Beautiful with The Young and the Restless.
In some respects the two shows are telling the same story with their patriarchal character. Both men just married new, younger women who their children hate. Both men are fighting with their eldest children and both men are going to end up in the hospital. Granted, Eric will end up in a bed while Victor will be sitting beside one.
It should be interesting to see how these two similar storylines play out and where they may diverge.
By Daytime Confidential on July 21, 2008
On today's episode Daytime Confidential begins the first of eight episodes focusing on The Top 10 Ways to Improve Your Favorite Soaps.
Join Luke, Mike and Jamey as the discuss and debate The Top 10 Ways to Improve The Bold and the Beautiful.
In each of The Top 10 Ways to Improve Your Favorite Soaps the Daytime Confidential gang will discuss some of the common issues facing the soaps as well as some of the unique problems facing each show.
This along with your comments on the blog and on the Daytime Confidential Comment Line makes for an entertaining discussion on the ills facing The Bold and the Beautiful and its fans.
Have a question or comment for the Daytime Confidential podcast? Leave us a voicemail by calling (917) 677-9757.

Listen to Daytime Confidential by clicking on the Daytime Confidential Player at the bottom of this post or Download us for FREE via iTunes. Vote for us on Podcast Alley. Add us as a Friend on MySpace. Drop by our sister site TV Fan Online and visit with other soap fans in the TV Fan Online Forums.