Lily Snyder
By J Bernard Jones on September 22, 2008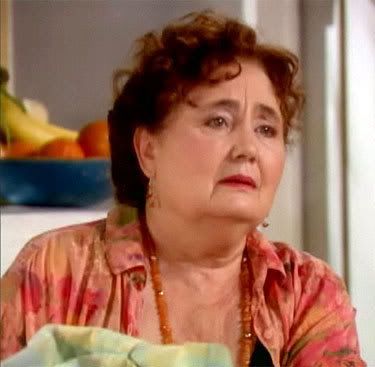 In a world where the stock market is crashing, Morgan Stanley and Goldman Sachs decide they would be better off as banks, the price of a barrel of oil jumps $16 in one day, and a Federal bailout plan threatens to balloon between $700 billion and a trillion dollars or more, everyone needs a little Emma Snyder in their lives.
I thought today was a strong episode of As the World Turns. The Chris/Alison/Aaron triangle continued to make less and less sense given that we (the online "we") know that Dylan Bruce is leaving as Chris Hughes while the "Who's The Baby Daddy?" story line is apparently ramping up. Lily and Holden got closer after bringing Ethan home from the hospital. Derek made an outrageous request of Bonnie to be his lawyer, which she wisely refused (although we know Paul is going to rope her into it to help find Meg). Colleen Zenk Pinter was phenomenal with the little bit that Barbara was given to do. Dallas increased his line count to about eight while Ethan officially became The Cutest Kid on Daytime.
But the pure pleasure for today was Kathleen Widdoes as Emma. She certainly wasn't the star of today's show. She's not hip. She doesn't fit the desired 18-34 demographic. She's not a size 0 and she's not a hair model, but that's the point. READ MORE
By J Bernard Jones on September 19, 2008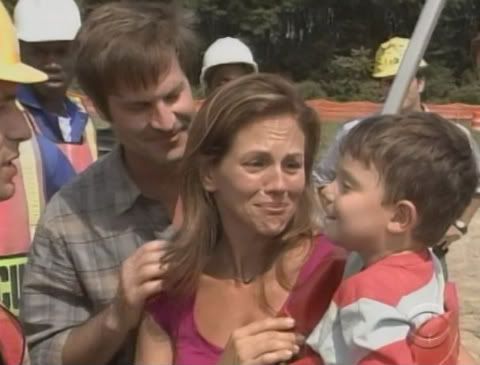 Ethan-in-a-Hole is that rare soap opera event story told right: a sprawling umbrella story that encompassed most of the show's cast and storylines.

Although I don't watch the show on a regular basis, TheYoung and the Restless apparently struck umbrella story gold with the deaths of David Chow and Sabrina Newman. One Life to Live's 40th anniversary's 1968 time travel story was met with mixed reaction, while viewers and critics almost universally revoked Mendorra's diplomatic immunity. And Days of Our Lives, which was once the master of the umbrella twirl, has become drenched in incomprehensible excess more often than not recently. Only General Hospital does big umbrella stories on a regular basis, but these are more sweeps related stunts that often have limited repercussions after the requisite number of cast members who didn't renew their contracts or were fired have been killed off. READ MORE
By Luke Kerr on July 21, 2008
Nothing says family, respect, loyalty and the Snyder way of life like a man sleeping with his cousin's wife. You have to hand it to the down-home wholesome Snyder family, they sure know how to keep it in the family.
It's almost as if the entire family bought each other gift cards to the Brooke's Bedroom line and combined them with coupons so that they could afford them and went on a spending spree that resulted in a bed hopping frenzy.
Let's recap for a moment. Brad was in love with Katie, who had feelings for Jack and he her. Meanwhile Carly's love for her ex hubsand Jack led to more than a few obsessive antics until she bumped into sex deprived Holden and they connected on a "deeper level." While Holden and Carly were getting it on Holden's wife Lily was doing her darnedest to get her hubby back into bed but now that she's discovered he's in love with her best friend she takes matters into her own hands and tries to run down Carly. Think that is convoluted? Holden's sister, and Jack's cousin, Meg just married a man who drug her into a murder cover up.
And lest you fear that the Snyder's high morals and upstanding behavior hasn't rubbed off on their younger generation, Carly and Jack's son Parker is in love with his "cousin" Liberty, whose mother is sleeping with Jack and whose father Brad is his uncle. READ MORE
By Jamey Giddens on July 19, 2008
It's official,
As The World Turns
is BACK! I just caught up on last week's episodes and to borrrow from the
Gossip Girl
viral media campaign, OMFG. It is been so long since I've been glued to my seat by a rich, complex, character-driven helping of heaping good daytime drama.
Carly and Holden: An Affair to Remember
The explosive climax (te he he) of Carly and Holden's affair spun off several believable story threads featuring characters we know and love like Brad and Katie, Jack and Janet, Luke, Noah, Parker and Janet. Who knew soaps still knew how to do umbrella stories that don't involve serial killers, explosions or memories on a disk?
Giving props where props are due
There are so many people to give kudos to for these amazing episodes that it's hard to know where to begin. Maura West is arguably the best actress on her network as she continues to prove day in and day out. READ MORE
By Daytime Confidential on July 19, 2008
On today's CBS and Days of Our Lives' Daytime Confidential episode Luke, Mike and Nicki discuss the latest on As the World Turns, The Bold and the Beautiful, Days of our Lives, Guiding Light and The Young and the Restless including...
Lily Snyder Guns It: Has As the World Turns' Lily Snyder lost it as she guns her car's engine to run down Carly? Can the writers get away with this happening to the character since Martha Bryne isn't in the role?
Blatantly Using Owen: Felicia getting her hooks into Owen Knight and she isn't the only one who wants a piece of him, so does Daytime Confidential's Nicki. Speaking of psychos, what's it going to take for Bridget to lose it and go crazy?
Cat Fights: Days of our Lives' Sami, Chloe and Nicole highly anticipated cat fight happened this last week and it didn't last long enough. What has happened to knock-down-drag-out cat fights?

Ava's Out: Michelle Ray Smith is out as Ava on Guiding Light and the Daytime Confidential gang discusses where the show goes from here. Mike has some definite opinions on Cyrus' brother.
Raya Meddine Let Go: Word has it that Raya Meddine has been let go from The Young and the Restless and we're discussing which character would have been a better rival of Nikki for Victor's affection.
All this and much more on today's CBS and Days of our Lives show.
Have a question or comment for the Daytime Confidential podcast? Leave us a voicemail by calling (917) 677-9757.

Listen to Daytime Confidential by clicking on the Daytime Confidential Player at the bottom of this post or Download us for FREE via iTunes. Vote for us on Podcast Alley. Add us as a Friend on MySpace. Drop by our sister site TV Fan Online and visit with other soap fans in the TV Fan Online Forums.

By Luke Kerr on July 14, 2008
Check out this awesome new promo of Holden confessing his affair with Carly to Lily. Boy oh boy is this going to be good!

Thanks to MarkDutchViewer for the tip!