Daytime Confidential Interviews
By Jamey Giddens on April 17, 2009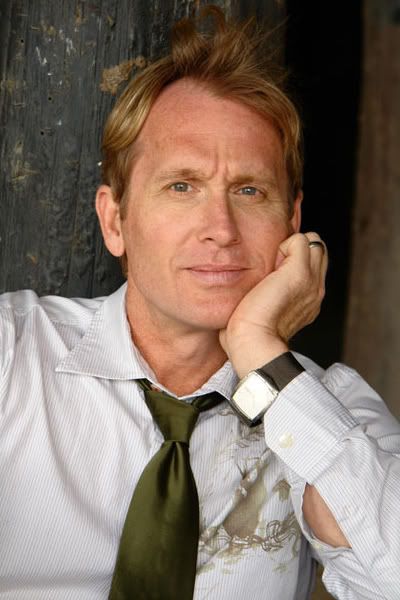 Ever had one of those television shows premiere and one person after another tell you how much you're going to love it, and that you just have to watch it, then you finally tune in and end up wondering what all the fuss was about? That's how I felt the first time I tried to watch LOST and almost developed a brain bleed trying to follow its complex plotlines. Praise the Lord and pass the Moonshine, that wasn't the case when I finally caught a marathon of LOGO's insanely-addictive Sordid Lives: The Series!

Part Tennessee Williams play, part first five seasons of Dallas, part Carol Burnett Show skit on acid and all rip-roaring fun, SLTS is the story of a dysfunctional Southern Baptist family (Is there really any other kind?), complete with a 70-year-old matriarch, Peggy (The Golden Girls' Rue MacClanahan), who is having an affair with the decades younger G.W. (David Steen, husband of All My Children's Bobbie Eakes), a legless Vietnam vet, who is married to Noleta (Caroline Rhea), the depressive, gun-toting, best friend of Peggy's no-nonsense daughter Lavonda (Ann Walker), who lives with Peggy's scripture-quoting sister Sissy (Beth Grant), and is estranged from her own sister, Peggy's other daughter, the pious, wealthy Republican Latrelle (Bonnie Bedelia), whose husband has left her for a Mu-la-tto woman, and whose beloved son Ty (Jason Dottley,real-life husband of series creator Del Shores ), is an L.A.-based actor, struggling with how to come out of the closet to his sanctimonious mother.

In a bit a tragicomic irony, Latrelle has had her younger brother Earl aka Brother Boy (Will and Grace's Leslie Jordan in his breakout role), placed in a mental institution where he can be "dehomosexualized". Unfortunately for Latrelle things aren't looking so good on that front, as Brother Boy lives, and routinely performs for the other patients in drag as his idol, the late Tammy Wynette. Wynette isn't the dramedy's only musical tie-in, Grease's Sandy herself, Olivia Newton-John, also appears as Bitsy Mae, a sexually-ambigious ex-con-turned-aspiring Country and Western singer, who is taken in by Peggy. Is it any wonder why I fell in love with this show?

From the moment I first caught a marathon of SLTS last year, I have been near-obsessed about when LOGO would air new episodes, even Facebooking Bobbie Eakes (who reocurred on the dramedy's first season as an actress on the soap opera Noleta watches from her couch), to find out if she had heard any word on when or if the series would be coming back for a second season.

Imagine my dismay when this week, series creator Del Shores revealed on his Facebook profile, that although LOGO quickly ordered a second season of SLTS shortly after the dramedy's record-setting debut for the cabler, the renewal was contingent upon the production company, Once Upon a Time Films and the foreign distribution company, IMG International, also agreeing to financial committments. Since, according to Shores, IMG hadn't signed on for season two, and the production company had yet to pay Shores, his cast or crew any residuals for the series— which Shores says has aired 262 times in the U.S. alone— a second season wouldn't likely be happening. Since Shores spoke out, several blogs have picked up the story, erroneously reporting that Shores, his cast and crew were owed residuals from LOGO. Daytime Confidential spoke with Shores yesterday, via cell phone, as the ingeniuous playwright/screenwriter and TV scribe drove to San Francisco to perform his one-man show Del Shores: Storyteller. Below Shores himself clarifies exactly what has been going on behind-the-scenes with his beloved series.
Daytime Confidential: First let me say how sad I am to hear Sordid Lives won't be airing a second season on LOGO. The show isn't just hilarious, it was heartfelt.

Del Shores
: Thank you so much. I'm so glad the show and those crazy characters were able to effect so many lives. I just want to point out though, that a lot of blog sites are misquoting what I wrote on my Facebook profile, it is the production company that owes us money, not LOGO. LOGO has been great. They do a great job with the two nickels Viacom gives them for programming. LOGO immediately wanted to do the second season, but the production company and the foreign distributor had to agree to pay their share of the production costs. The production company hasn't even paid us any residuals, and the foreign distributor never agreed to go in for season two.
READ MORE
By Daytime Confidential on April 13, 2009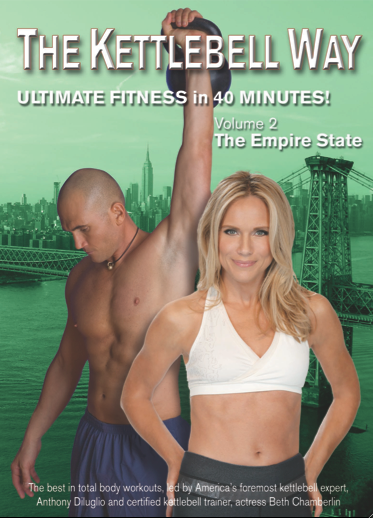 As fans of the 72-year-old Guiding Light reel from news that CBS has canceled daytime's grande dame, one of the serial's most popular heroines, Beth Chamberlin is doing the work of her career. As tortured heroine Beth Raines Spaulding, Chamberlin is turning in one gritty, emotive performance after another as the character she's played on and off since 1989 grieves for her late, younger lover Henry Cooper Bradshaw (John Driscoll), while dealing with the return of the love of her life, Phillip Spaulding (Grant Aleksander), whom the last time he was in town, kidnapped her children in a manic spree. On today's episode of the Daytime Confidential podcast, Chamberlin visits with Luke and Jamey, offering her heartfelt reaction to news of GL's cancellation. Does Chamberlin see a future for Guiding Light on the web, or on cable?
Chamberlin shares how the close-knit cast and crew of Guiding Light are handling being cancelled in the midst of a creative renaissance for the soap opera. She also reveals what it's been like having Aleksander, whom she calls one of her closest friends, back in Springfield, and discusses her real-life bond with actress Tina Sloan, who portrays her mother Lillian Raines on the show. Chamberlin also provides personal memories of three of the young women who have inhabited the role of Phillp and Beth's daughter Lizzie— Hayden Panettiere, Crystal Hunt and now Marcy Rylan, revealing her pride in the success each young woman found on and off the sudser. Did she ever think she'd see Panettiere on primetime hits like Ally McBeal or Heroes? Has she had a chance to see Hunt as Stacy on One Life to Live? What's her and Rylan's process for making Beth and Lizzie's mother/daughter connection come across so relatable? What about Beth's former stepdaughter Susan, is Chamberlin still in touch with Brittany Snow? What does she think about the young actress landing the lead role in the Gossip Girl spinoff Lily? She answers these questions and much more. The soap star also comments on the newest edition to the Spaulding family, breakout teen hunk Zack Conroy, who plays Phillip and Beth's youngest son James.
Then Chamberlin talks about her other passion, The Kettle Bell Way, the fitness regimen that finally helped the actress/wife/mother/author get the body she's always wanted, without having to stick to a strenuous diet or spend her life at a gym. This is a super-sized episode of the Daytime Confidential podcast Guiding Light fans won't want to miss.
Related: Beth Chamberlin Official Fan Club | The Kettle Bell Way
Help support and improve the Daytime Confidential podcast: Take a few minutes to fill out the two Daytime Confidential listener surveys: Listener Survey A l
Be sure to leave your comments on all the latest goings on in the world of soaps by calling the Daytime Confidential comment line by calling 917-677-9757.
Listen to Daytime Confidential by clicking on the Daytime Confidential Player at the bottom of this post or Download us for FREE via iTunes. Vote for us on Podcast Alley. Add us as a Friend on MySpace and Facebook.

READ MORE
By Jamey Giddens on April 07, 2009
From his first appearance in Salem

, USA
in November 2006,
Blake Berris
stole the hearts of legions of Days of Our Lives fans as lovable geek Nick Fallon.
No matter whom the UCLA alum—he graduated in just three short years with his acting degree—shared screen time with, his commitment to his craft was evident. Whether the storyline called for Nick to pretend to be someone else to woo the girl of his dreams, Chelsea Brady (
Rachel Melvin
), or bed her cougarific mother Billie (
Julie Pinson
), Berris sold it every time. He even brought believability to storylines that saw the heroic Nick acting out of character for the affections and/or approval of some of the most annoying bad girls in recent soap memory.
Willow
(
Annie Burgstede
) and Melanie (
Molly Burnett
) anyone?
Through it all, Berris and Melvin's chemistry kept Nick and
Chelsea
fans tuning in to see if the geek would ever get his girl. Unfortunately, in the end he didn't. Instead, Nick's exit storyline saw the character going off his rocker after killing his girlfriend's father, a plot twist the actor reveals was the "coolest" he experienced during his run on the soap when I recently caught up with him for Daytime Confidential.

Berris also talked with DC about his dramatic exit from Salem, what it was like working with real-life pal Melvin, Emmy-winner Suzanne Rogers (Maggie, DAYS) and Debra Messing, who Berris reoccurred opposite during three episodes of the short-lived USA dramedy The Starter Wife. He also gives us a sneak peek at tonight's episode of the hit CBS drama The Mentalist (8 pm C/9 pm ET), where he plays a British film actor who shares scenes, and perhaps a kiss (and more?) with Rebecca Rigg, the real life wife of series lead Simon Baker. Then the passionate thespian shares how thrilled he is that Barack Obama, whom Berris infamously dropped to his skivvies in support of during the Boxers or Briefs for Obama campaign, is now in the White House.
By Melodie on March 31, 2009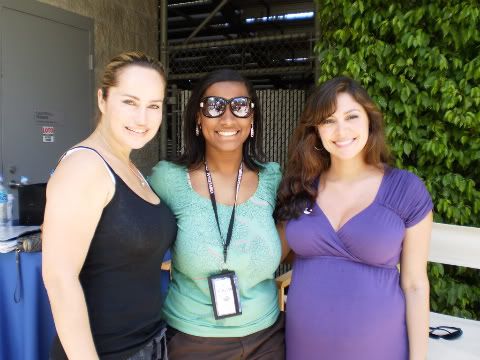 Crystal Chappell, Melodie Aikels and Jessica Leccia
During the Guiding Light location shoot in Florida, I had a chance to chat with Frank Dicopolous, Crystal Chappell, and Jessica Leccia about their current storyline featuring Otalia. All three actors were very excited about being apart of such a different story for daytime. They also were very surprised by the fan response to the storyline and didn't expect it to be so huge. The Otalia line for autographs was almost as long as Josh and Reva's line. To me, that spoke volumes, so when I saw a group of Otalia fans gathered chatting about their couple, I grabbed one for an interview. Brenda was so kind to tell me all about her Big Purple Fever for Otalia.
Daytime Confidential: What brought you to Otalia? Why do you like them?
Brenda: Well, back in October I heard they were gonna move in together, but then I read where the idea of them being a couple was shot down so then I didn't watch it. But then I saw them kiss on the CBS website, and I thought, "Well let me give this a chance". So, I went toYou Tube and watched all the clips and saw the slow buildup, the old fashioned storytelling like it used to be. It was like Bo and Hope or Patch and Kayla on Days of Our Lives and other couples, and it was just beautifully written. It was subtle, slow, and just told in a normal light and not sensationalized like All My Children did with Bianca and the wedding, and then they break them up the next day.
DC: "Our lesbians are better than yours" READ MORE
By Melodie on March 30, 2009
Real life couple Rob Bogue and Mandy Bruno spent some fun in the sun swimming with dolphins and visiting with their fans during the Guiding Light location shoot, at Universal Orlando. They took some extra time to visit with me about Mallet and Marina's relationship, the adoption of their character's new son Henry Cooper Camalletti and if a reunion between Cyrus and Marina or Mallet and Dinah might be possible.
Daytime Confidential: What do y'all think about what's going on with Mallet and Marina right now? I mean they just adopted a baby and that's huge.
Rob Bogue: I think I can sum it all up in once sentence: They're happy, so look out.
Mandy Bruno: I agree. I mean I think that's the best way to say it. Every time everything falls into place it becomes ultimately boring and you have completely to explode it.
DC: I've been waiting for it to happen with Mallet and Marina because they've been happy for a minute.
MB: It's coming, It's coming. I mean, Mallet and Marina are trying as hard as they can to keep it that way (being happy) but this is a soap. READ MORE
By Melodie on March 28, 2009
The cast of Guiding Light recently spent some fun in the sun at Universal Orlando, filming on location episodes to air later this spring. Robert Newman took time out of his busy schedule to visit with me about Guiding Light, the investment of the network in the show, the impact of the new production model and what the future might hold for one of daytime's legendary couples, Josh and Reva (Kim Zimmer).

Daytime Confidential: Now I understand you aren't filming here?
Robert Newman: No. I'm just here for the PR part of it.
DC: How have you adjusted to the new production style?
RN: Well, it took me a while. I'm not gonna lie about that. I've been in this game for a long time and I've been through a zillion changes. This one by far has been the most extreme. I think it was hard. I've heard Alan say before that one of the most difficult things was that we had to go through these changes in front of the audience. We couldn't just shut down for 6 months and figure out how to do this. It was a lot of growing pains, adjustment, and difficulty.
For a while I felt really kind of out of sorts with it. I couldn't figure it out. One of the biggest changes for us as actors was zero rehearsal. I mean we had no rehearsal whatsoever. There's something that's kind of exciting about that and then there's something kind of really scary as hell about that. You just don't know. I mean you start a scene and you really don't know where it's going to go. READ MORE