Soap Dish
By Jillian Bowe on May 26, 2010
It seems as though Hollyweird still has a little love for soaps. Pajib.com reports, Paramount Pictures is slated to remake the 1991 comedy Soapdish. The film is all about the behind the scene drama that takes place on the popular soap, The Sun Also Sets. The film featured an all-star cast including, Sally Fields, Kevin Kline, Robert Downey, Jr, Whoopi Goldberg, Carrie Fisher, Cathy Moriarity, Elisabeth Shue, Teri Hatcher, Garry Marshall, Carrie Fisher and Kathy Najimy, and also a bit part with Stephen Nichols. According to the report, Soapdish's remake will be featured around a fictitious telenovela.
Poster credit: Paramount Studios
By Craig Peters on December 10, 2008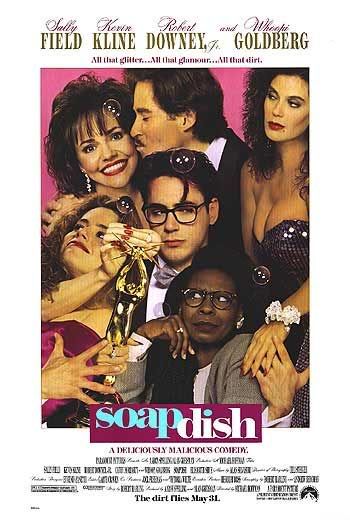 Intrigue, Treachery, Backstabbing and an evil genius plotting to conquer the world, the world of The Sun Also Sets: a world not of our reality...of extremes so emotional, so dastardly that it makes one cringe even to think of it…the world of Soap Opera.
A world where premature children gestate for 15 or more months, toddlers age years overnight and complete characters (and sometimes personalities) are switched and no one ever notices. Is this some evil alien plan? Is this an anomaly in the space time continuum? NO, it is the evil Daytime Drama, a force so devious, so foul that it rivals demonic possession in its hold on the human mind, nay, the soul of its minions.
Soapdish stars Sally Field and Kevin Kline leading an all star cast in a deliciously hilarious look at what happens when real life intrudes on the set of a flagging soap The Sun Also Sets. READ MORE