A Martinez
By Jamey Giddens on March 31, 2014
The star-crossed, forbidden love of Kelly Capwell and Joe Perkins launched NBC's short-lived, cult fave soap opera
Santa Barbara
in 1984. Fans of the show couldn't decide who was more beautiful,
Robin Wright
, who played heiress Kelly Capwell, or
Dane Witherspoon
, who starred as her wrongfully-accused-of-murder beau Joe Perkins.
Fellow SB hunk A Martinez (ex-Cruz) had the difficult task of announcing Witherspoon's death via Facebook. He was 56. Watch a clip of Witherspoon, Wright and Louise Sorel, who played SB's sex-crazed socialite Augusta Lockridge, after the jump!

By Jillian Bowe on December 19, 2011
CBS Soaps In Depth
is reporting
A Martinez
will reprise the role of Dr. Ramon Montgomery on
The Bold and The Beautiful
. So far, B&B is keeping mum as to why the good doc returns, Martinez's first airdate is set for Jan. 13.
By Jamey Giddens on April 26, 2011
As talented as she is striking, former
One Life to Live
star
Tika Sumpter
's stock is rising in Hollywood on par with U.S. gasoline prices. Sumpter, who has recurring roles on both The CW's
Gossip Girl
and BET's record-breaking
The Game,
took a little time out of her busy schedule to share her place with
Esquire
for their
Me In My Place
photo essay collection. Wouldn't it be awesome if BET did a cable soap starring Sumpter,
Debbi Morgan
,
Darnell Williams
and
Victoria Rowell
? Ah, the possibilities. Click
here
to see more!
Photo credit: Esquire
By Jillian Bowe on January 11, 2011
Cruz lives! TV Guide's Michael Logan is reporting A Martinez has landed the role Dr. Ramon Montgomery, a good friend of Bill's (Don Diamont), on The Bold and The Beautiful. Look for Dollar Bill to ask his bud to perform a paternity test on Amber's (Adrienne Frantz) baby. Martinez will appear on B&B for four episodes starting Feb. 9.
By Jamey Giddens on October 07, 2010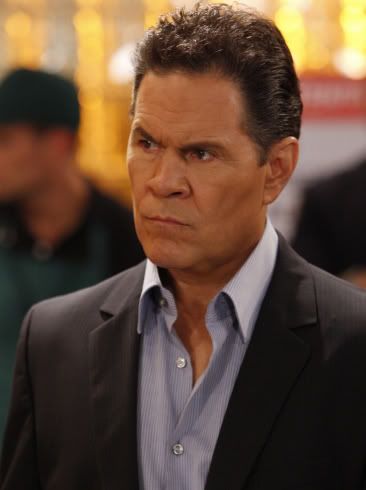 What is up with my Cruz Castillo from
Santa Barbara
playing all these baddies? It all started when
General Hospital
cast him as mobster Roy DiLuca, then
One Life to Live
brought him in as...oh I don't remember his name! Something Santi??? I tell you one thing for doggone sure, I'll never forget that accent and
not
in a good way! Now one of my all-time fave soap heroes,
A Martinez
,
will be playing a drug trafficker named Cesar Calderon on fellow soap alum
Nathan Fillion'
s hit ABC procedural
Castle
. Look for Martinez to pop up on the Oct. 18 eppy. Now if they can just cast
Marcy Walker
as a drug mole named Paradise...
READ MORE
By J Bernard Jones on August 05, 2009
Perhaps someone passed along my
Open Letter to Christopher Goutman
. Perhaps
Barbara Bloom
took a good look at the plummeting ratings and decided that everyone should not lighten up after all. Perhaps head writer
Jean Passanante
took an extended vacation to Buenos Aires. Whatever has been happening over the last few weeks, let me step out on a limb and utter the words that many fans thought might not ever be said again or even believe:
As the World Turns
is, at long last, improving.
I fully expect the comments section to be full of invective and angry fist shaking about how ATWT is still "the worst soap on the air," how the vets are misused, and how the "Vortex of Suck" continues to, well, suck. In addition, the now well-documented list of the show's biggest defects remain stubbornly in place: warp-speed storytelling and the soul sucking semi-episodic structure continue to test the rapidly waning patience of the show's dwindling audience.
Having said that, it bears repeating that fans are a stubborn breed. We will praise shows, actors and performances we like, but we are quick to make our displeasure known when we feel things are not up to speed and falling apart. Once the latter narrative has been established it is very hard to turn the tide of opinion, even when a show starts to address its critics and make changes. Therefore, though the longstanding criticisms of ATWT are still valid, I think it is time to once again give credit where credit is due. READ MORE