Adrianne Leon
By Luke Kerr on September 06, 2010
This Week in Daytime,
I teared up at As the World Turns' tribute to Nancy Hughes (Helen Wagner). The episode contained so many wonderful flashbacks. I was in the midst of patting myself on the back for not letting it get to me when they began Nancy's Thanksgiving prayer and I knew I was a goner. Of course, that touching scene was immediately followed by Katie's (Terri Colombino) flashbacks of Nancy. I know each ATWT fan has their own fond memories, but there are three reasons I fell in love with ATWT and Oakdale. 1) I discovered ATWT because it was where my beloved Another World characters ended up. 2) I couldn't get enough of Jack (Michael Park) and Carly's (Maura West) on again/off again relationship 3). Katie and Simon's (Paul Leyden) romance–nurtured by Nancy–hooked me. Share your favorite Nancy Hughes moments in the comments. We miss you Helen Wagner.
By Daytime Confidential on May 17, 2010
General Hospital's Julie Marie Berman, Brandon Barash and the soon-to-be returning Adrianne Leon were among the ABC stars who attended the Disney ABC Television Group Summer Press Junket in Burbank on May 15. See more photos of them after the jump. READ MORE
By Jillian Bowe on March 18, 2010
Its raining Quatermaines! Adrianne Leon is returning to General Hospital as Brook Lynn Ashton, according to ABC Soaps In Depth. Look for Leon to return to Port Chuck around May Sweeps, the magazine states the actress will be on recurring status.
By Jamey Giddens on October 15, 2008
I don't know when it happened, but it has. I completely, totally accept and even like Tammin Sursok in the role of Abbott heiress Colleen Carlton on The Young and the Restless. As much as I am thrilled to see one of the best couples on daytime, Daniel and Amber (Adrienne Frantz and Michael Graziadei), reunite, I found myself empathizing with Colleen. Who wants to find out that someone's just not that into you on the radio? Well, I guess it beats Facebook.
Maybe it's the good writing of late, or the fact that it also took me a long time to warm up to Adrianne Leon's version—her Colleen was too "Bwookie" from General Hospital early on—or maybe it's simply that Sursok resembles a young Lisa Hartman-Black who I loved as Ciji/Cathy on Knots Landing. Whatever the reason, Sursok is officially "my" Colleen. There, I said it. Talk, er, type amongst yourselves!

By Regan Cellura on June 25, 2008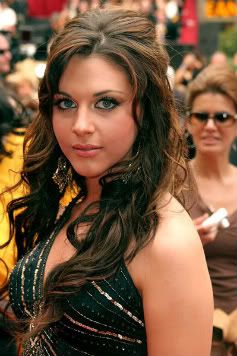 Remember that Blind RUMOR I posted? Those of you that took a crack at it were right.... it was for the character of Sarah. RUMORS say that Sarah Roberts, played by Justis Bolding, is being re-cast with another ABC fan favorite, Adrianne Leon (Brooklyn, GH; ex-Colleen, Y&R). As SPOILED, Sarah takes a trip over a watefall and is presumed dead in a re-do of a classic One Life to Live storyline. RUMORS of the re-cast started circulating when Tina returned thus giving Sarah more screen time. These RUMORS say that TPTB wanted a "bigger" name in the role of Sarah. While we're still waiting on official confirmation of the casting, there is an interesting tid bit attached to this RUMOR. Leon, who is also an accomplished musician, would feature her music on One Life to Live at Capricorn. These RUMORS also suggest that Leon would dye her hair blonde for the role of Sarah. READ MORE
By Jamey Giddens on May 13, 2008
Rock On. Looks like Amber Moore (Adrienne Frantz) will be without her friend-with-benefits for a good part of the summer as Daniel (Michael Graziadei) heads off on tour with his pop rocker pop Danny Romalotti (Michael Damian) this May 27. Soap Opera Weekly Online is reporting the in demand Graziadei will be filming a role in a movied called The Reef.
Young and the Restless is bringing back Damian's Danny to facilitate Daniel's onscreen absence as the elder Romalotti asks his son to head out on the road with him in hopes of patching up their rocky relationship. Look for Graziadei's Daniel to return to Genoa City in July. Hey, I wonder if while out on the road Daniel might bump into Davetta Sherwood's Lily and Adrianne Leon's Colleen and convince them to come home and replace the pod people currently occupying those roles? Just a thought.