Agim Kaba
By Jamey Giddens on March 11, 2011

Holy, Sharlene Hudson, Batman! A near-all soap star cast has been assembled for Far From The Bay, a prequel to Season 2 of the juicy web sudser that follows Sara Garrett's (Mary Beth Evans) troubled youngest son Peter (Kristos Andrews) on a quest to find Claire Andrews (Marie Wilson), the woman who adopted him and raised him for several years while Sara, suffering from amnesia, forgot she had given birth to a future abs machine spokesperson. READ MORE
By Luke Kerr on August 18, 2009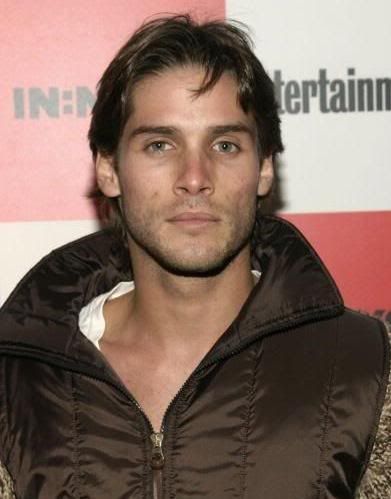 Agim Kaba
is returning to
As the World Turns
as Aaron Snyder for the death of Holden Snyder (
Jon Hensley
), according to
We Love Soaps
. He will be joined by
Steve Bassett
, who will be returning to the role of Seth Snyder.
By Mark on December 06, 2008
By Jamey Giddens on November 26, 2008
Okay you knew it was coming. Now that the Idiots In Charge of The-Soap-Opera-Formerly-Known-as-Days-of-Our-Lives have let the phenomenal
Blake Berris
go, I decided to start out doing a Wishful Casting about where Berris should end up, but it turned into more of an analysis of which soaps are managing to set things up for their next generation the right way, and which ones are getting it wrong, dead wrong.
Much of the daytime industry is experiencing a serious drought in terms of talented, young stars who can actually, you know, act. Save for The Young and the Restless, One Life to Live and General Hospital, the under 30 set at most soaps is pretty much comprised of rejects from the Pamela Anderson School of Acting and Pantomime. I'll start with the soaps in most need of help and work my way up. READ MORE
By Mark on November 21, 2008
A couple of weeks ago there were rumors that Austin Peck (Brad Snyder) and Agim Kaba (Aaron Snyder) were leaving As the World Turns. The CBS edition of Soaps in Depth is now reporting that Austin is not leaving, but that Agim has been dropped to recurring status. Will Agim have to face the same destiny as Dylan Bruce (Chris Hughes)? He was dropped to recurring status too, but still ended up leaving the show.
Related:
Austin Peck Out at As The World Turns?
Agim Kaba Leaving ATWT?
By Daytime Confidential on November 07, 2008
On today's CBS and Days of Our Lives episode of Daytime Confidential Luke, Mike, Melodie and Jillian discuss all the latest rumors and news including Ashley's return to The Young and the Restless, Katherine and Marge, Lily and Billy and debate who Amber should go up against.
Boozy Taylor and teaming up with ball busting broads on The Bold and the Beautiful.
We're throwing a party for Cassie leaving Guiding Light and Melodie has a problem with Grady.
We discuss the latest rumors of Austin Peck and Agim Kaba leaving As the World Turns and Sage following in her mother's footsteps.
Sandra Ferguson returns to daytime on Days of Our Lives, Galen Gering makes his debut and EJ and Nicole.
Listen to Daytime Confidential by clicking on the Daytime Confidential Player at the bottom of this post or Download us for FREE via iTunes. Vote for us on Podcast Alley. Add us as a Friend on MySpace and Facebook.