Alex Charak
By Mark on February 26, 2009
Alex Charak
is leaving
As the World Turns
again. His character Elwood will be killed on his way to a meeting with Luke and Noah.
On March 5th Lannon Killea will return as Mark Vero. Who? Mark was Kevin's homophobic campaign manager. Could he possibly be the mysterious "M"?
By J Bernard Jones on February 20, 2009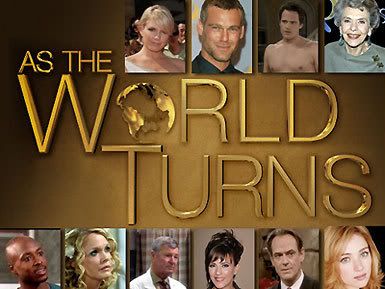 As the World Turns is something of a mystery to me these days. I haven't been blogging regularly about the show because, honestly, I am kind of flummoxed about what to actually write about from day to day.
I love ATWT. The show is blessed with some of daytime's strongest actors. In this age of massive cost cutting, ATWT found an arguably better production alternative than Procter & Gamble sister show Guiding Light. Speaking for myself, I find most days, most characters, most stories and most events to be sufficiently captivating to keep me coming back.
Nonetheless, something is badly amiss in Oakdale. The usual criticisms of ATWT are all-too-familiar: far too many recasts, underused vets, storylines that turn on a dime, compressed storytelling and ever shrinking production values to name a few. While those issues are real and important, they are only symptons of several larger problems that encapsulate the issues that I, other Daytime Confidential bloggers and commentators all over the internet have found themselves dismayed about over the last several months. After trying to put a finger on these issues while attempting to "figure out" what's going on at ATWT from a larger perspective, several things have jumped out as serious structural flaws, like a cracked foundation in a beloved old home. READ MORE
By Mark on January 02, 2009
What was the point of recasting Maddie (
Kelly Barrett
) and Lucy (
Sarah Glendening
) if they're just here for a couple of weeks? Both actresses debuted during the week of Christmas and are leaving
As the World Turns
again next week.
But it won't stop ATWT from bringing back other characters. Alex Charak (winner of the first season of InTurn) is coming back as Casey's (Billy Magnussen) old room mate Elwood Hoffman. Also, as reported earlier, Eric William Morris will be back as Casey's old prison buddy Matt O'Connor and Paolo Seganti will be back as Luke's (Van Hansis) biological father Damian Grimaldi. At least they're not recasts!