Alexandra Chando
By Jillian Bowe on December 03, 2010
According to Karen over at
Wubs
,
General Hospital's
Tyler Christopher
has snagged a role in the ABC Family pilot
The Lying Game
. Christopher will appear on the series in the recurring role of Det. Matthews. The actor will re-team with ex-GH head writer
Chuck Pratt
who will executive produce/write the series.
The Lying Game
, based on the books of the same name, will center around a foster child (
Alexandra Chando
) who finds out she has a long-lost twin who goes missing and sets out to find her.
By Luke Kerr on November 01, 2010
Former As the World Turns star Alexandra Chando will be pulling double duty in the lead role on ABC Family's new series The Lying Game, according to Deadline.
The Lying Game, from Warner Horizon and Alloy, centers on Emma (Chando), a kind-hearted foster kid who finds out she has an identical twin sister, Sutton (also played by Chando) that was adopted by wealthy parents and is seemingly living an ideal life until she goes missing and Emma goes on a quest to find her. Charles Pratt, Jr. is the writer/executive producer on the pilot based on the upcoming novel by Pretty Little Liars author Sara Shepard. Chando is with Gersh and J. Mitchell Management.
I'm ecstatic for Chando, but for her sake I hope Chuck Pratt does a better job adapting Sara Shepard's book than he was at writing for All My Children.

Photo by PR Photos
By Mike Jubinville on December 02, 2009
CBS.com
has a new official blogger and her name is Maddie Coleman. She just moved back to Oakdale and is full of insight about what makes people tick during tough times, like the current recession. Most of the time actors blog about their on-set experiences, but
As the World Turns
is turning
Alexandra Chando
's alter ego loose on the net. Her first post appeared yesterday.
READ MORE
By Mark on October 16, 2009
This week, Alexandra Chando (Maddie, As the World Turns) had a small role on Sherri Shepherd's comedy series Sherri. You can watch her scene after the jump. READ MORE
By Daytime Confidential on October 05, 2009
On today's CBS and Days of Our Lives episode of Daytime Confidential Luke, Jamey, Jillian, Mike and Mel discuss the latest in As the World Turns, The Bold and the Beautiful, Days of Our Lives and The Young and the Restless storylines and news, including:
Austin Peck clarifies his As the World Turns demise. Melodie is loving the abortion storyline and how well they are fleshing it out. Might Rosanna and Craig sleeping together mean that Carly could be re-paired with Holden? Luke, Mike and Mel are glad that Alexandra Chando is back as Maddie Coleman. Mike has a gripe about ATWT's portrayal of people from Kentucky and Nebraska and wonders where Dusty is.
The Bold and the Beautiful snapped up General Hospital's Sarah Brown. Brown's new character Sandy Sommers will be mixing it up with Nick, Bridgett and Whip. Bill Spencer takes over Forrester Creations. Is Brad Bell kicking Maria Arena Bell's butt in the corporate storyline department? The Steffy, Owen and Jackie triangle heats up.
Crystal Chappell returns to Days of Our Lives as Carly Manning by stabbing Lawrence. Jamey shares a rumor about who Carly might be paired with in the future, which elicits groans from everyone on the podcast. James Scott and Arianne Zucker were on fire this past week as EJ and Nicole.
The Young and the Restless has written Victor into a corner and Eric Braeden out. The Jack and Victor feud has claimed a life, can they revert back to their old rivalry without trivializing Colleen's death? Now that an Abbott has died, shouldn't a Newman die? Who are Y&R's next Victor and Jack? Is Adam Y&R's future or are Billy, Deacon, Daniel and Kevin?
All this and much more on today's episode.
Help support and improve the Daytime Confidential podcast: Take a few minutes to fill out the two Daytime Confidential listener surveys: Listener Survey A l
Be sure to leave your comments on all the latest goings on in the world of soaps by calling the Daytime Confidential comment line by calling 917-677-9757.
Listen to Daytime Confidential by clicking on the Daytime Confidential Player at the bottom of this post or Download us for FREE via iTunes. Vote for us on Podcast Alley. Add us as a Friend on MySpace and Facebook.

READ MORE
By Jamey Giddens on September 07, 2009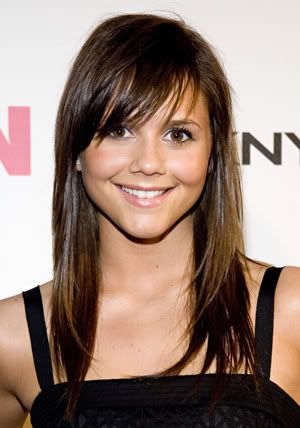 Uber polite soap hunk
Evan Alex Cole
(Hunter) probably got tired of me pestering him on the red carpet at the Daytime Emmys about when he was going to get a love interest who wasn't related to him on
As The World Turns.
To satisfy my lust for story scoop, Cole offered up a juicy tidbit about some upcoming chemistry testing with
Alexandra Chando
(Maddie)!
"Alex and I are going to be working together quite a bit, so we'll see where that goes," he teased. "Hallelujah, some love for the only Stewart man in town!" READ MORE