Amanda Seyfried
By Luke Kerr on July 17, 2008
Tomorrow is officially Amanda Seyfried's big break. Just a few short years after being written off All My Children the one time soap actress is starring in Mamma Mia!, the film that could make her a household name. Here she is at the Stockholm premiere of Mamma Mia! with co-stars Meryl Streep and Pierce Brosnan.
Mamma Mia! premieres in the U.S. on Friday July 18, 2008.
For more on Amanda Seyfried visit Daytime Confidential's Amanda Seyfried Page.

By Luke Kerr on July 07, 2008
In case you've missed it, here's the trailer for former
All My Children
star Amanda Seyfried's new movie
Mamma Mia
. In case you've missed it,
Mamma Mia
has really put Amanda on the map. She's on the
cover
of Vanity Fair and the magazine named her their July
Pin-up
girl.
By Luke Kerr on July 06, 2008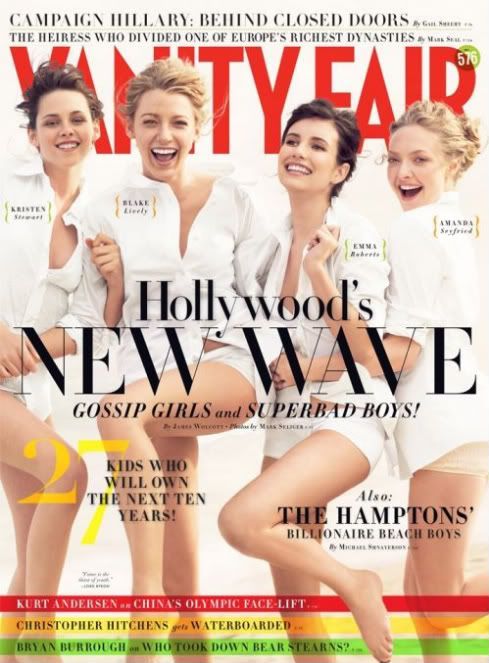 After playing backup characters on Big Love and in Mean Girls, All My Children alum Amanda Seyfriend is about to "make it big" with the July 18 premiere of Mamma Mia, the big screen adaptation of the hit musical, starring opposite Hollywood legend Meryl Streep and former Jame Bond star Pierce Brosnan, among others.
Hollywood is hoping Mamma Mia is this summer's Hairspray styled success and though that has yet to be seen it has been great for Amanda who was named Vanity Fair's July Pin-up girl and appeared on this month's cover with Gossip Girl's Blake Lively, Panic Room star Kristen Stewart and Nancy Drew star Emma Roberts.

By Luke Kerr on June 12, 2008
You may remember Amanda Seyfried as the little good girl Joni Stafford on All My Children or as Lucy Montgomery 2.0 on As the World Turns but now Vanity Fair has named her their July 2008 Pin-up girl.
Since leaving daytime this little actress has been busy with guest roles on Veronica Mars and Wildfire and a starring role on HBO's Big Love. This is an actress who has made the jump from daytime to Hollywood. In 2004 she starred with Lindsay Lohan in Mean Girls and this summer she stars with screen legend Meryl Streep in the Broadway adaptation of Mamma Mia on July 18. After Mamma Mia you can see Amanda in the Diablo Cody film Jennifer's Body.