Anthony Geary
By Regan Cellura on May 15, 2009
Here's the Scoop! 05.15.09
Has all the Emmy drama died down? Congrats to the GH stars who were nominated. Now onto the SCOOP!

Michael's awake… no memory of what happened to him and a little peeved his parents weren't there. Edward and Monica tell Sonny they're not going to let him hurt Michael again. Who jumps to Sonny's defense? Who's been his biggest cheerleader lately despite not wanting her own son around him? Olivia. She tells the Q's to back off. But Edward wants his great grandson in the family fold and Michael MAY be toying with the old man. He's also not going to be very nice to his mother as we've been dishing and it LOOKS like Michael dishes to Lulu just how mad he is at him momma.
More Lulu… She's with Michael and there's also this Ethan mess. Tracy, for whatever reason, admits to her step-daughter that she did mess with the test but did she see the real results or just fix them to make sure Luke isn't the father? But why dish to Lulu? To keep her from committing maybe incest? Lulu is also battling her brother over their maybe half-brother. READ MORE
By Regan Cellura on May 13, 2009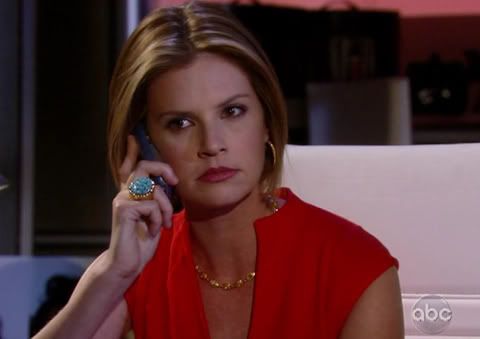 Here's the Scoop! 05.13.09

A little scoop plus a little commentary you may have missed in the comments from yesterday… read on.
Who's behind the blackmail? Who has Kate selling her own rag down the river? Guesses? Comment away!
Maxie's men… With Johnny taking Olivia to bed is he still a contender? RUMORS have suggested a Matt – Maxie – Spinelli triangle coming this summer. Spinelli uncovers Johnny's tryst with the older lady and he spills to Maxie thinking it will turn her off from Johnny. Too bad for Spinelli, all it does is send Maxie straight to Johnny telling him if he wanted to get laid, all he had to do was call her. Would Maxie risk her friendship with Spinelli and frienemy status with Lulu for a roll in the sack with Johnny? This is Maxie we're talking about and she's been dancing around Johnny for months. They two come close to doing the deed yet again but someone gets in their way. Who's Maxie kissing? It's not Spin or Johnny!
Robin returns and all is well… Scrubs get back on track and Robin holds her daughter. Upon her return to town, she cautions Ethan and mixes it up with Holly. Robin – Michael scenes? We're hearing yes! Is Patrick worry free now that his wife is home from her treatment? No. READ MORE
By Regan Cellura on May 12, 2009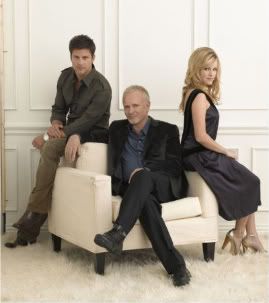 Here's the Scoop! 05.12.09

Luke is suspicious that his wife tampered with the DNA results and when she freaks over Lulu and Ethan spending time together, it further fuels Luke's fire.
Is
Tony Geary
headed out on another vacation? It's about that time isn't it? The GOSSIP says he pre-taped some scenes. What has Luke and Ethan riding to the rescue? A phone call to Holly that is cut short. In true Tracy form she follows the pair. Are they playing into Holly's hands?
Spencer Family Drama… Lucky and Lulu, Luke and Tracy, Holly and Lucky… they all share words over Ethan Lovett.
Is Jax the trouble for Carly and Michael? Remember, Michael wants to live with Dad and there SHOULD be some turmoil between Jax and Michael over the newly awakened teen stressing his mother out. Will Carly blame Jax for Michael moving out? Michael is not going to be a happy little boy.
Anyone remember those OLD RUMORS about only one Zaccharra being left at summer's end? At that time we all thought it would be because of Trevor's reveal that Johnny is really a Lansing. So here are some THOUGHTS on this one. There are RUMORS that Johnny COULD be exiting the show or maybe after Ric's death there will be some sort of reveal about Johnny's true paternity. READ MORE
By Regan Cellura on May 07, 2009
Here's the Scoop! 05.07.09

So Ric Lansing is a goner…
well MOST LIKELY he'll be the murder victim in the big murder mystery for the summer. Rick Hearst will vacate his two time Emmy winning role in June. It's a sad day, whether you loved or hated the character of Ric Lansing,
Rick Hearst
is a top notch actor who wasn't used to his potential on
General Hospital
. What does that mean for all the Ric SPOILERS and RUMORS I already dropped? Rewrites most likely as WORD on the street is that Hearst was still in negotiations for another gig as early as last week.
Ric and Kristina… They were RUMORED to have a bonding time of sorts when the new Kristina hits the screen but with her step father not long for this Port Charles world that MAY not be happening.
Ric and Claudia… He wants a paternity test as soon as Claudia pops out that baby. Too bad he won't be around to enforce his court order. Is Claudia the culprit? Her hits usually go wrong.
Ric and Sonny… Will the brothers make peace or will Sonny finally order a hit on his own flesh and blood.
Whatever it is, however it goes down… ABC Daytime is promising that Ric goes out with a bang. READ MORE
By Regan Cellura on April 21, 2009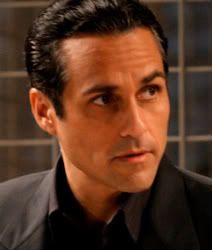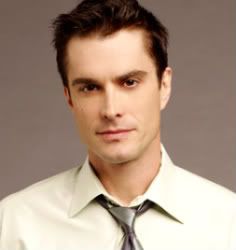 Here's the Scoop! 04.21.09
It's gonna be a quickie since I'm running behind schedule today…
Ric or Sonny? Who knocked up Claudia? Ric wants a paternity test, an amnio at the earliest time possible. IF the results say the baby is a Lansing will that be the next secret kept in PC? One RUMOR has Claudia putting herself in a pickle and losing the baby. Will Ric accuse her of deliberately putting his child in harm's way? Will Sonny and Jason let her live once the baby is gone? COULD Sonny not care that his wife is responsible for Michael's shooting when it's all said and done? Will Jason? IF Claudia loses her baby will she pretend to still be with child? That's a classic soap go to move.
Carly's baby… Will this storyline be another round of Sonny vs. Jax? RUMOR has it that Sonny is concerned about Carly's delicate condition and Jax wants to know why. Will Sonny know about Carly's potentially life threatening disorder before candy boy? READ MORE
By Regan Cellura on April 20, 2009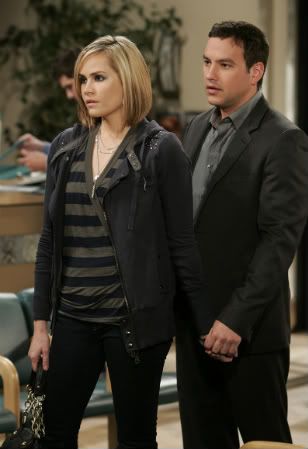 Here's the Scoop! 04.20.09
Who thinks there's some scrambling going on at GH? The ratings suck, the storylines aren't much better and fans are probably the most unhappy they've been in a very long time. Is any of this registering with TPTB? Some are saying it is and re-writes are in the works but my question is: Will the re-writes be in the right direction? GH, Guza, Frons, Jill… do they know what the right direction is? Past experiences tell me that they got off track a long time ago.
What's going on with NotEmily? Some say she was never supposed to be the RealEmily and that this Rebecca character was meant to stick. Stick to what? Will this be a re-write? There's some Rebecca – Lucky stuff RUMORED to be coming with those Nikolas-Elizabeth RUMORS mixed in. HERE'S WHAT YOU DO… Make the decision to have NotEmily be the RealEmily. Helena's in town, use her to your advantage. Have Hells play a role in Emily's death, explain away Diego admitting to killing her and spin the story in the brainwash direction. I know I never endorse the recycling of old storylines, but in this case, it's your only option. Do I want a quad with the four musketeers? Not really but I'd be all for a triangle with Lucky-Emily-Nikolas. READ MORE