Anthony Herrera
By Jamey Giddens on June 30, 2011
The daytime soap opera community is mourning the recent passing of one of its brightest stars.
Anthony Herrera
, who portrayed legendary supervillain James Stenbeck on
As The World Turns
on and off for almost 30 years, died June 21. He was 67.
Former costar Martha Byrne (ex-Lily, ATWT) broke the news of Herrera's passing via Twitter. The actor, who had valiantly battled cancer for years, passed away in Buenos Aires. Herrera, who also appeared on the soap operas Loving and The Young and the Restless, wrote a memoir about his struggles with mantle cell lymphoma entitled The Cancer War. Byrne encouraged her Twitter followers to read the tome in support of Herrera's memory.
By J Bernard Jones on September 07, 2010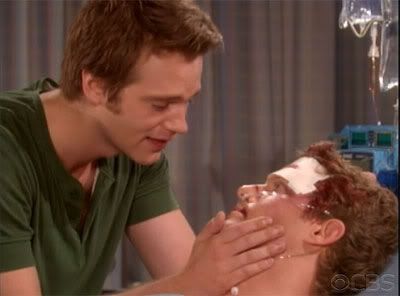 Before I get to today's stunning episode of As the World Turns, in which Dr. Reid Oliver dies and donates his heart to his professional nemesis/colleague Dr. Chris Hughes, I have a few thoughts about not only the serial's final days on the air, but also —in a broader sense—fan perceptions about what a soap's last days should be like, themes that will be carried forward as we look toward ATWT's final hours.
First, with less than two weeks to go before its final fade to black, ATWT is ending its 54 year history in perhaps better dramatic shape than almost any serial since the cancellation of NBC's Texas in 1982, a specific observation I will expand upon in a few days. Of course, there is lots to gripe and nitpick about the woulda-coulda-shoulda's of how the show might have wrapped things up. Many of those ideas are quite good and some are downright ludicrous, but in the final turn of events, all of that stuff is moot. The last scenes were shot, the sets have been struck, and the actors all went along different paths weeks ago. READ MORE
By Mike Jubinville on February 02, 2010
As the World Turns
fans take note.
Anthony Herrera
made his first appearance as notorious villian James Stenbeck on February 1, 1980. Since then, Oakdale's baddest bad guy has lived and died more than his alotted nine lives.
There really isn't anything Stenbeck hasn't done over the past three decades— bribery, blackmail, kidnapping, murder, you name it. His favorite sport however, has been tormenting ex-wife Barbara (
Colleen Zenk Pinter
) and their son Paul (
Roger Howarth
).
READ MORE
By Mike Jubinville on December 20, 2009
As the World Turns star Anthony Herrera (James Stenbeck) chatted with his native Mississippi's ClarionLedger.com about his career and battle with mantle cell lymphoma. There was a point after his diagnoses when he had to decide whether he wanted to live or die. Fortunately for us, he fought like hell to survive. During the interview, he parallels his character with his real life, both of which appear to be very intertwined.
In reality, he has shown the resiliency of the character for which he is known. Stenbeck has been killed five times on As The World Turns. He fell out of a cargo plane, was shot twice, went down in a helicopter crash and tumbled off a lighthouse. But, somehow, he always returned.
By Mark on October 05, 2009
Always wanted to know how to avoid being murdered? Expert James Stenbeck (
Anthony Herrera
) tells you everything he knows after the jump.
READ MORE
By Mark on September 04, 2009
James Stenbeck (Anthony Herrera) dies again and Liberty (Meredith Hagner) is about to get an abortion – next week on As the World Turns. Watch the promo after the jump. READ MORE