Beth Ehlers
By Luke Kerr on March 04, 2008


In our ongoing walk down the "Gush" memory lane Daytime Confidential listener and reader Gush900 sent us this tribute to Guiding Light's Gus and Harley.
By Luke Kerr on February 29, 2008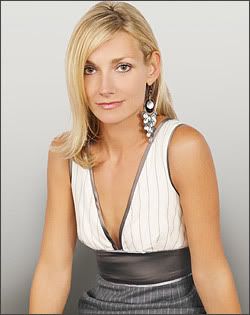 With the official announcement that Ricky Paull Goldin will be leaving Guiding Light many Gus and Harley fans have been wondering what will happen to their "Gush" and what Beth Ehlers response might be to this sad news. Thanks to a Daytime Confidential tipster we have a copy of an email Beth Ehlers sent out to her fans.
Hello Everyone,
How can we say goodbye to Ricky Paull Goldin?? I know for all of you the idea of "Guiding Light" without "GUS" is unimaginable. For me the idea of "Harley" without "Gus" is unimaginable! 2008 was supposed to be the year of their reconciliation. Ricky and I both anticipated those scenes, to finally get the opportunity to fall in love again . . . for all of you. Obviously, that won't happen now. And it's a tragedy. Please know that I am as saddened, as devastated as all of you. He isn't just the love of Harley's life. He is my best friend. Please send good wishes his way! And maybe in the future, who knows . . . maybe these two people will meet again.
I can only hope . . .
All my love,
Beth Ehlers
By Luke Kerr on February 28, 2008


Daytime Confidential listener and reader HarlyFanForever sent in her favorite clips of Guiding Light's Gus and Harley "GUSH" at their first date. Enjoy!
By Luke Kerr on February 27, 2008
Since Ricky Paull Goldin's leaving Guiding Light and his pairing with Beth Ehlers' Harley was so popular I thought I'd post a clip of the couple and encourage everyone to send me links to their favorite Gush or Ricky Paull Goldin Youtube clips. I've posted a clip I found above but I'd love to see what long time Guiding Light, Gush, and RPG fans consider to be their favorite.
Please Note: When sending links for Youtube Clips do the following.
1. Use the Tips option on the contact form
2. Make sure that embedding is enabled for your favorite clip (we can't use clips that aren't enabled)
3. Include the link to the clip on Youtube and NOT the actual code used for embedding.
By Luke Kerr on January 04, 2008


Ok, this is quite possibly one of the most disturbingly sad music videos I've seen made about a soap couple. Usually you find a music video like this and its about their love. This one is about their destruction. Oye.
By Lisa on December 31, 2007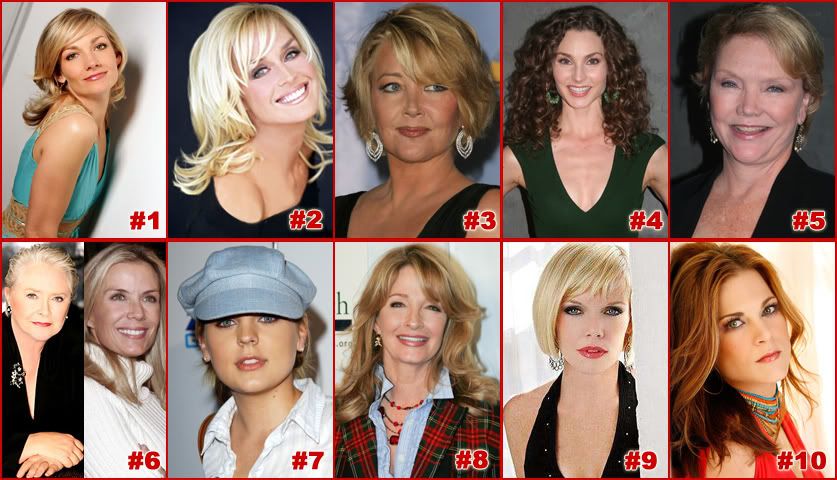 Top 10 Actresses of 2007
1. Beth Ehlers, Guiding Light
2. Catherine Hickland, One Life to Live
3. Melody Thomas Scott, Young and Restless
4. Alicia Minshew, All My Children
5. Erika Slezak, One Life to Live
6. Susan Flannery & Katherine Kelly Lang, Bold & Beautiful
7. Kirsten Storms, General Hospital
8. Deidre Hall, Days of Our Lives
9. Maura West, As the World Turns
10. Gina Tognoni, Guiding Light

Beth Ehlers, GL (Harley Cooper Aituro) - This lady doesn't get enough credit. Not only did she sell us on Harley the independent woman, Harley the Devoted Mom/Sister/Daughter and Harley of the Panic Attacks, her turn as Irna Phillips during the GL flashback episode was scarily good.
Catherine Hickland, OLTL (Lindsey Rappaport)- Not only do we love Ron Carlivati for revitalizing OLTL, we love him for putting the luminous and endlessly fascinating Lindsey in a murder mystery that actually made sense. And we couldn't take our eyes from Catherine's riveting performance.
Melody Thomas Scott, Y&R (Nikki Newman) - it takes a brave actress to appear on screen for days on end with greasy hair and no makeup. MTS knew it was the right choice to portray a frantic mother worried about her child. We also loved Nikki going toe to toe with her formidable and ruthless husband, Victor.
Alicia Minshew, AMC (Kendall Hart Slater)- Watching her try to spin gold out of the crap the AMC writers were giving her was painful but she made it work. Almost.
Erika Slezak, OLTL (Victoria Lord) - Not only is she my hero for calling Dena Higley out on her ish, but she's like totally good.
Susan Flannery & Katherine Kelly Lang, B&B (Stephanie Forrester, Brooke Logan) - How can you include one and not the other this year? The feud went beyond petty into downright horrible with Brooke's rape and the aftermath. These two were consistently amazing.
Kirsten Storms, GH (Maxie Jones) - What is it about Days actors being so good in other roles? Kirsten rocks Maxie's fierceness as well as hints at her vulnerable, insecure side.
Deidre Hall, Days (Marlena Evans Black) - From tearing grief to consoling mother to worthy adversary, Deidre showed how masterful she can be when she's allowed.
Maura West, ATWT (Carly Tenney) - just because she's awesome and the show is terrible without her.
Gina Tognoni, GL (Dinah Marler) - watching the first scenes after Dinah lost her memory was so realistic it was hard to watch. Seeing Dinah struggle with remembering how to turn a doorknob? Heartbreaking.