Billy Magnussen
By Daytime Confidential on November 13, 2012
Have you missed seeing Billy Magnussen (pictured above with co-star David Hyde Pierce) and his ripped body since As the World Turns ended its run? If so, now is your chance to see him strip to his skivvies once again during the run of Vanya and Sonia and Masha and Spike at the Mitzi E. Newhouse Theatre.
Magnussen plays Masha's (Sigourney Weaver) boy toy Spike, who has a propensity for abandoning most of his clothes, in the play that opened November 12.
Theater Mania weighed in on Magnussen's role,
Life gets temporarily upended when Masha unexpectedly shows up one day – with decades-younger boy-toy Spike in tow (the extraordinarily fit and often semi-dressed Billy Magnussen). She has returned ostensibly to attend a neighbor's costume ball, but also to deliver the shocking news that she has decided to sell the family homestead in order to cut down on her own expenses.
By Luke Kerr on June 28, 2011
If you're headed to New York City for One Life to Live's fan club weekend, here's something to mark on your calendars. Reserved for Rondee, the band of One Life to Live's Tom Degnan and former As the World Turns star Billy Magnussen (ex-Casey Hughes) will be performing at the Marriot Newark Liberty International Airport, in Newark, NJ on August 12 from 7 PM – 10 PM.
Friend's of the actors, from their various shows, will be popping in for their performance and will be mingling with fans. Tickets are $85 per person. Find out more information on tickets after the jump. READ MORE
By Jamey Giddens on January 30, 2011
Soap fans are in for a treat tonight on CBS. In the Hallmark Hall of Fame flick
The Lost Valentine
,
Jennifer Love Hewiit
portrays Susan Allison a journalist profiling Caroline Thomas (
Betty White
), an elderly woman, whose husband was declared MIA during World War II.
America's Grammy isn't the only star with soap cred to appear in the film. That's As The World Turns' Billy Magnussen (ex-Casey) playing White's husband Neil in flashbacks, while a young Caroline is played by none other than recent One Life to Live psycho teen Meghann Fahy (ex-Hannah). CBS should really put Magnussen and Fahy on a holding deal until they find the perfect, weekly project for these two amazing, young stars. I can't wait to check out The Lost Valentine tonight at 9/8c. Watch the trailer after the jump! READ MORE
By Daytime Confidential on December 22, 2010
It looks like One Life to Live's Tom Degnan is making friends at his new TV home. OLTL newcomer Josh Kelly and former star Meghann Fahy (pictured with Degnan above) popped up at a performance of Reserved for Rondee, Degnan's band with As the World Turns alum Billy Magnussen.
You may remember Kelly was originally slated to take over the role of Joey Buchanan before OLTL decided to cast Degnan in the role and give Kelly a different contract role. Former Guiding Light star Bonnie Dennison and boyfriend Matt Lowenthal also attended the December 17 gig at Fontana's Bar in New York City.
See more photos from the Reserved for Rondee performance after the jump! READ MORE
By Daytime Confidential on October 26, 2010
Former As the World Turns star Billy Magnussen and girlfriend Cody Horn (pictured above) pose with the Back to the Future DeLorean at the Back to the Future 25th Anniversary Trilogy Blu-Ray party on October 25. Check out Magnussen in the driver's seat after the jump and visit Pop Confidential for more photos of Michael J. Fox, Lea Thompson and Christopher Lloyd at the party.
By J Bernard Jones on September 16, 2010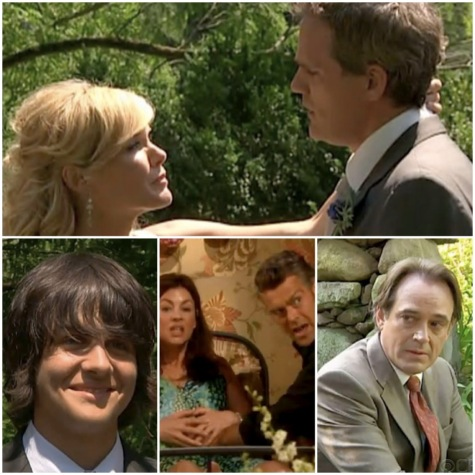 Several days ago, I posted an entry about the fallout from the death of Dr. Reid Oliver (Eric Sheffer Stevens) on As The World Turns. There were three central ideas in that piece. First, despite the very legitimate complaints that any given fan might have, ATWT is providing great human drama here at the end of its run. Second, Reid's tragic passing and donation of his heart to Chris (Daniel Cosgrove) encapsulated that goal mainly by thrusting the Hughes'— the show's core family since its very debut— front and center toward its conclusion. Third, given the soap opera wrapped production months ago, the idea of kicking a dead horse with unrelenting criticism isn't going to make it win the Kentucky Derby.
I have not budged one iota from any of those positions and I am about to incur the wrath of a whole lot more of you by making what I know will be a very controversial statement to many: I believe that in these final days, executive producer Christopher Goutman has made mostly the right decisions.