Bob Guza
By Regan Cellura on October 16, 2008
I was flipping through the latest
Soap Opera Digest
to grace my mailbox and I read what we dropped in
GH Spoilers
earlier this week.
Sebastian Roche
(Jerry Jacks) is done at
General Hospital
. RUMORS have been circulating all week long that the actor was let go. Everything from a firing to an amicable split has been reported. SOD is reporting that Roche "has been axed."
The RUMORS suggest Jerry Jacks will be killed off during Sweeps however, Robert Guza, head writer of General Hospital, said in a recent interview that he could never kill off the character of Jerry Jacks. Could this Mr. Craig who first hit town during the MetroCourt hostage crisis be an imposter?
Roche's publicist had previously denied his departure.
By Regan Cellura on September 30, 2008

How about some Night Shift Scoop?
Tonight, Anna Devane makes the jump from Daytime to Primetime as Finola Hughes takes a turn on Night Shift. Robin calls in Mom for the assist when her Dad, Robert, is rushed in for emergency surgery.

Grey's re-do? Remember the racist EMT? Looks like Night Shift is stealing a page from the ABC Primetime hit. A group of racists take over the ER and Chief of Staff Dr. Patrick Drake must step in.

The aftermath of Claire and Leo... can Kyle forgive his brother? What about his roomie?
The Finale... with all the returning greats does the script really matter? Of course it does as everyone is singing Sri Rao's praises. Robert will be in a coma and his friends come back to see him. Now, what isn't clear to this SPOILER Guru... will Tiffany, Sean and Luke be there in real life or in Robert's dreams? I am hearing that the Finale is quite the cliffhanger.
Tonight's Episode Description:
ANNA RUSHES TO ROBIN'S SIDE WHEN ROBERT TAKES A TURN FOR THE WORSE ON "GENERAL HOSPITAL: NIGHT SHIFT" AIRING TUESDAY, SEPTEMBER 30 AT 11 PM ET/PT READ MORE
By Regan Cellura on September 08, 2008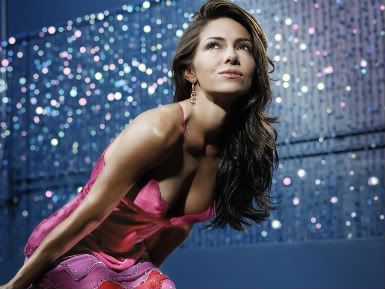 Bob Guza
is
still talking
and I once again ask, should we listen? The
General Hospital
head writer gave a few comments to
Soap Opera Digest
about two lovely ladies that
all

General Hospital
fans love.
Once again, the Vanessa Marcil (Brenda Barrett) RUMORS are teased by Guza. He says Vanessa "wants to make it happen." The head scribe also talks Finola Hughes (Anna Devane) promising that there is more to come from the super spy. Here's hoping that it's true, as most fans agree her "big summer storyline" needed a microscope for better viewing.
What else is Guza talking about? Apparently he tells the mag why Logan Hayes (played by Josh Duhon) had to die. Look for Bob Guza's comments in the September 11, 2008 issue.
By Regan Cellura on September 05, 2008
General Hospital
head writer,
Bob Guza Jr
.
, sat down with
Soap Opera Weekly
for a chat. In the
first part
of the two part interview, Guza dishes on
Genie Francis
' return and confirms reports that she will be back in October. He also addresses the other BIG question... will
Tony Geary
and Genie get some screentime together? Francis' last return wasn't handled as well as the fans would have hoped but Guza says those same mistakes will not be made again. Should we listen? Take a look and weigh in!
Weekly: It's suspicious that Laura doesn't want Lulu telling anyone else that she is awake.

Guza: That's very true. Lulu is like, "Oh, my God, this is good — let me get the boys," and Laura is like, "No, no, you can't tell them yet. I don't want to get their hopes up in case this doesn't take." We are thinking, "Yeah, that makes sense." Also, what happens is, a doctor shows up from Switzerland, where Laura was part of the time. If a doctor is there, how can it not be real? By the end of the fall/early winter, you will know the answer. You will also know about Laura's future.

Weekly: It would be too convenient if she just faded away again.

Guza: We are not going to resolve this in the same way that we did before. Not at all.
By Regan Cellura on September 04, 2008
Here's the Scoop! 09.04.08
More Liason coming? Yep! RUMORS are all over the place about more scenes for my favorite couple. They even taped together a few days ago. I am hearing that Jason once again pushes Elizabeth away. roe0824, I checked into the RUMORS and I am seeing the same stuff. Get your SALT BOULDERS out, just to be safe. There are RUMORS that Liason has sex again and the timeline of events seems to fit with the RUMORS that Elizabeth is getting into an accident. SPOILERS have said for weeks now that Jason can not stay away from Elizabeth. He'll bid her goodbye after the sexay times but from what I can gather, its just goodbye, not forever. A couple days after that, SHOULD be when the accident happens, IF it happens. Is it Elizabeth asking Jason for just one more night together?

Word of caution... when I first reported on the accident, the RUMBLINGS were that the basic outline of what's out there was true but there seemed to be some FanFic thrown in. I have no problem with FanFic as most of what's out there is better than what we see on a daily basis. I know Tina agrees with me. BUT, this is a SPOILER post on what's SUPPOSED to be happening on our screens, hence the word of caution. READ MORE