Bradford Anderson
By Luke Kerr on June 12, 2009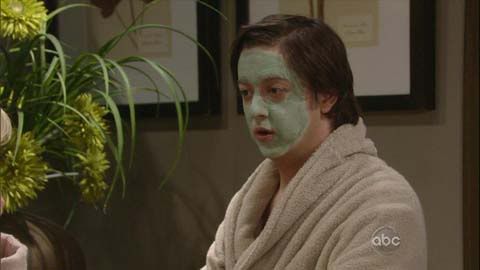 The Jackal & Co. followed Kate Howard to the spa today and I couldn't help but laugh at some of the scenes.
Bradford Anderson
has great comedic timing and seems game for almost anything. Of course the talented
Kirsten Storms
and
Julie Marie Berman
were there to make it even better as poor Spinelli had to endure some less pleasant spa treatments.
READ MORE
By Regan Cellura on June 09, 2009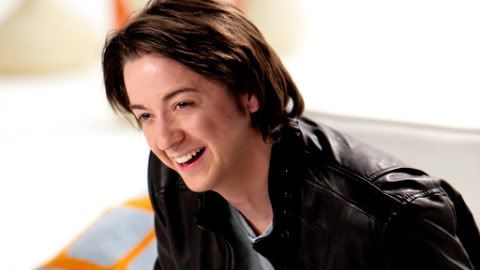 Braford Anderson
(Damian Spinelli,
General Hospital
) sat down with
TVGuide Magazine
to dish on Spixie, his Emmy nomination and his not-so-classic soap stud looks.
READ MORE
Let's face it, you're not exactly one of the perfectly chiseled, runway-gorgeous, cookie cutter guys we see all over soaps, so a lot of folks are surprised at your success.

I'd be the first to get in that line! Yes, it is a surprise. When my manager told me I had an audition for GH I thought it was the most ridiculous thing ever. [Laughs] I was like, "Yeah, right. That'll happen." But look at us now!

By Regan Cellura on June 08, 2009
Bradford Anderson
(Spinelli,
General Hospital
) hosts this week's edition of ABC Soap Scoop!
By Regan Cellura on May 15, 2009
Here's the Scoop! 05.15.09
Has all the Emmy drama died down? Congrats to the GH stars who were nominated. Now onto the SCOOP!

Michael's awake… no memory of what happened to him and a little peeved his parents weren't there. Edward and Monica tell Sonny they're not going to let him hurt Michael again. Who jumps to Sonny's defense? Who's been his biggest cheerleader lately despite not wanting her own son around him? Olivia. She tells the Q's to back off. But Edward wants his great grandson in the family fold and Michael MAY be toying with the old man. He's also not going to be very nice to his mother as we've been dishing and it LOOKS like Michael dishes to Lulu just how mad he is at him momma.
More Lulu… She's with Michael and there's also this Ethan mess. Tracy, for whatever reason, admits to her step-daughter that she did mess with the test but did she see the real results or just fix them to make sure Luke isn't the father? But why dish to Lulu? To keep her from committing maybe incest? Lulu is also battling her brother over their maybe half-brother. READ MORE
By Jamey Giddens on April 26, 2009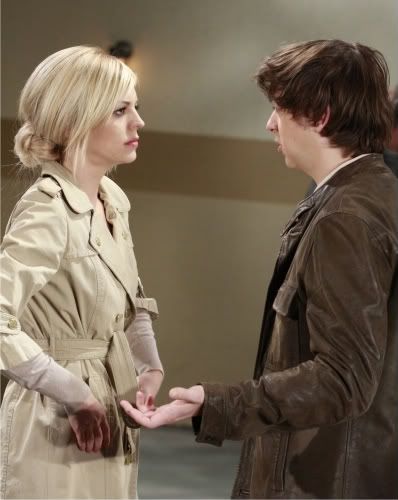 Michael Fairman
recently interviewed one of
Daytime Confidential
's fav-or-ite soap stars,
General Hospital
's
Bradford Anderson
for
Michael Fairman Soaps
, who shares what it's like to work with the equally brilliant
Kirsten Storms
(Maxie).
Michael Fairman:If you were to say a few words to describe working with Kirsten Storms, what would you say?

Bradford Anderson: She's hilarious! She's incredibly talented, and she has such good humor. We have so much fun together, and she is a pistol. She really is! She has a lot of fun energy. The most fun actors to work with are the ones that when you are in a scene, that it's exciting that anything can happen with them. But, you also trust them enough to know that nothing is going to happen to completely throw you off. You feel safe, but also that it could go in an adventurous way. So, it's safe, but fun."
By Regan Cellura on April 14, 2009
Here's the Scoop! 04.14.09

Dr. Patrick Drake as Mr. Mom…
When Robin heads out of Port Chuck for treatment, Patrick takes on the role as single father. Who will pitch in to help him? RUMORS say Maxie and Matt MAY be providing assistance. While I love that Matt and Maxie MAY have some more scenes together, especially ones that have them helping out the fam, Maxie is spread all over the place and I think this would be the perfect opportunity to use Mac (John J. York) more. Let Uncle Mac help out, he did raise three girls. Throw a little comic relief into this PPD storyline cause I need something to chuckle at that isn't the ridiculousness of this story. We SHOULD see some brotherly time but SPOILERS have Matt making some roots of his own in PC. Finally! Give Jason Cook something to do! We SHOULD still see Elizabeth helping out, maybe not as much, and mentions of Mercedes.
READ MORE