Bradley Cole
By Jamey Giddens on February 26, 2009
Okay, I can't take it anymore!
Guiding Light
is doing SO much better, but if I have to sit through just one more episode where that Prince Richard lookalike (
Bradley Cole
) who banged a pubescent Marah, speaks the lines to Reva Shayne (
Kim Zimmer
) that Joshua (extra on the
uah
) Lewis (
Robert Newman
) should be saying to her, why I might just raise more sand than an Oklahoma twister!
READ MORE
By Mark on November 24, 2008
This week's promo for As the World Turns and Guiding Light.
By Melodie on July 31, 2008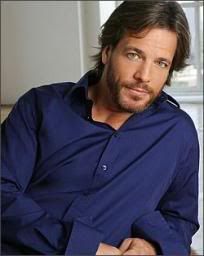 Guiding Light star Bradley Cole recently sat down with Soap Opera Digest online to discuss what's going on with his character Jeffrey O'Neil. In the interview, Bradley speaks about Jeffrey's involvement in the Grady Foley case and his impending marriage to Reva. Here is a little snippet of what he had to say about marrying Reva, but be sure to check out the entire interview.
Digest: They're really getting married this time?
Cole: There are two or three or four different moments where they say that and each time there seems to be something else in their lives that's complicating things. Reva has the movie, initially, so that throws a monkey wrench into things, and then Jeffrey has all this going on now with Ava. He's also trying to construct a case against Grady. As a matter of fact, this stimulates Jeffrey to actually say, "Let's do it!" because he just wants to try and forget about everything and he doesn't want to hold up things.
By Mike Jubinville on July 16, 2008
Is there a light at the end of the endless tunnel? Have the four headwriters awakened from hibernation and put one wayward story on the right course? Who knows, but unless you're a Reva and Jeffrey fan, this week's kiss between longtime loves Reva and Josh was nothing short of a breath of fresh air. I'm not ready to scream from the rooftops that Guiding Light is on the rebound to greatness, but I'll take what I can get.

Kim Zimmer and Robert Newman can sit in room without speaking and make magic, so imagine how magical a forbidden kiss can be. Their kiss this week puts Josh into a tailspin, and Jeffrey on guard. Reva, the ever honest gal that she is, confessed her indescretion to her current beau. Will the flames of desire be fanned as their legendary Cross Creek wedding is filmed for "Always"? Hopefully, the kiss will put Reva and Josh on the road to a long awaited reunion.
By Melodie on May 19, 2008
Daytime Confidential has just received some great scoop on Beth Ehlers'(Harley) possible exit story from Guiding Light. Here is how everything is rumored to go down. Harley smuggles Rafe out of town after she learns some disturbing news about the troubled teenager. Allegedly, Rafe shoots Jeffrey O'Neal and Harley gets him out of town to protect him. The two are on the lam for an unspecified period of time. How Rafe ends up back in Springfield and Harley doesn't, is still up in the air. Oh and all you Jeffrey fans have nothing to worry about, he survives the bullet. Message boards are sure to be a Buzz about this spoiler, as one in particular with a well known insider is already ahead of the game. Keep your eyes peeled to Daytime Confidential for the latest updates on this developing story.