Brandon Beemer
By Jamey Giddens on November 26, 2008
Okay you knew it was coming. Now that the Idiots In Charge of The-Soap-Opera-Formerly-Known-as-Days-of-Our-Lives have let the phenomenal
Blake Berris
go, I decided to start out doing a Wishful Casting about where Berris should end up, but it turned into more of an analysis of which soaps are managing to set things up for their next generation the right way, and which ones are getting it wrong, dead wrong.
Much of the daytime industry is experiencing a serious drought in terms of talented, young stars who can actually, you know, act. Save for The Young and the Restless, One Life to Live and General Hospital, the under 30 set at most soaps is pretty much comprised of rejects from the Pamela Anderson School of Acting and Pantomime. I'll start with the soaps in most need of help and work my way up. READ MORE
By Darren Lomas on November 21, 2008
Rumor has it that
The Bold and the Beautiful
's soon-to-air look-alike story will involve Donna Logan (
Jennifer Gareis
). Was it a coincidence that Thorne (
Winsor Harmon
) mistook a model for Owen (
Brandon Beemer
) this week? With a surveillance camera installed in Owen's new office and a supposed Owen double running around Forrester Creations, how long do you think it will be before Eric spies "Donna" and "Owen" getting some rumpy pumpy on his office desk? I give it two weeks.
By Jamey Giddens on November 12, 2008
The face that launched a thousand blog posts, aka
Days of Our Lives
beauty
Nadia Bjorlin
shares with
TV Guide Canada'
s
Nelson Branco
her feelings about NBC's lone soap getting renewed , the Nu-Brady Black and her sexylicious, real life romance with
Bold and Beautiful
heartthrob
Brandon Beemer
. Oh yeah, she also reveals how Chloe's storyline sometimes has her "scratching her head" just as much as it does us. Read more
here
.
By Brian Peel on November 10, 2008
November 8 marked 43 years of Days of Our Lives on our screens. I know lately we have been less than satisfied at what the show has had to offer, but to celebrate the rich history of the show, I felt the need to take a trip back down memory lane. Soaps have that effect on people. You get carried away to a place filled with fantasy and nostalgia - after all this is where it all began soaps. We hope one day our favourite shows will return to the landmark it once used to be. Big Sigh.
There are so many characters in this clip, too many to mention, but it's actually worth the 9 or so minutes. The scary thing about this, at the halfway mark, you actually begin to think of your age. I know I did anyway - a frightful experience. Ok, so I've just turned 30, but why in God's name can I remember things like Kimberly giving birth to Andrew in a stable just like it was yesterday. See, that's nostalgia for you. READ MORE
By Daytime Confidential on October 24, 2008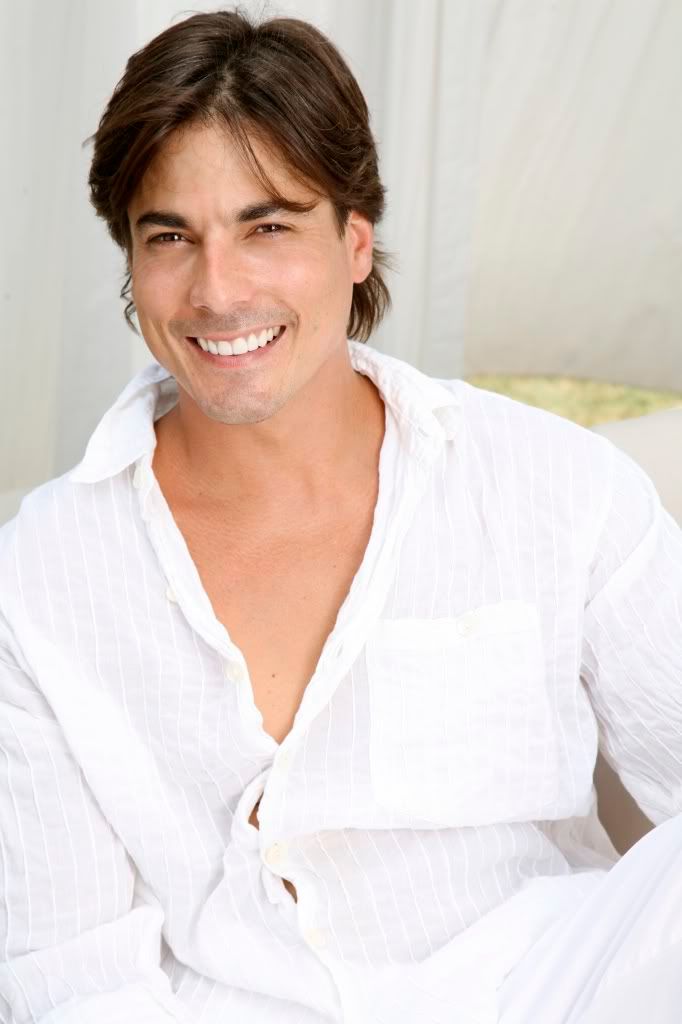 Days of Our Lives' Bryan Dattilo drops by Daytime Confidential to visit with Luke and Jamey about hosting ACME This Week on Saturday October 25, 2008 at 8pm.
Bryan talks about sneaking on stage with the General Hospital cast at this year's Daytime Emmys and how he enjoys taking dares on the Salem set.
We discuss what it was like for him to work with the James E. Reilly, who recently passed away. Dattilo shares his memories of the storylines that Reilly wrote for him and Louise Sorel and how Reilly provided the peak of Lucas' character and story development during the Carrie/Austin/Sami/Lucas quadrangle. We talk about his current pairing with Nadia Bjorlin's Chloe and how Nadia and Brandon Beemer are daytime's Brad and Angelina.
Bryan talks about his son Gabe, and how being a father has impacted his onscreen role as a father to his and Sami's son Will. He shares how he coaches his son's pee wee flag football team and how his son has picked up on his father's hip hop roots.
We ask Bryan about the rumor that Lucas' days in Salem may be numbered and he tells us what he knows.
All this and much more on today's show.
ACME Comedy Theatre: Oct. 25, at 8 pm
135 N. LA Brea Ave.
Los Angeles,CA, 90036
Tickets: (323) 525-0202.
Related: Bryan Dattilo Official Website l ACME This Week
Photo Credit: Jeff Xander.


READ MORE
By Jamey Giddens on September 12, 2008
Bold and Beautiful
hearttrob Brandon Beemer (Owen) recently re-launched his official website (
brandonbeemer.com
). The site is almost as hot as Beemer and his galpal Nadia Bjorlin (Chloe,
Days
) in their recent so-hot-you-need-a-cigarette-after-viewing photo spread for Fixation Magazine. I recently caught up with Brandon via email. The generous actor talked about the new site, how much fun he's having on
The Bold and the Beautiful
and of course his lady love.
Daytime Confidential: The new website looks great, how long has it been in the making? READ MORE